Life sentence for calm, cold-blooded killer nicknamed 'Officer Spock' who dumped wife's body in a lake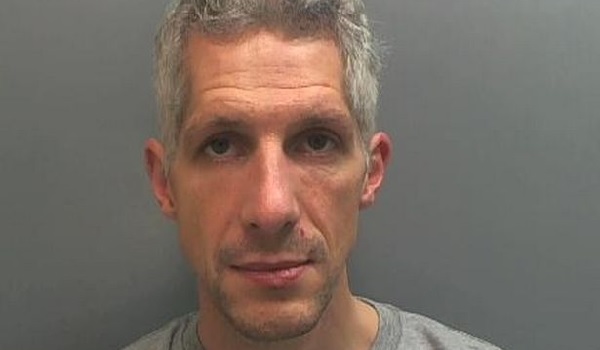 Today debt-ridden Darren McKie – nicknamed Spock by some colleagues at Greater Manchester Police because of a reported lack of empathy with others – begins a minimum 19-year term before he can be considered for release for strangling 39-year-old Leanne after she discovered he had applied for a loan in her name.
McKie, 44, stared straight ahead and showed no reaction to the life sentence imposed by the trial judge for the "brutal killing" on September 28 last year.
The sentencing hearing at Chester Crown Court on Tuesday (March 27) brought fulsome praise from His Honour Mr Justice Robin Spencer who thanked Cheshire Constabulary for the "exceptionally thorough and painstaking investigation".
But in a scathing reference to the officer's actions after the killing, Detective Superintendent Aaron Duggan, who led the enquiry, offered this verdict: "It's a very tragic case . . . Leanne has been murdered by her husband.
"She has three beautiful children who now have not got a mother. The fact Darren has put them through this whole trial and kept them waiting for six months for this justice is ultimately the shame."
Detective Inspector Adam Waller said McKie "clearly thought he could get away with murdering his own wife", adding: "He is a coward and refused to admit responsibility for his actions throughout the investigation, instead subjecting the whole family to the ordeal of a trial.
"It was only when he was due to give his own evidence in court that he decided to plead guilty to manslaughter, but then refused to give any explanation as to what had taken place. Meaning that the family will never know the full details of what happened that day."
Judge Mr Justice Spencer heaped further condemnation on the 44-year-old officer for the "cruel" killing of his wife.
He left abruptly halfway through his shift at Stretford police station and strangled her at their plush Wilmslow home, after she found out about a £54,000 loan he had applied for behind her back.
The judge said he had "no doubt" that McKie killed his wife because of "repercussions" – the sack or criminal action – after she discovered he had hacked into her work computer to get a payslip and forged her signature for a loan as the family's finances spiralled out of control.
McKie, who was in charge of resource management at the Trafford division of GMP, followed the murder with a "callous" dumping of her body in Poynton Lake, Cheshire. after killing her on September 28 last year.
After putting his children to bed, McKie drove her red Mini Countryman to the lake, where he dragged Leanne's body 140 metres into the water.
The judge accused him of exploiting his knowledge of criminal investigations and "abusing the public trust in you as a senior police officer" as he set about disposing of the evidence.
McKie was viewed as quiet and inscrutable. He rarely invited conversion about family life. Some knew him as Spock, the Star Trek character who struggles to feel emotion.
And during his trial, McKie remained impassive throughout, taking notes in the dock and never once making eye-contact with his own parents, who dutifully attended every day to support their son.
The newly-promoted inspector initially denied responsibility for her death but pleaded guilty to manslaughter nine days into his trial, just before he was due to give evidence. But the six men and six-women jury rejected this and chose to convict him of murder on March 23.
In his closing speech at the trial, Nigel Power QC, prosecuting, said the defendant had played a "game of cat and mouse" with police following his wife's death.
He told the court the police officer had lied during his police interviews to try and cover up his crime.
Defending McKie, Trevor Burke QC told the jury to consider whether it was murder or a "terrible, terrible accident".
Mr Burke told Tuesday's hearing there was a "complete lack of premeditation in the normal sense of the word" and there was "severe stress in the background" of the case, referring to the numerous loan applications the defendant had made.
Telling McKie he would serve a minimum 19 years behind bars before he could be considered for parole, judge Mr Justice Spencer, told him: "She was small in stature. She would have been no match for you.
"There must have been a confrontation. On the evidence of the pathologist, I am quite sure that in strangling her you applied significant pressure to her neck for at least a minute, fracturing two bones in the structures of the throat as well as causing extensive bruising."
He added: "She would have been aware she was being strangled to death.
"You put your hand over her mouth to stop her screaming. The damage to the inside of the mouth confirms that.
"It was a brutal killing . . . and you have robbed your children of their mother. You have robbed Leanne's parents of their beloved only child."
The judge said he had no doubt the "heated confrontation which must have inevitably taken place" between the McKies had brought up "repercussions" for his career, as he had used forgery and subterfuge to apply for a £54,000 loan.
"In strangling her so long and so hard, as you must have done, I am sure you must have realised her life was ebbing away and for that reason I am sure you intended to kill her, not just cause her really serious harm," he told McKie.
The judge said the "deliberate, callous and determined concealment of the body" was an aggravating factor – as was the "mental and physical suffering" his wife would have felt as she was being strangled.
"She must have been aware that she was being strangled to death in the family home by the father of their children. It was an awful way to die," he added.
The defendant also went to "despicable and cynical lengths" to cover his tracks by sending his wife five text messages after her death to give the appearance of a loving relationship, the judge said.
He dismissed claims there had been a "degree of provocation", saying: "It was your choice not to tell her the truth. It was your choice to conceal the truth from her by fraud.
"It is hardly surprising that her reaction on discovering the truth must have been a mixture of anger, disappointment, anxiety and hurt.
"She trusted you and you breached that trust."
The couple had a healthy income and, although they had previously had financial difficulties, Leanne was under the impression that they had been resolved.
McKie had even reassured Leanne that there were no problems just weeks before her death. But, unbeknown to her, her husband had been hiding the extent of their £115,000 debt and had even been making loan applications in her name.
McKie's lies began to unravel when Leanne signed for a parcel at their Wilmslow home. Her passport and salary details, accessed from the police system by her husband, were returned after being used in an application for a loan.
Leanne was unaware of any loan application and immediately sent a text message to McKie calling him a "liar" and demanded to know what was going on.
McKie responded stating that he was coming home and, just moments later, he left his office at Stretford police station without explanation.
He arrived home around midday and an argument is believed to have broken out between the pair, during which he strangled Leanne.
The trial heard karate enthusiast McKie broke two bones in his wife's neck when he strangled her.
Just moments after killing his wife, McKie contacted a surveyor who was due to be attending his home at 1pm, to see if he could move the appointment back to 2pm.
After agreeing on a time of 1.30pm, McKie then attempted to cover up his tracks, moving Leanne's red Mini Countryman to a nearby road, to make it appear that she wasn't at home.
At approximately 1pm the chartered surveyor arrived early to carry out the survey. McKie returned home on foot after moving Leanne's car.
As he entered the address, Leanne's mobile phone connected to their wi-fi network for the very last time. The surveyor left the address a short time later.
From there McKie continued his day as normal, collecting the children from school and taking them to various activities before putting his eldest son to bed shortly after 9pm.
Just hours later, at 11.30pm, Leanne's car triggered ANPR cameras in Mobberley, near to the location where McKie dumped her mobile phone. Shortly after midnight on Friday, September 29, the car was again caught by ANPR, this time in Poynton, near to the lake where Leanne's body was later found.
The next sighting of McKie was at 1.30am when he was stopped by police on Adlington Road walking towards Wilmslow. When spoken to he told officers he was fine, and claimed that he was walking home and pointed at a nearby address – which was in fact more than two miles from where he actually lived.
Almost an hour later the same officers spotted McKie again, this time on Moor Lane, where he was walking without any shoes on. They were concerned about him and took him home; where they discovered that the couple's three children had been left alone.
When questioned as to why the children had been left alone McKie claimed that he had been out looking for Leanne as she hadn't returned home from work.
After speaking to McKie, the officers were confident that he did not pose a risk to his children so they left the property to carry out further enquiries as Leanne had still not returned home.
They searched the area near to where Darren was first seen walking to see if Leanne's car was nearby; they also carried out further enquiries in the area.
Concerned about McKie's demeanour, the officers then returned to a nearby police station to seek advice from their supervisor.
At 3.45am the Cheshire force was contacted by a member of the public who had seen a body floating in Poynton Lake. The body was later identified as Leanne's and a post mortem concluded that she died as a result of strangulation.
In his dressing gown, McKie was arrested shortly after the discovery and an investigation was launched by the force's Major Investigation Team.
During the investigation officers uncovered a vast amount of evidence linking McKie to Leanne's death. This included McKie's New Balance trainers, which were found in a wheelie bin on Moor Lane and contained traces of Leanne's blood, as well as soil, which matched samples taken at Poynton Lake.
A moving victim impact statement was read out to the court on Tuesday on behalf of Mrs McKie's mother Ellen Dodd, who said her family's lives "came to a stop" after they were told of the murder.
Mrs Dodd said the death had left a "huge void" in the family, adding: "Leanne was our light and our light has gone out."
She added that at times she felt there was "no point carrying on with our lives".
Referring to her grandchildren, Mrs Dodd said: "It's only because of them we keep going. Every day is a challenge. Every day (my husband) Ray and I go to bed thinking of Leanne and every morning we get up thinking about Leanne."
She added: "They loved her so much and miss her. Nothing will bring our beautiful daughter back to us and our lives will never be the same again."
GMP's Deputy Chief Constable Ian Pilling paid tribute to the detective constable: "Leanne was a hard-working officer who showed the utmost professionalism, supporting victims when they were at their most vulnerable. She worked tirelessly to provide victims with support and get them the justice they deserved.
"While this has been a Cheshire Police investigation, our officers have lost a colleague and a much-loved friend, Leanne was part of the Greater Manchester Police family and we will continue to always be there for her family and friends should they need us.
"We are supporting Leanne's team mates in their grief and will help them in any way that we can.
"We are also supporting those officers who worked with Darren McKie, who remain extremely shocked by what happened."