LGBT+ Policing Conference was 'important opportunity' to promote best practice in policing, says chief constable
Chief Constable Simon Byrne said hosting the LGBT+ Policing Conference was "an important opportunity" to share ideas and generate learning.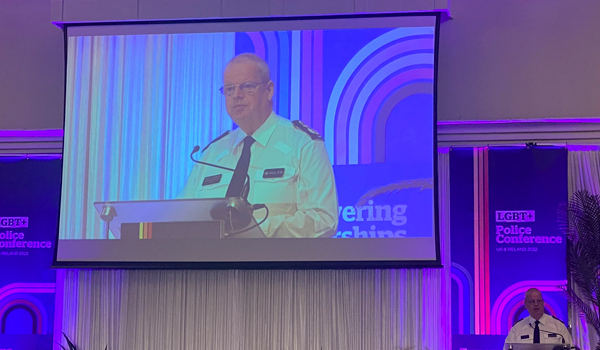 It was the first time the Police Service of Northern Ireland (PSNI) has hosted the annual conference, held at Belfast's Europa Hotel on Friday (July 29).
The event, which was centred on the theme of 'Empowering Partnerships', sought to inspire, generate reflection and promote best practice in policing.
Mr Byrne said they were "extremely proud" to host this year's LGBT+ Conference and to showcase the city of Belfast as a welcoming, safe and inclusive city.
He added: "This was an important opportunity for policing colleagues and partners from across the UK and Ireland to share ideas and perspectives and to generate learning on a range of topics such as diversity in policing, community engagement and community cohesion.
"It also underscores our ongoing commitment to visible, accessible and responsive policing in Northern Ireland.
"The collaborative effort of all those who have worked hard to make the conference possible aptly reflects the conference theme of 'Empowering Partnerships'.
"I would like to particularly acknowledge the work of our own LGBT+ Network for their efforts in Pride week and throughout the year."
Mr Byrne was also recently one of the panellists at the Belfast Pride Talks Back event as part of the 2022 Pride Festival.
Guest speakers at the LGBT+ Conference included Gamal Turawa 'G', Cherron Inko-Tariah MBE and Dr Sophie Cook, with a welcome address from the Lord Mayor of Belfast, Councillor Christina Black.
The co-chairs of the PSNI LGBT+ Network, Sergeant Beth Wickham-Thomas and Constable Paul Bloomer, said they were "really proud" of the conference they had developed in partnership with the PSNI's Equality, Diversity and Inclusion team, supported by senior leadership.
"We worked hard to produce a conference programme that we hope will empower new partnerships and strengthen existing ones. We've purposefully and carefully chosen speakers who have powerful messages for policing."
The PSNI says it welcomes opportunities to engage with, and show support for, members of the LGBT+ community.