Legal action threatened against MPS on spit guards
The Metropolitan Police Federation (MPF) says it is considering taking legal action against the Metropolitan Police Service (MPS) over its decision not to issue spit guards to officers.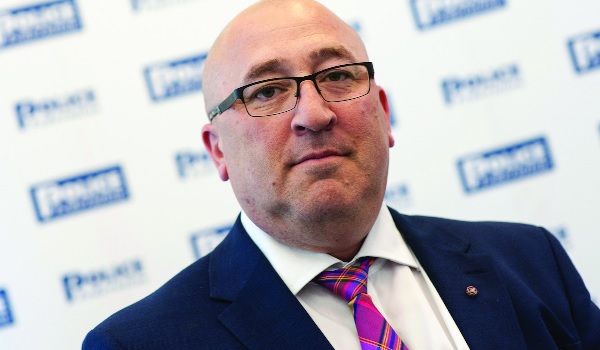 MPF chair Ken Marsh said "three police officers a day are being spat at in London" and "enough is enough".  
And Police Federation of England and Wales (PFEW) chair John Apter said the MPF has his "full and unwavering support on this".  
The MPS said the force "takes the health and safety of its officers very seriously" and that it is waiting on a review report on spit guards, the recommendations of which will soon be reported.  
The MPS currently only issues spit guards to officers in custody suites, where their use is more accountable due to a number of staff present and CCTV coverage.  
But frontline officers at many other forces are already issued with spit guards for use on patrol if needed.  
But the MPS's neighbouring force the City of London Police's officers are not yet issued with spit guards, as it is still going through an approval process.

Chief Superintendent Glenn Maleary, said: "The safety and security of our police officers is a priority for the City of London Police, and we firmly believe that officers should have the necessary and appropriate equipment to do their jobs.
"We have closely monitored the feedback of our officers in conjunction with the City of London Police Federation and have as a result authorised the use of spit guards and limb restraints in principle for all operational officers.
"The purpose of issuing these protective equipment items is to allow our officers to apply the minimum force when protecting themselves and the public during the detention of violent suspects who could pose a threat of assault or risk of infection.
"We are currently working with colleagues to agree the framework, including the parameters, supervision and governance, under which these items would be used. These will be reviewed and agreed in early 2019.
"The introduction of limb restraints and guards against spitting will only begin when officers have undertaken additional training and any use of these items will be monitored and assessed accordingly."
Police Professional understands that the MPS Commissioner Cressida Dick is considering a comprehensive review report this month from the force's lead on the deployment of spit guards, Deputy Assistant Commissioner Matt Twist.  
Mr Marsh said in a statement issued yesterday (Sunday, January 13): "We are baffled as to why our members are not being allowed this personal protective equipment when thousands of them are being spat at every year. We are also baffled as to why decisions on this issue are continually delayed.   
"This is serious. Three police officers a day are being spat at in London. The force has a duty to protect my colleagues. They are not. We're left with no choice but to consider legal action against the Metropolitan Police under Section 2 of the Health and Safety at Work Act.  
"Every time a colleague has a suspect in custody and that suspect spits at an officer – putting them at risk without the equipment to protect themselves – then Section 2 of the Health and Safety at Work Act is applicable."  
Mr Marsh said the MPS "must ensure the health safety and welfare of all employees whilst they are at work", adding: "By not issuing spit guards to our colleagues facing danger on the front line then they are failing in this duty. Enough is enough."  
The MPS told Police Professional: "The Met takes the health and safety of its officers very seriously. The Commissioner introduced the use of spit guards within custody suites after a successful pilot in December 2016, leading to their London-wide roll-out across custody suites in July 2017.   
"In October 2018, the Commissioner announced a review of how the Met could further prevent officers and staff from being spat at outside of custody.  
"The review has involved the full engagement of the MP, has consulted community members via the independent advisory groups across London and has been considering with experts what the best methods and equipment to protect officers from being spat at are.  
"The review is due to report its recommendations shortly."  
Mr Apter said on Twitter: "The @MPFed has my full and unwavering support on this. They have provided the evidence required which paints a very clear picture. Spits guards are needed now. A shame it's come to taking legal action, would have hoped the safety of officers was a priority for the @metpoliceuk."  
Assaults on officers, whether by spitting or other form of physical attack, and the protective equipment issued to them, remains a concern for both the PFEW and the MPF. 
At a meeting of the London Assembly Police and Crime Committee last Thursday (January 10), MPS Deputy Commissioner Sir Steve House said that only the day before "three of our officers were assaulted – two stabbed, and one received a shoulder injury – at a mental health facility".