Lead appointed to review 'outdated' Mental Health Act
Mental health laws will be independently reviewed to tackle "longstanding injustices and discrimination" in how people are detained.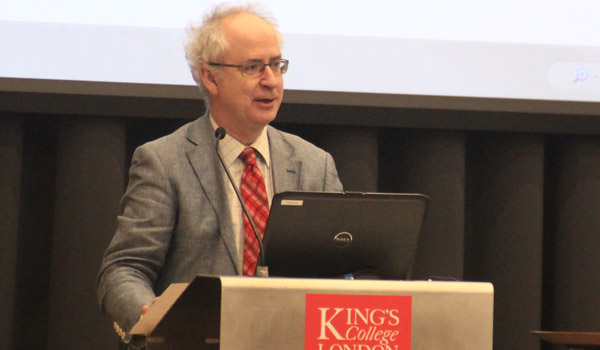 Mental health laws will be independently reviewed to tackle "longstanding injustices and discrimination" in how people are detained. Theresa May announced she has asked psychiatrist Professor Simon Wessely to lead the review in her speech at the Conservative Party conference on Wednesday (October 4). The review, first announced in this summer's Queen's Speech, will examine rising detention rates under the Act and its disproportionate use against black and minority (BME) people. A final report will be published by autumn 2018. Mrs May said: "There is widespread concern that the existing mental health legislation passed more than three decades ago is leading to shortfalls in services and is open to misuse. "Detention rates under the Mental Health Act are too high. And it is people from BME populations who are affected the most. "So today I can announce that I have asked Professor Simon Wessely to undertake an independent review of the Mental Health Act, so that we can tackle the longstanding injustices of discrimination in our mental health system once and for all." NHS figures show 63,622 people were detained under the Mental Health Act in 2015/16, up nine per cent on the previous year and almost 50 per cent on 2005/6. Use of Section 136 of the Act, which focuses on bringing people to hospital as a place of safety, increased by 18 per cent to 22,965, although use of police cells fell over the same period. The Mental Health Act was passed in 1983 but was last reformed in 2007 with the introduction of community treatment orders. The changes also granted detainees the entitlement to independent mental health advocacy. Professor Wessely is President of the Royal Society of Medicine and a professor of psychological medicine at King's College, London. Martyn Underhill, mental health lead for the Association of Police and Crime Commissioners (APCC), said the Act as it currently stands is not "fit-for-purpose". "Not only have we seen rising detention rates for those experiencing mental ill-health in recent years, but many of the processes relating to the Act – passed almost 35 years ago – are out of step with what we now understand as best practice when it comes to providing effective treatment," he added. "As the APCC lead on mental health, I welcome the review announced by the Prime Minister this week, and the opportunity it provides to look at ways to improve the treatment and support that people experiencing acute mental ill-health receive. "Additionally, I would welcome the opportunity to contribute to the review." Louise Rubin, head of policy and campaigns at Mind, said: "At over 30 years old, the current legislation is outdated and not in line with the principles of modern health care. "In the last ten years in England, we've seen a 47 per cent rise in the Act being used to detain people, with black and minority ethnic communities disproportionately affected – this shows that neither the Act, nor wider mental health care, are currently working as they should to support people when they are unwell."