Lancashire first force to deploy latest integrated body-worn camera digital technology
Lancashire Constabulary has become the first force in the UK to use the latest technology that integrates body-worn cameras with Motorola Solutions' Pronto digital app to transform the capturing, filing and retrieving of video evidence.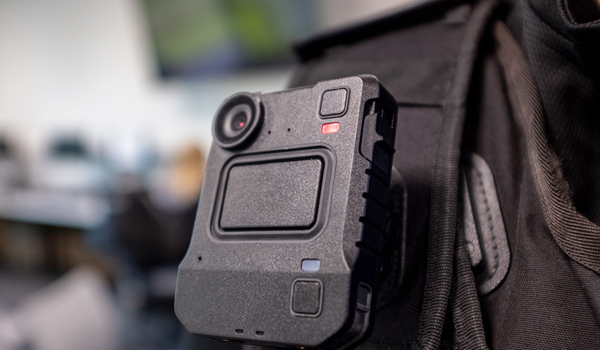 Chief Inspector Dave Hannan said it will be "a vital tool in bringing offenders to justice".
Forces routinely rely on body-worn cameras to improve the safety and accountability of their frontline teams, capture evidence and maintain transparency.
In the first three months of lockdown, UK police forces saw a 21 per cent increase in assaults on their officers, according to a study published by the Press Association, which put greater demands on frontline staff and public safety organisations.
Motorola Solutions says integrating body-worn cameras with digital its policing app will transform police force's time-consuming and manual procedures into an efficient digital workflow that improves evidence quality and transparency.
Lancashire Constabulary is equipping frontline teams with Motorola's 2100 VB400 body-worn cameras, which are fully integrated into the Pronto digital policing application. The cameras will be used alongside a back-end evidence management software solution across the force to securely manage and process captured evidence.
"This investment is about giving our officers the best tools we can for the job, making it quicker and more efficient and improving the quality of evidence, so we can provide a great service to citizens," said Chief Insp Hannan. "The roll out of this technology will be a vital tool in bringing offenders to justice, especially those who take part in crime that is naturally more difficult to prosecute, such as domestic abuse and public order offences."
Before using the integrated body-worn camera solution, Lancashire Constabulary officers recorded different clips throughout their shift and tagged them back at the station when the shift ended – a time-consuming and highly manual procedure that could lead to delays or inaccuracies.
Lancashire Constabulary says the integration of the VB400 cameras with the Pronto digital policing application increases efficiency – frontline teams can now view lists of recordings stored on the camera, tag the recording using data from their Pronto app and link to incidents on-the-go.
The new technology helps Lancashire's police officers to significantly speed up decision-making, capture evidence and maintain accountability and transparency both within and between departments and communities.
The camera also provides an automatic 30-second video pre-recording feature so that officers do not miss the beginning of an incident.
"Integrated body-worn camera solutions are a vital and objective tool for improving the safety of officers and the public," said Fergus Mayne, country manager UK and Ireland at Motorola Solutions.
"The integration with the Motorola Solutions Pronto digital policing application takes seamless policing to the next level and ensures end-to-end workflows,"
The VB400 body-worn camera features wi-fi streaming and Bluetooth sensor monitoring that delivers a "powerful mix of capabilities" to live stream from the camera to a video management application and Pronto digital policing application software.
Motorola's Pronto digital policing application software was originally developed in collaboration with police officers in the early 2000s. It is now used by 19 police forces and more than 50,000 officers across the U.K. Pronto simplifies and streamlines disparate processes from time-consuming, paper-based and resource-intensive systems into an efficient, effective, mobile and interconnected solution – which Motorola says "removes the burden of managing essential information and puts the power back into the hands of frontline users".