'Kick in the teeth' as officers asked to sleep on floor mats during pre-planned President's visit
Staff associations are demanding accountability after officers deployed on mutual aid for the US president's visit were asked to sleep on mats on the floor.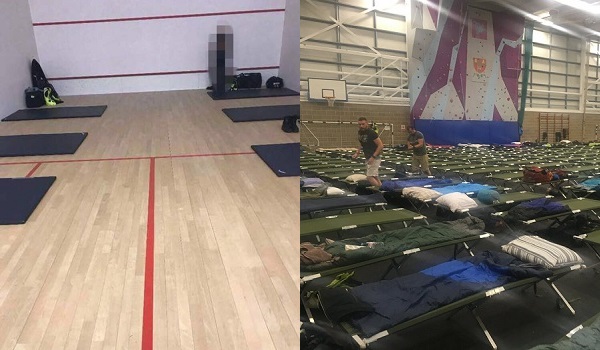 Thousands of officers have been redeployed around the country as part of the pre-planned 'Operation Manifold' to secure Donald Trump's UK visit on Thursday (July 12).
But pictures quickly emerged on social media appearing to show officers having to sleep in gymnasiums, with some offered just a PE mat on the floor.
Hampshire Police Federation chair John Apter acknowledged that many officers have been put up in hotels and other more suitable accommodation, but pointed out that some lack even essentials like proper access to food and water.
Alternative accommodation for those affected has now been found following work with the military.
However, Mr Apter described the poor planning as "yet another kick in the teeth for officers who are already massively overstretched".
"Police officers don't expect to be staying in the Hilton. But for a pre-planned event, things should have been managed much better, and this is not acceptable," he told Police Professional.
"You can't have officers who we are expecting to work 12, 16, 18-hour shifts come back to sleep in sub-standard accommodation where it is clear they will not get the rest they need.
"For this only to be identified when officers themselves who are there are posting photos on social media, those planners and those responsible need to be ashamed of themselves. Something has gone badly, badly wrong."
Mr Trump's first official visit to the UK has mounted pressure on officers who recently dealt with their busiest weekend of the year.
Mass redeployments have been made through mutual aid, rest days have been cancelled and many are being expected to work upwards of 12-hour shifts.
A number of planned protests against Mr Trump are set to take place across the country, with the largest expected in London on July 13.
The majority of officers have been offered suitable accommodation, such as hotel rooms or barrack-style set-ups.
Gold-level briefings were quickly held to discuss the sub-standard accommodation once the problem came to chief constables' attention.
Last week the National Police Chiefs' Council (NPCC) agreed that all officers redeployed for the visit will pe paid overnight allowance following pressure from the Police Federation of England and Wales.
Mr Apter said: "While the majority of people would understand that the president's visit has to be policed, you absolutely need to get the basics in place and there has been a number of failures.
"What I don't want, and what is unacceptable and must stop, is we can't keep saying 'we'll debrief this and we'll learn from it'. It's clear that we don't learn from it.
"There has got to be accountability. Somebody has got to be accountable for this. At what point can somebody say putting 300 people on the floor in one big room is a good idea?"
A NPCC spokesperson said: "Some of the accommodation pictured today for officers supporting the major operation for the US Presidential visit is not acceptable and below the standard of other accommodation for this operation.
"Essex Police is working at speed to resolve the issues for the affected officers. Thank you to the officers who have raised this important issue."
Essex Police's Assistant Chief Constable Pippa Mills said: "I would like to apologise to the officers affected. The conditions which I have been made aware of are not acceptable.
"Working with our military partners, we have found alternative accommodation. This will address the concerns highlighted. We are grateful for the support provided by the Federation throughout this entire operation.
"This is a huge policing effort which has involved every single force in the country at a really busy time for policing. I appreciate the commitment of each and every officer working in Essex and know how difficult it can be to work away from home. These matters will be picked up as part of our operational debrief for future learning to be captured."