Justice Secretary defends decision to block Phil Gormley's return
Scotland's Justice Secretary has claimed "clear deficiencies" in the process used by the Scottish Police Authority (SPA) forced him to block Chief Constable Phil Gormley from returning to work.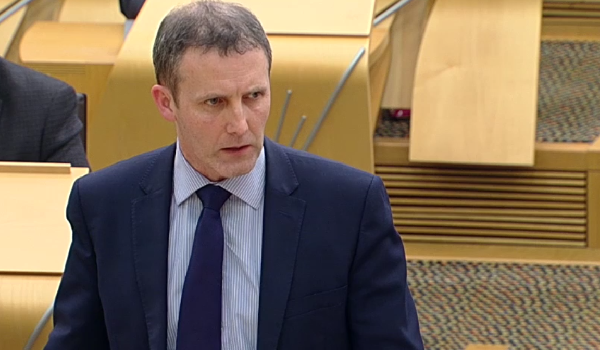 Scotland's Justice Secretary has claimed "clear deficiencies" in the process used by the Scottish Police Authority (SPA) forced him to block Chief Constable Phil Gormley from returning to work. Michael Matheson said it is "completely unacceptable" that the SPA failed to consult with the Police Investigations and Review Commissioner (PIRC) before nearly cancelling Mr Gormley's leave of absence last November. Responding to claims that his intervention in the process was unlawful, Mr Matheson accused the SPA of threatening to undermine ongoing gross misconduct investigations by not following due processes. He added that former SPA chair Andrew Flanagan had given no consideration to how Mr Gormley's return would affect the welfare of the officers who lodged the allegations. Opposition MSPs accused Mr Matheson of protecting his own political interests and worsening the "crisis" in Police Scotland's leadership. Addressing Parliament on Wednesday (January 10), Mr Matheson said: "I took the view that these clear deficiencies in the process were completely unacceptable. "I made clear to the former chair that I could not have confidence in a decision that had been reached without such significant issues having been properly addressed. "The former chair agreed that before proceeding further, the SPA would carry out more engagement with the relevant persons, which I welcomed. "I also advised that they should consider seeking advice from HMICS (Her Majesty`s Inspectorate of Constabulary in Scotland) on how they should proceed in terms of process." Mr Gormley has been on special leave since last September while the PIRC conducts three investigations into alleged bullying against him. The SPA is reviewing his leave on a four-weekly basis. On November 9, the SPA informed Mr Matheson that the chief constable was to be invited to resume his duties the following day, but this decision was blocked. Mr Matheson told Parliament he had sought assurances the SPA had followed due processes but was unconvinced. Both the Scottish government and Police Scotland's senior command team were unaware Mr Gormley had been asked to return and the PIRC had not been asked whether this would affect its investigation. The SPA also reportedly had no plan for protecting the wellbeing of any officers or staff who had raised complaints about Mr Gormley or had played a role in the ongoing inquiry. PIRC Commissioner Kate Frame has claimed Mr Gormley's absence has allowed her to interview more junior Police Scotland personnel who "would not feel free to speak up if the chief constable remained in post". Mr Gormley's lawyers have accused Mr Matheson of making an unlawful intervention in the decision to cancel his leave. Responding to the speech, Conservative justice spokesperson Liam Kerr said Mr Matheson's "interference" in the process made it "difficult not to suggest hypocrisy". "He has repeatedly stood in this chamber and in response to problems I have raised with the police service responded that 'it is an operational matter'," he added. "Now it seems the test for whether Michael Matheson gets involved is not whether it is an operational matter, but whether it is in the political interest of Michael Matheson. Labour's Daniel Johnson added Mr Matheson's actions had turned the "crisis" in Police Scotland's leadership into "nothing more than a shambles". However, Green MSP John Finnie agreed Mr Matheson's actions were "entirely appropriate". The Justice Secretary said: "It is about the process being robust and defendable, not the outcome of that process, and in my view and my assessment, it was very clear the SPA had taken forward a process that was simply unacceptable and could not be defended."