Julian Assange: Ecuador says UK 'at fault' as talks on future break down
Julian Assange looks set to continue his "refugee" status indefinitely after Ecuador admitted talks with the UK over his exit from its London embassy have failed.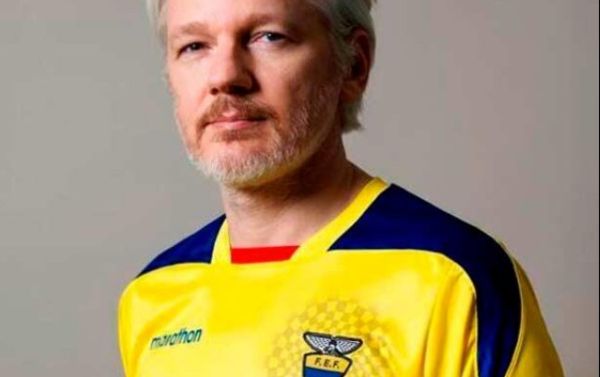 Maria Fernanda Espinosa, the South American country's foreign minister, suggested British officials had been unwilling to negotiate over the Wikileaks founder's potential release.
Earlier this month, Senior District Judge Emma Arbuthnot upheld the warrant for the arrest of Mr Assange for skipping bail – saying he should have the courage to face court and not feel he is "above the law".
His legal team again argued that the outstanding warrant – which dates back to 2012 – should be dismissed because it had "lost its purpose and function" after a Swedish investigation over sex-related allegations was dropped last year.
He has been living in the Ecuadorian embassy in London for five-and-a-half years, fearing extradition to the US for questioning over the activities of WikiLeaks.
Ms Espinosa said of the failed talks: "To mediate you need two parties, Ecuador is willing, but not necessarily the other party."
Ecuador said it would continue to protect Mr Assange's rights, however, there was a risk to his physical and psychological well-being after spending nearly six years in the building as a "refugee".
The country has assessed more than 30 similar cases in a bid to break the deadlock, including that of British-Iranian citizen Nazanin Zaghari-Ratcliffe, who is in prison in Iran accused of spying.
This included options for granting diplomatic immunity, although Ecuador said it would continue to respect the UK's laws.
In November, Ms Espinosa said Mr Assange had been granted Ecuadorian citizenship.
The foreign minister said Ecuador was trying to make Mr Assange a member of its diplomatic team, which would grant him additional rights under the Vienna Convention on Diplomatic Relations – including special legal immunity and safe passage.
Last week, former cabinet minister Sir Patrick McLoughlin asked the Home Office when action will be taken over Mr Assange's case during questions at the House of Commons.
He said the first three years of Mr Assange's five-year stay in the embassy had cost the Metropolitan Police Service (MPS) an additional £11 million.
Last month when lawyers asked the London court to consider dropping the arrest warrant, the Crown Prosecution Service said there was a "hypothetical chance" Mr Assange could soon walk free from his embassy incarceration.
Mr Assange, 46, has been inside the Ecuadorian building since 2012 after skipping bail to avoid extradition to Sweden over an allegation of rape, which he denies.
While the Swedish investigation is no longer being actively pursued, the MPS says the Wikileaks founder will still be arrested if he leaves the embassy after the Foreign Office turned down a request to grant him diplomatic status.
US Attorney General Jeff Sessions said Mr Assange's arrest is a "priority," while CIA Director Mike Pompeo has made a number of statements, including calling him a "non-state hostile intelligence service."
He also claimed Mr Assange has "no First Amendment rights" and that "the CIA is working to take down WikiLeaks".