Judge tells prosecutors serious cases 'should not be' in sheriff courts
The Crown Office and Procurator Fiscal Service (COPFS) has been told to "get its act together" after failing to prosecute a serial offender in the High Court – for the second time in a week.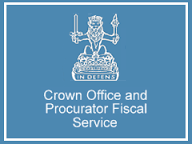 The Crown Office and Procurator Fiscal Service (COPFS) has been told to "get its act together" after failing to prosecute a serial offender in the High Court – for the second time in a week. Judge Lord Uist again criticised a decision to prosecute cases at sheriff court level as a convicted rapist who has continued his violent assaults in prison was warned he could face a life sentence. In the latest case, John McKinlay threw the contents of a kettle over another inmate in Edinburgh's Saughton jail leaving him with severe eye burns. The victim, Paul Murray, later underwent surgery for a membrane graft but may need a corneal transplant to his right eye in the future. McKinlay, 27, admitted throwing hot liquid on his fellow prisoner to his severe injury and impairment on July 26 last year, when he earlier appeared at Edinburgh Sheriff Court. Sheriff Norman McFadyen decided that any sentence he could impose was inadequate and sent the case to the High Court with its greater powers. The maximum sentence in a sheriff court is five years' imprisonment. When the case was called at the High Court in Edinburgh, Lord Uist said: "The accused has three High Court convictions for violence, serious violence, including an extended sentence, and it was thought fit to deal with this case in the sheriff court." "I had another case earlier this week which should never have been in the sheriff court." Lord Uist said it appeared there was something wrong with the marking of cases for where they would be prosecuted in the COPFS. He added: "The Crown should get its act together about the choice of forum for the prosecution of serious crime." The judge said he thought McKinlay's case and that of sex attacker Alexander McIlravie, who appeared before him earlier last week, should be referred to the law officers "so they can see what is going on". McIlravie, 26, from Burntisland, was found guilty of assaulting a female dog-walker with intent to rape her at the Fife town's links on November 11, 2015. He fled after the victim's pets stayed beside her to protect her and harassed the sex attacker who was later found with dog bites. McIlravie was found guilty of the offence at Kirkcaldy Sheriff Court but was sent to the High Court, where Lord Uist called for a full risk assessment report which can lead to the imposition of an order for a lifelong sentence. The judge also made a risk assessment order in McKinlay's case to assess what risk he posed to the public if at liberty. Defence counsel Allan Macleod had urged Lord Uist to deal with McKinlay immediately. He told the court there had been "a background of ill feeling" between McKinlay and his victim in the lead up to the attack. He said they had previously bumped into each other which resulted in "a shouting match" and McKinlay was threatened with violence. McKinlay was jailed for six years in 2013 for raping and assaulting two women and assaulting another. After one rape attack he got up and made himself a cup of tea. A COPFS spokesperson said: "Decisions to prosecute on indictment are taken independently by Crown Counsel after a full consideration of all the evidence and circumstances in each case. "It would be inappropriate to respond publicly to what has been said in court by the judge until sentencing has taken place." McKinlay was subsequently jailed for four years for an attack on another inmate in Perth prison whom he scarred. Lord Uist adjourned his latest case to August 30.