Joint drone unit takes off 24/7
A new joint drone unit went live in Nottinghamshire this month to provide an operational "eye in the sky" for the police and fire and rescue services.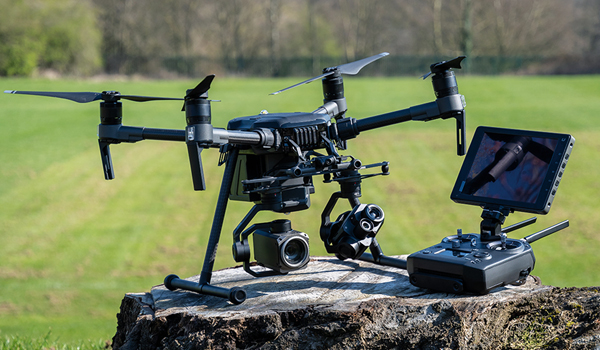 And on the day of the unit being launched on January 6, a drone deployed by Nottinghamshire Police helped officers to arrest two men who have since been charged in connection with an aggravated burglary in Keyworth.
The drone had been deployed to assist officers in their search for the suspects, who were arrested nearby after a short foot chase.
Paddy Tipping, Nottinghamshire's police and crime commissioner, said: "Our investment in technology, such as the drone team, will increase the safety of local people. Drones allow officers to gain vital information, quickly and safely, and to respond rapidly in the event of a live crime, as in this case.
"These new assets are already providing their effectiveness in detecting crime and will become a vital tool in our capabilities in the future, helping our emergency services workers to gain vital evidence and cover vast and remote areas quickly."
Three drones, resourced by trained police drone pilots, will be available for Nottinghamshire Police and Nottinghamshire Fire and Rescue Service (NFRS) to use in a range of incidents and scenarios, delivering an improved service across the communities they serve.
Nottinghamshire Police Chief Constable Craig Guildford said he was "very pleased" to be able to introduce drones into the force and make the most of their capabilities.
"I am very much looking forward to seeing the benefits that this technology will have for our officers in a number of areas of police work, and I want to thank everyone involved for their hard work on bringing this team to fruition," he added.
A dedicated police drone vehicle, along with trained police pilots will be available to NFRS 24/7 and will provide coverage for both fire and police colleagues to call upon if required when a spontaneous incident has been assessed and authorised by the incident commander.
A diary function will also be available for pre-planned operations. The drone team will assist as an additional function alongside the emergency services that have already been deployed and will allow the opportunity to resolve incidents quicker.
Nottinghamshire Police officers have been trained to fly in various environments and in both day and night-time conditions to ensure they can provide 24/7 coverage.
Police Constable Vince Saunders, who has been training the drone pilots, said: "Being able to get a drone team together is fantastic and I've no doubt they will be a great asset to various operations and tasks required of the force.
"Having had an interest in drones for a number of years, it is brilliant to be able to be involved with the new team and show how their capabilities can be used to aid us in our work."
Fire officers have also been trained on how the drones work, what the processes are, and have been working together with the police pilots to create effective and smooth communications between the two services.
NFRS Station Manager Christian Brown said: "This is a great opportunity for us to work alongside Nottinghamshire Police and make the most of the drone capabilities.
"The drones allow us to make more detailed decisions and investigate incidents further. It will provide us with a clearer picture of the incident and help us to keep both communities and firefighters safer."
Mr Tipping added: "This is good news for our communities and will help these two emergency services to be in the right place at the right time. The 'eye in the sky' will help to find missing people, deter and track down offenders, as well as providing greater coverage in more remote areas."
The joint drone unit is the latest in a range of collaboration projects between Nottinghamshire Police and NFRS; other successful joint initiatives include a shared welfare vehicle for firefighters and police officers to use at incidents, joint school's education and road safety initiatives, and co-location of fire and police staff at Highfields fire station in Beeston.