Jailed child sex abuse officer dies 41 days into his sentence
A retired North Wales Police superintendent only weeks into a 12-year prison sentence for historical sex abuse died in hospital of natural causes, an inquest found.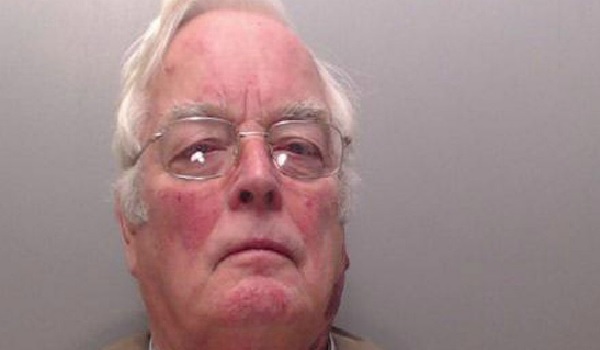 Gordon Anglesea, 79, was jailed in November 2016 after being found guilty of four counts of indecent assault. The conviction related to offences committed between 1982 and 1987 against two boys, aged 14 and 15 at the time. But the disgraced officer died in hospital after falling ill at HMP Rye Hill near Rugby – just 41 days after starting his sentence.
Northamptonshire senior coroner Anne Pember said he suffered multiple organ failure and had pneumonia. Anglesea was taken to Rye Hill in November 2016 following a short stay at HMP Altcourse in Liverpool.
The inquest heard he was subsequently seen by nurses at the prison after complaining of abdominal pain and vomiting. On December 7 he was taken to University Hospitals Coventry & Warwickshire suffering from lack of oxygen and low blood pressure.
He died there on December 15. The child sex offences took place when Anglesea – then a police inspector – ran an attendance centre in Wrexham in the 1980s. One of his victims told of how he was grabbed by the hair and indecently assaulted, while Anglesea called him "scum" and told him he had the "power to send him away".
Trial Judge Geraint Walters said Anglesea had "grossly abused" the trust placed in him by the boys. "The consequences for them has been profound, indeed life changing," he added.
In 1994, Anglesea was awarded £375,000 in libel damages when he successfully sued The Observer, the Independent on Sunday, Private Eye and HTV – the holder of the ITV franchise in Wales – after they ran stories about his alleged links to abuse on his visits to the Bryn Estyn children's home just outside Wrexham in North Wales. Anglesea was finally arrested in 2013 as part of the National Crime Agency's Operation Pallial investigation into historical abuse across North Wales.
At Mold Crown Court in October 2016 he was found guilty of three indecent assaults on one boy and one indecent assault on another.
He was sentenced to 12 years in prison on November 4, but later lodged an appeal against his convictions. That bid to overturn the convictions has been rejected by the Court of Appeal in London.
Following his death Anglesea's widow Sandra had pursued the appeal, lodged with the Court of Appeal on November 18, 2016. But his solicitor Mike Mackey, from the Manchester-based firm Burton Copeland, told ,Police Professional on Thursday (May 3) that the leave of appeal had been "refused" by the courts and it would not be "renewed".