IOPC report uncovers racism, misogyny and harassment within the MPS
An investigation by the Independent Office for Police Conduct (IOPC) has uncovered evidence of bullying and discrimination within the ranks of the Metropolitan Police Service (MPS), including incidents of racism, misogyny and harassment.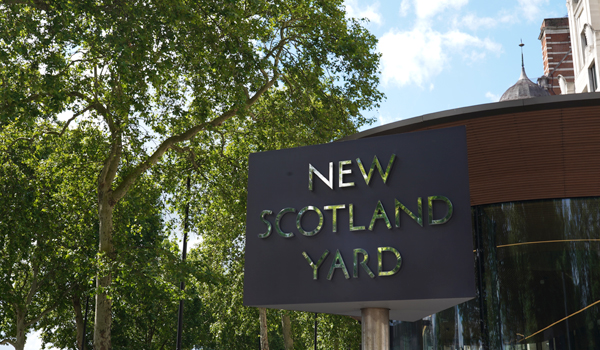 The IOPC opened its investigation in March 2018 following claims that an officer had sex with a drunk person at a police station. The probe initially focused on teams formed to tackle crime and disorder in the Westminster area and involving officers predominantly based at Charing Cross police station but were expanded after other officers came forward to report concerns about the conduct of colleagues.
Today (February 1)the IOPC has issued wide-ranging recommendations to the MPS to change policing practice after nine linked investigations uncovered evidence in relation to bullying, violence towards women, perverting the course of justice, discriminatory language and other inappropriate behaviours.
Among the messages that emerged from a shared group chat was one in which a male police officer told a woman "I would happily rape you" and "if I was single I would happily chloroform you".
Other text messages showed officers glorifying domestic abuse, with one officer responding "LMAO" to another who wrote "You ever slapped your missus? It makes them love you more. Seriously since I did that she won't leave me alone. Knock a bird about and she will love you. Human nature".
Home Secretary Priti Patel said: "Being a police officer is a privilege which has been abused by these sickening officers. It has been clear for some time that there are problems with the culture of the Metropolitan Police, which is why last year I tasked the Angiolini Inquiry and the police inspectorate with investigating these deeply concerning issues.
"I expect the Metropolitan Police and the Mayor of London to implement the recommendations of this report as soon as practically possible. The public rightly expects the behaviour of the police to be beyond reproach – standards must be raised."
The IOPC report contains 15 recommendations, which seek to tackle underlying cultural issues by preventing environments from developing in which unprofessional and inappropriate behaviour can thrive and go unchallenged. It further includes recommendations for the MPS to publicly commit to being an anti-racist organisation with a zero-tolerance policy towards sexism, misogyny, bullying and harassment.
IOPC Regional Director Sal Naseem said: "The behaviour we uncovered was disgraceful and fell well below the standards expected of the officers involved. While these officers predominantly worked in teams in Westminster, which have since been disbanded, we know from other recent cases that these issues are not isolated or historic.
"We acknowledge work carried out by the Met to tackle these problems, including its Rebuilding Trust plan focusing on standards, culture and women's safety; the strengthening of its whistleblowing line; and the STRIDE 25 strategy and action plan for inclusion, diversity and engagement. MPS culture and standards of behaviour are also subject to a formal review by Baroness Casey of Blackstock. While we welcome these steps, more is required."
"Our recommendations focus on the identified cultural issues and aim to ensure that those who work for the force feel safe with their colleagues, and that communities feel safe with those whose job is to protect them. The MPS has to enjoy the trust and confidence of its own officers from diverse communities before it can hope to bridge the gap in trust and confidence with the communities it serves."
"The learning report we are publishing today is shocking and contains language which is offensive – and some may find it upsetting. However, we felt it was important to provide the context for the public, the Met and other forces, for why such hard hitting recommendations are necessary."
During its investigations the IOPC reviewed thousands of messages exchanged by officers, including many that were highly sexualised, discriminatory or referred to violence. These were generally described as banter by officers in their defence.
Mr Naseem continued: "Our investigation showed the officers' use of 'banter' became a cover for bullying and harassment. Colleagues were afraid to speak out about these behaviours for fear of being ostracised, demeaned or told to get another job.
"We are grateful to those officers who were brave enough to speak to us about the cultural issues that existed within these teams, realising that in doing so they risked further bullying. This took courage. Hopefully our learning report and recommendations will give officers the confidence to come forward in the knowledge that people are listening and that changes will be made.
"The relationship between the police and the public is critical to maintaining the principle of policing by consent. The concerns about behaviour and culture addressed in our report, if allowed to continue and go unchallenged, risked causing serious damage to that relationship."
In total 14 officers were placed under notice that they were being investigated. Two officers were dismissed for gross misconduct and put on the barred list preventing future employment with the police. One of the officers resigned prior to these hearings.
A further four officers attended misconduct meetings and a fifth would have attended a misconduct meeting had they not resigned from the force. A further two officers received management action and another officer received practice requiring improvement. One of the officers who attended a misconduct meeting also received practice requiring improvement.
The unit investigated by the IOPC was disbanded as part an overhaul of local policing service in 2018, which placed extra focus on leadership and professional standards. Last year the MPS further strengthened local leadership teams by creating 12 chief inspector posts responsible for driving a step-change in standards.
There has been an increased focus on standards at the Central West Basic Command Unit, which includes Charing Cross police station. A dedicated chief inspector has been appointed to lead a proactive team responsible for neighbourhood policing in the West End to ensure scrutiny and improved leadership.
Mayor of London Sadiq Khan said he was "utterly disgusted" by the findings. "The conduct of these officers was totally unacceptable and what has been revealed by these investigations will only further damage public trust and confidence in the police," he said.
"It is right that the team concerned has been disbanded and the police officers found to be involved have been dismissed, disciplined or have left the police. Anyone found to be responsible for sexism, racism, misogyny, Islamophobia, antisemitism, bullying or harassment does not deserve to wear the Met uniform and must be rooted out.
"While I welcome the IOPC's recommendations, more is required and I've been clear with the commissioner about the scale of change that's needed to rebuild trust with Londoners.
"Baroness Casey has been appointed to lead an independent review into the Met's culture and standards. This review will be vital to fully addressing and eradicating misogyny, sexism, racism and homophobia within the police, as well as scrutinising police processes and standards of behaviour across the organisation among officers and staff.
"In the meantime, the Met has set out the immediate action it is taking to rebuild public trust and confidence, and I want to assure Londoners that I will continue to hold the Met to account on delivering these commitments so that we see the changes needed and the public deserve."
Labour's London Assembly Policing and Crime Spokesperson, Unmesh Desai AM, said: "The findings from today's IOPC report are very disturbing and suggest that a bullying culture at the station meant that officers witnessing bad behaviour and misconduct from their colleagues were too afraid to speak out.
"Concerningly, the report exposed that racist, sexist, homophobic and hate-filled exchanges and communications between officers were passed off as banter at time, covering up a toxic environment within the station.
"This all reinforces the vital importance and urgency of Baroness Casey's independent review into the culture and standards of the Met. Whilst we await its publication, the Met must waste no time in fully committing to implementing the IOPC's extensive list of recommendations".
A statement issued by the MPS in response to the IOPC report said: "The conduct of a team of officers at Charing Cross police station in central London does not represent the values of the Metropolitan Police Service.
"We are deeply sorry to Londoners and everyone they have failed with their appalling conduct and acknowledge how this will damage the trust and confidence of many in the Met. Since this reprehensible behaviour was uncovered in 2017 we have taken a series of measures to hold those responsible to account and stamp out unacceptable behaviour."
Deputy Assistant Commissioner Bas Javid said: "I am angry and disappointed to see officers involved in sharing sexist, racist and discriminatory messages. It's clear we have a lot of work to do to ensure bullying and discrimination does not exist in any part of the Met.
"The actions of these officers between 2016 and 2018 were unacceptable, unprofessional, disrespectful and deeply offensive. I read their messages with increasing disgust and shame.
"We haven't waited for the IOPC's report to take action – a number of officers have been subject to misconduct proceedings, including one officer dismissed and one who would have been dismissed had he not already resigned. Every Met employee has also been spoken to about responsible use of social media.
"We recognise that there is need for real change in the Met and we are committed to creating an environment that is even more intolerant to those who do not uphold the high values and standards expected of us."
The force said it would now consider the recommendations before replying to the IOPC in due course. "We recognise change won't happen overnight, but all of us are determined to do everything we can to improve."
A statement from the Metropolitan Black Police Association (Met BPA) said it was "disgusted by the explicit nature of the racist, sexist, misogynistic conversations and views held by some of the officers involved".
It added: "Sadly, we know that there are others who hold such views and continue to carry out their duties within the organisation. From our work supporting our members through their experiences, we confirm that which the IOPC regional director has said; such events are not 'historic', nor are they isolated. With so many bad apples, it's clear to see that there's something wrong with the tree.
"We fully agree with the view of the IOPC report that 'the behaviours we uncovered risked causing serious damage to the confidence and trust of public relationship', but we would go further and say that it has already been significantly eroded. Cases like these undermine the invaluable work that so many of us do with our communities.
"For years the Met BPA have highlighted disproportionality and discrimination against black, Asian and minority staff/officers and wider communities, only to be rebutted and gas lit with comments like 'you need to fit in' and 'play the game'. Such abuse and discrimination is viewed as simply 'banter' or at most 'clumsy' behaviour by others throughout the hierarchy.
"The explicit evidence revealed in this report speaks volumes about deliberate behaviours that contribute to institutional bias. It must stop.
"We stand in unison with our fellow Staff Support Associations in holding the Met to account on this matter and indeed all matters of equity, inclusion and fair treatment.
"We continue to provide support to our members and communities in such challenging times."