IOPC probe after footage shows man suffer seizure during arrest
The Independent Office for Police Conduct (IOPC) has launched an investigation into the circumstances surrounding the arrest of a man who appeared to have a seizure while being restrained by officers.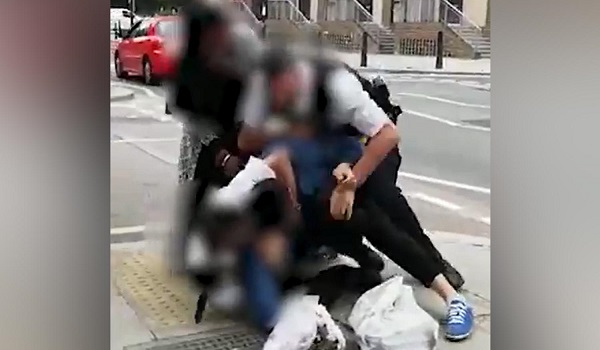 Footage of the arrest in Tower Hamlets, East London, on Tuesday July 9, was widely shared on social media and immediately prompted accusations of police "heavy-handedness" and provoked heated debate over the actions of the officers concerned.
Younass Dentahar was arrested on suspicion of obstruction of the highway, assaulting police and resisting arrest following the incident. He has been released while inquiries continue.
Mr Dentahar, 38, has since claimed officers used "unnecessary force" after repeatedly asking him to move his car. He told the BBC that he explained to police he could park on a single yellow line in the area after 5.30pm and that his child had a disability.
However, after arguing, he claimed he was "set upon by three officers".
"The police treated me really bad and humiliated me in front of my children. They handcuffed me for no reason and didn't explain anything," he said.
"I used to trust the police but I don't think they did their job right. I have a cut on my head where they hit me with handcuffs."
The Metropolitan Police Service (MPS) has said Mr Dentahar was asked to produce his driving licence or move his vehicle, then given a "five-stage warning", before being arrested, which he then resisted.
The day after the arrest, during a Home Affairs Select Committee hearing, chair Yvette Cooper called the footage "extremely disturbing" and urged MPS Commissioner Cressida Dick to "look closely" at referring the case to the IOPC.
In a statement, the IOPC said: "Following discussions with the MPS yesterday, the force made a referral to the IOPC and we have launched an independent investigation. The man who was arrested appears to have potentially lost consciousness during the arrest, which would meet the threshold for the MPS to make a mandatory referral to the IOPC. There is also significant public interest in this incident being investigated by an independent body."
IOPC regional director Sal Naseem added: "This event has already provoked a fierce debate on social media and in the national media based on what has been captured in various recordings leading up to and during the arrest."