IOPC begins investigation following deaths of two teenagers in Cardiff
The Independent Office for Police Conduct's (IOPC) has begun an investigation into police contact with two teenagers prior to their deaths in a crash in Cardiff on Monday (May 22).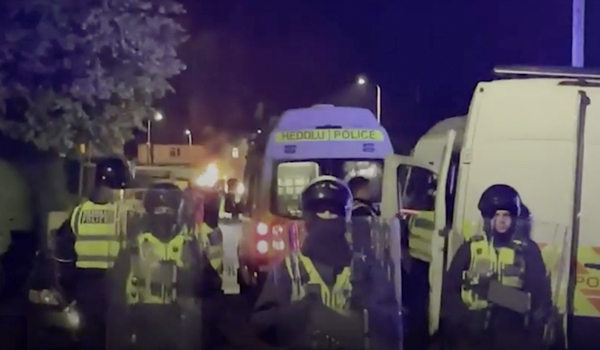 The IOPC said it received a mandatory referral from South Wales Police due to the fact a marked police van was captured on CCTV driving behind the boys shortly before the fatal collision which sparked rioting in the area.
Several vehicles were set alight, property was damaged and 15 police officers were injured, 11 requiring hospital treatment, during the incident in the Ely area of Cardiff.
South Wales Police said it had received a report of a serious road traffic collision on Snowden Road shortly after 6pm, which resulted in the deaths of two teenage boys.
The collision had already occurred when officers arrived, and they remained on scene to manage "a large-scale disorder" until the early hours of Tuesday morning, the force said.
The IOPC said it sent investigators to attend the police post-incident procedures and has obtained the initial accounts from key police witnesses.
It added: "While South Wales Police will be responsible for the collision investigation, our independent investigation will scrutinise the actions and decision-making of police involved in this incident."
IOPC Director for Wales David Ford: "This was a tragic incident in which two boys lost their lives. We would like to once again express our sympathies to their families and friends, as well as all those affected by their deaths.
"We are not the police and our investigations are independent of the police. Our role is now to speak to members of the community and gather evidence, including CCTV and witness statements, to understand the circumstances leading up to the collision.
"This incident has had a profound impact on the local community and it is vitally important that the facts are established through a thorough and impartial investigation.
"Our investigative and community engagement work in the local area will continue for some time to come. Further updates will be provided as our investigation progresses.
"Upon conclusion of the investigation we will determine whether there is any indication that anyone serving with the police may have breached the standards of professional behaviour."
South Wales Police Deputy Chief Constable Rachel Bacon said she was "aware of concerns" in the local community regarding the timeline of events, which culminated in the fatal collision, including CCTV footage which shows a police vehicle following a bike in Frank Road.
In a statement on Wednesday (May 24th) she said: "There was no police vehicle in Snowden Road at the time of the collision and we believe there were no other vehicles involved in the incident.
"We have made a mandatory referral to the IOPC to ensure the matter receives independent scrutiny. We will provide them with all the information we have, and they will undertake an independent investigation.
"Nothing can excuse the level of violence and disorder which followed in the community. Property was damaged and people were scared in their own homes.
"Our focus now is to fully investigate the circumstances of the collision and the appalling scenes that followed.
"We are appealing for witnesses, information, and footage from mobile phones and social media.
"We have already recovered around 180 pieces of body-worn footage from police officers at the scene and this number is expected to grow.
"Officers are also going through hundreds of hours of public CCTV and videos posted on social media."
Ms Bacon said anyone who has footage of Monday's events can upload it via a link on the force website.
"We are extremely grateful for the support from the community so far and urge anyone with information to contact South Wales Police," she added.