IOPC asks for co-operation to make a 'huge difference' to investigation delays
Officers have been asked to help speed up lengthy misconduct investigations by offering their full cooperation.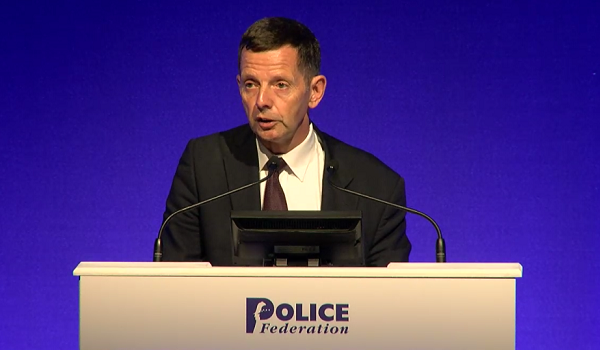 The Independent Office for Police Conduct (IOPC) is addressing concerns over delays but help from the front line is still not universal, according to Director General Michael Lockwood.
Addressing the Police Federation of England and Wales (PFEW) annual conference, Mr Lockwood urged officers to put an end to uncooperative behaviour that can add weeks or months to an investigation.
The IOPC has been criticised for a number of cases that spanned years, leaving officers unsure of whether they would face misconduct or criminal action.
Mr Lockwood added that the IOPC has dramatically increased its case closure rate since reforming at the start of the year.
"You can help me with that by encouraging co-operation with our investigations, as far as you can," he said.
"Co-operation from witnesses makes a huge difference to the speed of progress in an investigation.
"For us, the accounts of police witnesses are crucial and when these are forthcoming quickly, as they often are, it makes a huge difference."
The IOPC came into being on January 7 this year, replacing the former Independent Police Complaints Commission (IPCC).
The reform was intended to improve engagement between misconduct investigators and policing, reduce delays and build confidence in the police complaints system.
By the end of 2017/18 the organisation had completed 709 independent investigations with a faster turnaround than nine police forces.
For the first time in six years it closed more cases than it opened, with a 60 per cent increase in closure rates over the previous year.
However, in his speech at the Birmingham International Convention Centre on Tuesday (May 22), Mr Lockwood raised concerns that some cases are still being pushed back due to officers offering no comment or insisting on responding to information requests in writing.
He added that some choose to delay attendance at interview with the support of PFEW representatives, claiming that this action can greatly increase the length of IOPC investigations.
In one investigation into the police response to a death, all ten officers who attended the scene provided identical two-line accounts during the post-incident procedure that essentially said 'I was there'.
PFEW conduct lead Phil Matthews said he had been impressed by the IOPC's willingness to engage constructively with the police service.
However, he claimed recent cases prove the IOPC still has work to do to prove it has reformed. And he said there was a lack of trust in a number of areas of the country following a breakdown in relationships over major cases.
The IOPC recently directed the MPS to hold a misconduct hearing for a firearms officer known as W80 who was involved in the fatal shooting of Jermaine Baker.
Mr Matthews said this case highlighted problems with the IOPC's 'case to answer' test for proving potential misconduct.
"We have been assured this is something the IOPC are working hard to address," he added.
"But we are yet to be completely convinced that they have fully resolved that or fully understand the implications of the case to answer decisions and the long time delays that has on all our officers that are involved in investigations."
Instead, he claimed the "ball is in the IOPC's court" in terms of proving officers are being treated fairly, proportionately and that their cases are being dealt with more quickly than in the past.
In particular, Mr Matthews claimed that in directing a misconduct hearing, the IOPC is not always paying heed to the requirement for it to consider 'the balance of probabilities', relying on a low threshold instead, at a cost of £17,000 for an average run-of-the-mill case and up to 12 months delay.
The threshold for directing a hearing has been set by a series of judicial reviews, most notably the Chief Constable of West Yorkshire Police v IPCC and the quashing of an IPCC report into the death of Jordan Begley.
The IOPC believes just one case out of more than 25 in which the IOPC or IPCC has directed the force to hold a misconduct hearing has led to a sanction, in every other case the officers were cleared. It said any change to the threshold is likely to come from further judicial reviews.
However, Mr Matthews claimed doing so would require bold decisions from both the IOPC and police forces.
To further improve the timeliness of investigations, Mr Lockwood has agreed to work with the Government to identify areas that lead to delays.
This research will include the role of forces, decisions by the Crown Prosecution Service and Coroner's Proceedings.
He said: "The single biggest criticism that has been laid at our door in the past, is the length of time it takes to complete investigations.
"The headline from you is that we are bureaucratic and slow. It won't surprise you to hear that tackling this issue will be a big priority for me."