Investigators receive awards for dedication and tenacity
The work of detectives from across England and Wales has been recognised at a national award ceremony that highlights the most outstanding examples of investigative work to have taken place over the last year.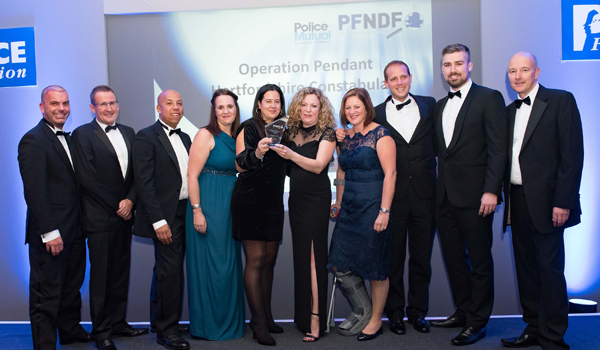 At the ceremony, organised by the Police Federation's National Detectives' Forum (PFNDF) and held in Manchester on Thursday, a team of detectives from Hertfordshire Constabulary won the Detective Investigation of the Year award for uncovering a global paedophile ring.
Their year-long investigation, codenamed Operation Pendent, was the largest and most complex ever undertaken by the force's child online safeguarding team, and resulted in the ring leader receiving nine life sentences, in addition to lengthy sentences for his accomplices.
The team, led by Detective Chief Inspector Dee Perkins, recovered video material which involved the live streaming of sexual abuse against children.  The investigation revealed that a suspect was communicating with others over social media before shifting on to the video platform Skype. Video conversations were recovered using specialist techniques, and were found to involve the live streaming of sexual abuse against children.
More than 100 suspects were involved but obtaining their personal details from the Grindr dating app was a major barrier, as the site was subject to strict US privacy laws. Investigators had to go to the American Embassy to unlock those barriers and pursue the suspects.
A Metropolitan detective constable won Trainee Detective of the Year for his tenacity and victim-focussed approach across a range of roles. Among his achievements has been identifying the under-reporting of hate crimes against disabled people, work that led the Metropolitan Police Service to radically overhaul the way it deals with such offences.
The officer, who cannot be identified due to his involvement in numerous covert roles, was also responsible for obtaining the first domestic violence protection order in the capital and has frequently gone beyond his role to build relationships and trust within communities.
As a member of the Child Sexual Exploitation Unit, the officer managed a caseload of up to 60 investigations simultaneously. He obtained disclosures from young people previously unwilling to detail their experiences and visited social care professionals in his own time. He exposed London-wide sexual exploitation of children in "hotel parties" – piecing together information to identify a perpetrator network.
Sussex Detective Chief Inspector Clare Shiel won the Services to Detectives award for being an outstanding role model. Det Chief Insp Shiel, who retires this month, became a detective in 1995 and has acted as a role model and mentor to detectives across the force.
She has led many significant investigations including Operation Adio, an investigation into the activities of a protest group involved in large-scale public disorder which also involved a long history of civil claims against Sussex Police. Det Chief Insp Shiel ensured that claims were robustly challenged and saved approximately £100,000, as well as securing convictions.
More recently she was responsible for an operation to recover a victim of modern slavery – a woman who was kept as a slave in appalling conditions for almost two decades.
Detective Superintendent Stuart Hale said: "Clare provided excellent leadership skills, developing previously inexperienced staff, many of whom have now chosen criminal investigations as a career pathway. Every detective sergeant that has come through Brighton Investigations in the past ten years have developed and owe their detective prowess, to some extent to Clare. No matter how busy she is or pressures she is under, she always makes time for staff development."
The Smarter Detective of the Year was awarded to Detective Constable Darren White from Devon and Cornwall Police, who was recognised for his tenacity and drive to progress an investigation into the sexual abuse of multiple children in the Philippines by a UK national.
By enlisting the support of an anatomy expert from the University of Dundee, Det Con White was able to match images of adult hands in the abuse pictures to the suspect. Further analysis identified the hands of the suspect's former partner in the Philippines.
He painstakingly analysed more than 100 hours of footage and half a million lines of Skype communication to identify 46 individual victims and two more Filipino female offenders. He was able to prove that the suspect had transferred over £33,000 to individuals in the Philippines for the abuse of children online. As a result the offender was jailed for 18 years.
Det Con White then worked with the National Crime Agency and the Home Office to transfer investigative material to the Philippines, and briefed the Filipino Minister of Justice.
The overall Regional Recognition Award winner was chosen from a shortlist of impressive regional winners from throughout England and Wales. Detective Constable Chris Williams from Avon and Somerset Constabulary was recognised as overall winner for her unrelenting passion and dedication to safeguard children from abuse.
In 2011, Det Con Williams supported three victims of historic child sexual abuse and made a significant contribution towards the sentencing of the offender for 81 consecutive years' imprisonment. She has received a Judge's commendation for exemplary victim care work in a complex case involving seven victims over many years.
Due to retire this year after 37 years with the force, her dedication remains unrelenting and she plans to return as a civilian investigator.
Martin Plummer, PFNDF chair, said the 180 nominations received for this year's awards represented the largest ever number, making the task of choosing winners extremely challenging.
"It has been a near impossible task to narrow the entries down to the winners. The high standard of entries has shown what we know to be true – that we have the best police service in the world," he said. "I am privileged and humbled to have been on the judging panel."