Investigation launched after man Tasered in front of young child
Greater Manchester Police (GMP) has promised to conduct a "transparent and independent" review of an incident in which a man was Tasered by officers in front of his distressed young child.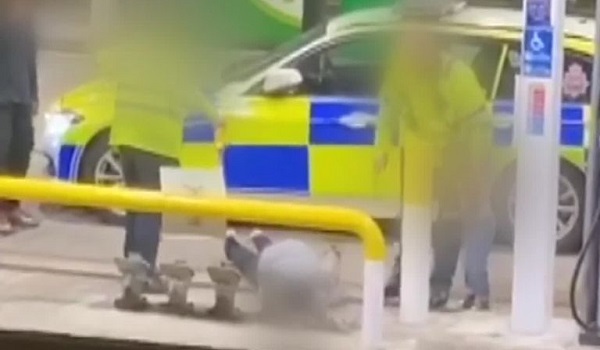 Mobile phone footage filmed by a bystander and widely shared on social media channels captured details of the incident, which took place at a petrol station in Stretford on Wednesday night (May 6).
In the video, the man can be seen arguing with two GMP officers in front of a marked police vehicle while his child cries and calls out for "daddy". The man is then Tasered and falls to the ground, causing the child to become so hysterical and distressed that he has to be held back by one of the officers.
Responding to the footage, Mayor of Greater Manchester Andy Burnham called for an "urgent" review of the incident.
A statement issued by Mr  Burnham said: "On Friday morning a video was brought to my attention of a police incident at a petrol station in Greater Manchester involving two police officers, a man, a child and the user of a taser.
"I was concerned about what I saw and immediately asked GMP to look into it and provide me with an explanation of what had happened.
"From what I have been told, it would appear that the officers were right to apprehend the individual who was putting his child and others at risk by his actions.
"He has subsequently been charged. But it is not at all clear that the level of force used in this instance, particularly in front of a child, was proportionate or justified and that is why I have asked for an urgent and independent review to be carried out."
GMP said the man had subsequently been charged with seven offences, including speeding, having no insurance, drink-driving, failing to stop and unnecessary travel.
"During the arrest a Taser was deployed by a GMP officer," the force said in a statement. "The matter has been reviewed by the GMP Professional Standards Branch and we have voluntarily referred this matter to the Independent Office for Police Conduct, to ensure transparency and independence in terms of reviewing the circumstances of the arrest."
GMP Superintendent Mark Kenny, said: "We are aware of public concern regarding this arrest and I want to reassure the public that this matter is being reviewed and treated seriously."
A statement issued by the local branch of the Police Federation of England and Wales said: "Greater Manchester Police Federation are supporting our colleagues involved in this incident. We will be making no further comment at this time due to the ongoing investigation."
Shadow Home Secretary Nick Thomas-Symonds tweeted that he had spoken to the mayor about the incident. He wrote: "Have been in touch with @AndyBurnhamGM about this incident, and I am glad to see that he has asked for an urgent and independent review of what has happened."