International honour for Durham's early access mental health support project
A unique partnership between Durham Constabulary and the NHS has helped vulnerable people access early mental health support – and reduced the number of repeat caller incidents to the police by almost 70 per cent.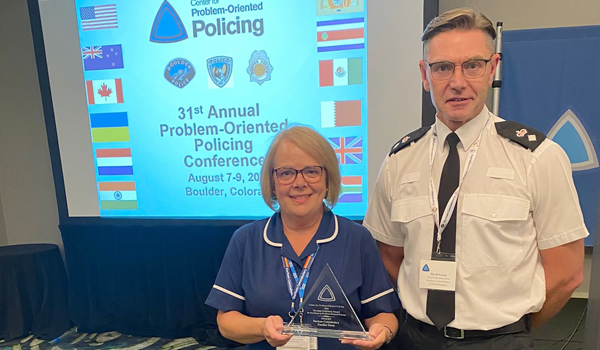 Familiar Faces was launched in 2018 by Tees, Esk and Wear Valleys NHS Foundation Trust (TEWV) and Durham Constabulary after research showed that a relatively small number of people with mental health and social care needs were making an increased number of calls to the police.
Familiar Faces has helped individuals get early access to the support they needed, while the amount of police time spent dealing with those incidents fell dramatically.
A street triage team made up of mental health professionals from TEWV was brought in to the police control room to assess incoming calls and if necessary attending incidents where mental health played an important part.
Last week, the pioneering project was a recognised when it was named as a finalist at the prestigious Goldstein Awards for problem-solving in policing at a ceremony held in Colorado in the US.
Chief Superintendent Dave Coxon, Durham Constabulary's force lead for Familiar Faces, said: "Familiar Faces is primarily designed to make sure that vulnerable people in our community get the care and support they need from the appropriate agency. Often a police officer isn't the proper response in the circumstance, and isn't best placed to support the person involved.
"Police officers are also spending a significant amount of time dealing with health and social care incidents, which obviously has an impact on the limited resources we have to prevent and investigate crime and to keep people safe.
"Importantly, police continue to respond to people in mental health crisis and as a result of this programme our officers now have a better understanding of how to better support their care.
"Familiar Faces has made a real difference to the lives of very many vulnerable people and it is a real honour for all those involved to have that achievement recognised by being nominated for such a prestigious international award".
Familiar Faces was established after the number of calls to police associated with people in mental health crisis soared to more than 21,800 in 2018 – an average of 58 each day, or just under 12 per cent of call calls to the police. Many of these were repeat calls centring on the same recurring individuals in crisis.
The programme initially brought together nine partner organisations to develop a referral system, a formal agreement to share information between the agencies and an agreement that police and the NHS would be involved in decision making in each case. Membership has grown significantly to include a wider range of statutory and voluntary sector organisations.
An assessment of the programme found that the new process for care management plans had improved the lives of those individuals who had taken part.
It also found a 69.4 per cent reduction in the number of incidents involving repeat callers and a 73.7 per cent reduction in the time spent by police dealing with them.
There was also a 50 per cent reduction in the number of people detained under section 136 of the Mental Health Act.
The Goldstein Awards were established by the Center for Problem-Oriented Policing, based at Arizona State University, to promote innovative thinking in policing to effectively address crime and disorder problems.