International bans and arrests mark biker gang anniversary
Twenty-seven foreign members of the Hells Angels motorcycle club (HAMC) with prior convictions for offences such as murder and violent assault were prevented from entering the UK ahead of its 50th anniversary, Sussex Police has revealed.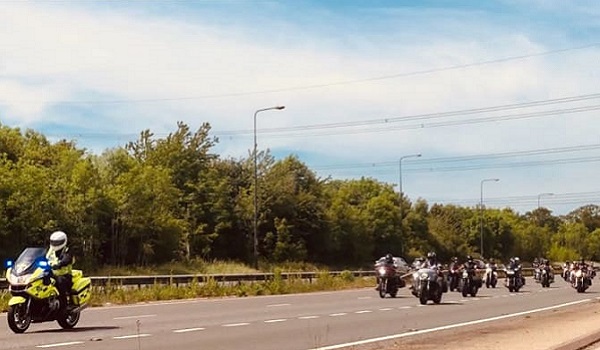 The Euro Run 2019 was arranged as part of the UK chapter's anniversary celebrations and saw around 700 bikers and more than 2,000 club members from all over the world staying in Sussex and neighbouring Surrey to attend a private party and then take part in a mass ride from Pease Pottage to Brighton.
It was the first time the annual three-day event had been held in the UK and in anticipation, both Sussex Police and Surrey Police cancelled all leave and rest days to ensure sufficient manpower would be available to deal with any disturbances.
Prior to the weekend police were granted powers to stop and search people within a designated area in Surrey and Sussex in a bid to tackle antisocial behaviour. A total of 34 bikers were arrested on suspicion of possession of offensive weapons and possession of drugs at a number of locations across the two counties.
At least 12 people — five Germans, three Hungarians, and one person each from Switzerland, France, the Czech Republic and Greece — have since been charged.
Assistant Chief Constable Nev Kemp of Surrey Police, who led the policing operations across both counties this week, said: "We benefited from the knowledge shared by our international colleagues about the attendees from their countries, and the risks that they posed. We were also able to prevent 27 people from even entering the UK.
"All of those refused entry were international members of the Hell Angels and deemed to pose a risk to the public with previous convictions for serious violent crimes including; murder, kidnap, torture, drug supply, violent assaults and firearms offences.
"Hells Angels events have not routinely passed without very serious incidents when they have taken place in other countries and a measure of success for us is ensuring that it passed without serious incident here in the UK. Europol have been very complimentary about the UK policing operation," he said.
In 2007, Hells Angel Gerry Tobin was shot dead while riding his motorcycle along the M40 motorway after attending an event organised by the club. Seven members of a rival gang, The Outlaws, were later convicted of his murder.
Last weekend's event took place just days after the Central Netherlands Court in Utrecht banned the Hells Angels, describing it as a violent organisation that is a danger to public order.
The court said in a written statement that "the violence is structural and comes from the motorcycle club's culture."
It remains unclear how the ban will be enforced as the court has ruled that it is up to prosecutors to decide how to implement it.