Inquiry launched into issues raised by Couzens conviction
The Home Office is launching an independent inquiry into the "systematic failures" that allowed Sarah Everard's killer to be employed as a police officer.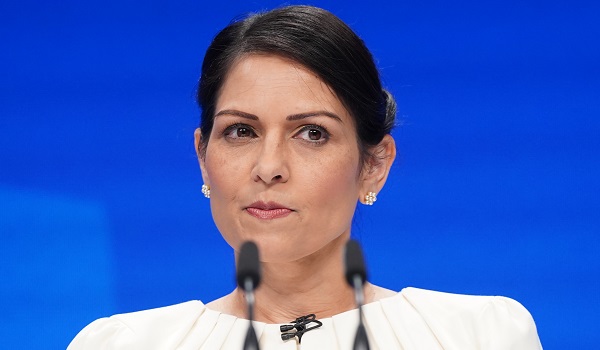 Speaking at the Conservative Party conference on Tuesday (October 5), Home Secretary Priti Patel said the public needs answers to ensure "something like this can never happen again" after Metropolitan Police Service (MPS) officer Wayne Couzens was convicted of kidnapping, raping and murdering the 33-year-old marketing executive.
The inquiry will be made up of two parts. The first will examine Couzens' previous behaviour and will establish a definitive account of his conduct leading up to his conviction, as well as any opportunities missed, drawing on the Independent Office for Police Conduct's (IOPC) investigations, once concluded.
The second part will look at any specific issues raised by the first part of the inquiry, which could include wider issues across policing – including vetting practices, professional standards and discipline, and workplace behaviour.
Additionally, the Home Secretary will write to Her Majesty's Inspectorate of Constabulary and Fire and Rescue Services (HMICFRS) to commission a thematic inspection of vetting and counter-corruption procedures in policing across England and Wales – including forces' ability to detect and deal with misogynistic and predatory behaviour. She has asked for initial findings by the end of 2021, and these will be used to inform the inquiry into Couzens.
The inquiry will also draw on the conclusions of current investigations by the IOPC into various allegations and incidents throughout Couzens' career.
The Home Office said that, in order to shorten the necessary time frame, the inquiry will begin on a non-statutory basis – meaning witnesses cannot be compelled to give evidence or disclose documents. However, if required, it will be converted to a statutory inquiry.
Ms Patel said: "Recent tragic events have exposed unimaginable failures in policing. It is abhorrent that a serving police officer was able to abuse his position of power, authority and trust to commit such a horrific crime.
"The public have a right to know what failures enabled his continued employment as a police officer and an inquiry will give the independent oversight needed to ensure something like this can never happen again."
News of the inquiry was welcomed by the chair of the National Police Chiefs' Council, Martin Hewitt, who said: "We need to understand what could have been done differently to prevent Sarah Everard's murderer being in policing and the devastating harm he caused. But this is bigger than one man.
"There are issues for the whole of policing that need to be examined and acted on, from vetting to professional standards, to how predatory or misogynistic behaviour is challenged. It's right for these issues to be fully and independently considered, and we will support the inquiry's work in every way we can.
"We cannot and are not waiting for the findings of this inquiry to begin rebuilding women's trust that police officers will protect and respect them. Police chiefs are listening to women's voices about what needs to change.
"We'll in part rebuild trust through the professionalism and public service of police officers and police staff in their everyday actions. I know they will strive even harder to show that Sarah Everard's murderer does not represent policing.
"This must be a turning point in how society deals with violence against women and girls. In policing we will do better at targeting the violent men who harm women and building the strongest cases we can that have the best chance of getting to court.
"We will be honest with ourselves that misogynistic societal attitudes and behaviours exist in policing, and that it matters so much because of the powers we hold and because our legitimacy is built on public confidence.
"As police leaders we need to make sure our values, leadership at all levels, vetting and other safeguards are strong to keep out people who don't share our values and who pose a risk to the public. But it also means each of us in policing has a responsibility to call out, challenge and report concerning or misogynistic behaviour.
"Police chiefs have been developing our strategy to improve the way we tackle violence against women and girls, and we will be working with experts in this space to make sure it is as strong as it can be, addresses recommendations from HMICFRS and drives the change that women want to see in policing."
The announcement of the inquiry was also welcomed by the Association of Police and Crime Commissioners (APCC). Joint APCC victims leads Sophie Linden and Donna Jones said: "Women and girls need to have faith in policing's ability to keep them safe, just as policing needs the support of the public to police by consent. Recent events have shattered that bond of trust and so we welcome today's announcement by the Home Secretary, supported by the Mayor of London, of an independent inquiry.
"We know that the overwhelming majority of police officers and staff are appalled by what has happened and are saddened that UK Policing has been brought into disrepute. A robust and thorough review of vetting processes, and also the culture and attitudes of those who serve within policing, is the only way to identify what needs to change and to restore that lost trust.
"Police and crime commissioners (PCCs) recognise the importance of a whole-system societal approach to tackling Violence Against Women and Girls. Many of the issues which affect the confidence of women and girls – court backlogs and low prosecution rates for rape and sexual offences, for example – go beyond the policing response. We need to look at better education, prevention, and wrap-around support for victims.
"But first and foremost policing must ensure its own house is in order. We need a zero tolerance culture in which police officers and staff in all forces are encouraged to call out racist, sexist, misogynistic, and homophobic attitudes wherever they see or hear them. And the public needs to see and believe that is happening.
"PCCs will not wait for the outcome of this inquiry for action to be taken. As the voice of the public in policing, advocating on behalf of victims, we are holding our local chief constables to account to ensure action is being taken at a local level right now to address these issues and the public's concerns."
Paul Griffiths, president of the Police Superintendents' Association, said: "Our workforce has been rocked by the murder of Sarah Everard. A young woman lost her life at the hands of someone who should have been the epitome of trust and protection. Our deepest sympathies remain with her loved ones.
"The impact of this on public confidence in policing and on the morale and wellbeing of the thousands of officers and staff who go to work each day to protect and serve communities should not be underestimated. We must now work through the multitude of issues involved and every person in policing has a part to play in this.
"It's essential that we come together to tackle violence against women and girls, looking at issues including those within policing culture, through to everything that has enabled this to become part of wider society. Our association is committed to providing a positive and meaningful influence on this work. We will be bringing together superintendents from across the country this week to discuss how we can support this crucial agenda."
While also welcoming the move, Yvette Cooper MP, chair of the Home Affairs Select Committee, expressed concerns that the non-statutory nature of the inquiry could potentially reduce its effectiveness.
She said: "We have been calling for an independent inquiry following the murder of Sarah Everard so the announcement of one by the Home Office is welcome, but the Government will need to move it onto a statutory footing so that it has the powers it needs to get to the truth, avoid delays and rebuild trust.
"Rightly the Home Office has said the inquiry will look both at the circumstances around the police officer who committed this terrible crime and at wider issues within policing. They will need to ensure that it includes looking at how this dangerous man could be a police officer for so long and be cleared to use firearms.
"But it must also look more widely at allegations and cases of domestic abuse, harassment and sexual offences, including lower-level offences involving police officers and staff. It must look at the way allegations are dealt with by police forces, the resources and processes for investigations, reporting systems, misconduct procedures, workplace culture and the way officers respond to colleagues when warning signs emerge.
"Vetting and standards for both new officers and those moving from force to force, regular training for officers and processes for officers to make reports must all be within the scope of this inquiry. The Home Secretary should rapidly consult the Victims Commissioner, the Domestic Abuse Commissioner, HMICFRS and others with expertise on violence against women and girls before finalising the terms of reference.
"But there are real concerns that given the nature of this inquiry, it will face delays and obstacles if it does not have statutory powers to get to the truth. The Panel of the Daniel Morgan Inquiry recently concluded that their work was made more difficult because they did not have the statutory powers to compel witnesses to testify or disclose documents in a timely way, and they experienced long delays getting information they needed from the Metropolitan Police. Those difficulties and delays must not be repeated with this inquiry when women's safety and confidence in the police is at stake.
"Sarah Everard was murdered by someone she should have been able to trust and who was charged with keeping people safe. We need full answers on how this was able to happen and what needs to change. This inquiry must be strong enough and wide ranging enough to answer those urgent questions."
Commenting on the announcement of a full inquiry into the Couzens case and wider police culture, Mayor of London Sadiq Khan said: "The horrific murder of Sarah Everard by a serving police officer has shattered public confidence in the police. That trust has been further eroded by the news of another officer being charged with rape as well as reports of sexism, misogyny, racism and homophobia among some groups of officers.
"Over recent days, I've been in detailed discussions with the Home Secretary about how we must urgently do everything necessary to rebuild trust and confidence in the police – in London and across the country. We agreed that the gravity of the situation required no less than a proper inquiry.
"This inquiry must leave no stone unturned to ensure that the failures that led to a serving police officer killing Sarah Everard can never happen again. And while I know the vast majority of officers are decent and dedicated public servants, the inquiry must also address reports of widespread cultural issues. All police officers must adhere to the highest possible standards, we must stamp out misogyny, sexism, racism and homophobia, root out those who abuse their trusted position as officers, and ensure that tackling violence against women and girls is treated with the highest priority."
The IOPC is currently conducting a number of investigations into matters linked to Couzens. These include the handling of allegations of indecent exposure by Kent Police in 2015 and the MPS in 2021.
Earlier this week, MPS Commissioner Dame Cressida Dick announced the launch of an independent inquiry into the culture of the force.
In addition to the new inquiry, the Government is to launch a Home Secretary-chaired taskforce to drive cross-government action on tackling violence against women and girls to help maintain public confidence in policing. It will consider recommendations from the Inspectorate's review of the police's response to violence against women and girls, led by Zoe Billingham, as well as the tackling violence against women and girls strategy, the end-to-end rape review, and the forthcoming domestic abuse strategy.
It will also look at how the police currently assess risk, threat and harm to the general public when responding to and investigating non-contact sexual offences (for example, flashing), which we know may lead to more serious or repeat offending.
The new group will report into the Crime and Justice Taskforce chaired by the Prime Minister. Minister for Crime and Policing, Kit Malthouse, and Maggie Blyth, the newly appointed officer leading on issues of violence against women and girls, will also attend. It will meet for the first time in the autumn.