'Innovation led' force partnership to increase officer efficiency and visibility
A new suite of mobile policing apps is being rolled out to frontline officers at Cumbria and Durham Constabularies to help them "work differently and better" and enable greater interaction with communities.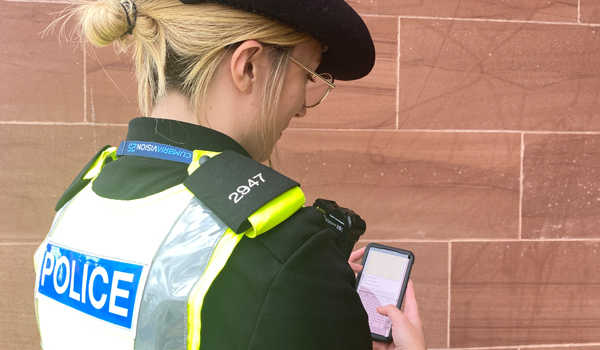 The "cutting-edge" technology will give officers greater access to up-to-date information at touch of a button, including details on people or places officers are dealing with.
Common tasks such as recording of statements, registering instances of sudden death and vehicle ticketing will also be automated.
Previous processes meant officers often had to return to a 'base location' to complete administrative tasks via a desktop computer.
As well as enabling greater interaction with the public, the two forces say the technology means officers have both the correct resources and skills to tackle crime in an increasingly digital-focused world.
Initially, seven applications, including a digital notebook, will be included in the 'Power Apps for Policing' suite, which is being launched across the two forces in partnership with Microsoft and information technology and services company Tisski.
However, officers and staff will have the "opportunity" to suggest new apps to overcome challenges not addressed in the original suite. IT staff would then put the ideas into practice.
The apps can be designed at short notice to the specifics needed in the particular force area and department through the partnership's 'Data and Technology Innovation Hub'.
Cumbria Constabulary Chief Constable Michelle Skeer said: "This gives us the ability to be innovative with cutting-edge technology, developing new solutions at speed.
"It also gives us increased visibility in our communities, which we know people want, as more can be done while officers are out-and-about, enabled on their handheld devices.
"It will give officers greater access to up-to-date info at touch of a button.
"It also allows us to be more innovation-led, reacting to requests from officers and staff on new and improved ways to do our jobs while keeping officers out in our communities.
"Ultimately, it helps our officers do their jobs better for the benefit of tackling and deterring crime and keeping the communities of Cumbria safe."
Chief Superintendent Jonathan Blackwell, Digital Data and Technology Command, said: "This new technology is aimed at helping operational policing – the officers on the front line keeping our communities safe.
"As the world evolves, so do the demands on police forces.
"Crime is changing and the complexity of crime is changing because the way we live our lives is becoming more and more digital, which has been emphasised during the pandemic.
"Our officers need the competence and confidence to operate in a digital world.
"If our staff have no access to technology, they will still be operating in a digital world.
"So maximising the use of technology allows us to work differently and better, more effectively and more efficiently."
Chief Supt Blackwell said the partnership between Cumbria and Durham Constabularies, Tisski and Microsoft means that as innovative ways to solve challenges emerge, they are in a good position to use them.
"This technology not only helps operational policing in a rapidly evolving world, it allows our officers and staff to better serve the communities in which we operate, while providing the taxpayer with value for money," he added.
"Power Apps for Policing is a low-code suite of applications that is completely suited to our needs and our challenges. It also allows us to develop and deploy rapidly and gives officers and staff the opportunity to suggest new applications, which can benefit the entire team."
"We're delighted to be working in this technology innovation hub.
"It allows us to design and build apps at short notice that are what our officers and staff need to tackle and deter crime and keep people safe. It can make a real difference."
The 'Power Apps', which integrate with the Police National Computer, support the ambitions set out in the National Policing Digital Strategy 2020-2030 and Policing Vision 2025.
Built on the Microsoft Power Platform and accessed via mobile devices, the Tisski suite of applications is being deployed to more than 2,500 frontline officers and support staff.
Durham Constabulary Chief Constable Jo Farrell said: "Our officers are working in an ever-changing digital environment and the demands on them are constantly changing.
"It's vital that they have the ability to share, process and access information as efficiently as possible and this innovative approach to policing does just that.
"This is cutting-edge technology streamlines how we are able to record data, which allows them to police more effectively and more efficiently.
"Perhaps most importantly, using these handheld devices also means our frontline officers can spend more time out and about in our communities, tackling criminals and deterring crime and ultimately protecting the people we serve".
Cumbria's police and crime commissioner (PCC) Peter McCall, said the technology has the potential to "really make a positive impact on the service, engagement and availability" offered to residents.
"Technology is constantly advancing, as is policing and indeed the way criminals operate too, across the world," he said.
"I can confidently say that Cumbria Constabulary are right at the front end of utilising digital technology to both get ahead of criminals but also to ensure that we give officers the best tools to help them to be agile and responsive to the public.
"Cumbria is an incredibly large and rural county so just one area of business to improve is to be able to cut out the travel from crime scene to police station, or for specialist officers to be consulted remotely is a huge benefit to our officers and the public, but there are many other ways that these projects will improve service."
Mr McCall added: "The constabulary, Microsoft and Tisski have done a fantastic job on getting this set up but even more exciting is the potential for much more development and I look forward to seeing what type of apps and functions will present themselves in the future and even more important seeing positive changes for the benefit of the wider public."
Joy Allen, Durham's PCC, said: the "innovative collaboration" between Durham Constabulary and Cumbria Constabulary in partnership with Microsoft and Tisski was an "excellent example of modern day policing".
She added: "This project will further drive benefits for all frontline officers and staff allowing them to be more visible while being out doing their jobs and engaging with our communities.
"This is an excellent example of modern day policing in an increasingly digital world as we really need to exploit the advanced technology to its fullest for the benefit of the public."
Anna Assassa, chief executive officer at Kenilworth-based Tisski, said: "Police forces are operating in ever increasingly diverse and complex communities, which requires a more sophisticated response to the challenges they face.
"By adopting Power Apps for Policing, Cumbria and Durham Constabularies have put the power of Microsoft technology directly in the hands of frontline officers, and simplified a fragmented, stand-alone application infrastructure into a single, Microsoft platformed solution."
She added: "With Tisski's Power Apps for Policing, a force does not have to adopt an entire, predefined collection of apps. Instead, they can choose to invest in those they feel would make the biggest impact.
"If a police force identifies a challenge that isn't addressed by an existing app in the offering, we'll create a new one to help them overcome it."
Marie Abery, Dynamics Business Group Director at Microsoft UK, said: "Power Apps is empowering organisations to create their own tools that tackle inefficiencies, save time and reduce costs.
"This is crucial in the public sector, where value for money is a key consideration.
"I am delighted that Cumbria and Durham Constabularies have taken solid steps into their digital future, from creating a single app to rolling out more apps that help officers connect with citizens."