Independent inquiry expanded to examine David Carrick's offending
The Home Secretary said David Carrick's crimes were a "scar on our police" as she expanded the terms of an inquiry into high-profile offences committed by Metropolitan Police Service (MPS) officers.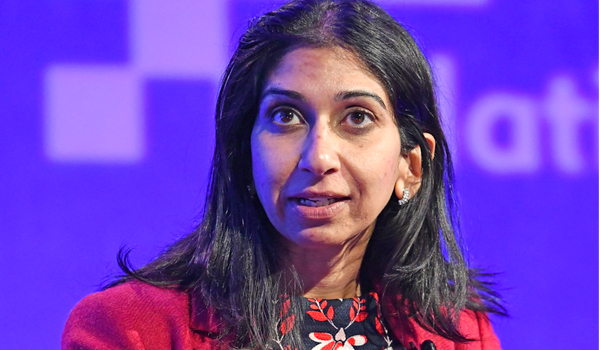 Former lord advocate Lady Elish Angiolini is leading an independent inquiry, originally set up in November 2021, to look at events preceding the murder of Sarah Everard by Wayne Couzens, but since expanded to include Carrick's offences.
Carrick, one of the country's worst sex offenders, was jailed for life on Tuesday (February 7) having previously pleaded guilty to 49 charges, including 24 counts of rape, over 17 years.
Suella Braverman said it was "only right" that the former MPS police constable serve 30 years behind bars, as she paid tribute to the bravery of his victims.
She said: "It is vital we uncover how he was able to wear the uniform for so long, and I welcome the Angiolini Inquiry's investigation into David Carrick's criminal behaviour and the decision-making around his vetting.
"There is no place in our police for such heinous and predatory behaviour, and I look forward to receiving Lady Elish's findings."
The inquiry will interview witnesses and analyse documents from the MPS, Hertfordshire Constabulary and the Ministry of Defence to establish a timeline of Carrick's criminal behaviour and misconduct "as well as any other relevant police investigations and/or incidents".
It will also look at potential issues to do with his vetting and what his colleagues knew about his behaviour towards women before making recommendations to the Home Secretary "as soon as practicable".
Mayor of London Sadiq Khan also said he supported "the renewed action being taken by the Commissioner Sir Mark Rowley to review past misconduct cases" and welcomed "the widening of the Angiolini Inquiry to consider Carrick's crimes and look at vetting and recruitment procedures and the extent of misogynistic culture in policing".
He added: "I'll continue to support and hold the Met to account to ensure we root out all those who are unfit to serve as police officers and deliver the urgent reforms and step change in culture and performance required. As mayor, I will not be satisfied until Londoners have the police service they deserve."
Alongside the Angiolini Inquiry, the Government has commissioned His Majesty's Inspectorate of Constabulary, Fire and Rescue Services to conduct a rapid review of all forces' response to the inspectorate's recent report into vetting and counter-corruption. This will ensure chief officers are taking the necessary action to remove those who are not fit to serve.
The National Police Chiefs' Council is asking all forces to conduct a 'data-washing exercise' of their staff against the Police National Database to check for sexual violence and domestic abuse markers on case files.
The Home Secretary has also launched an internal review into police dismissals to make sure the system is effective at removing officers who fall short of the standards expected of them.