Improvements to call handling 'well underway' following HMICFRS inspection
Essex Police says "a clear plan is well underway" to improve how it responds to calls from the public after His Majesty's Inspectorate of Constabulary and Fire and Rescue Services (HMICFRS) found it 'requires improvement'.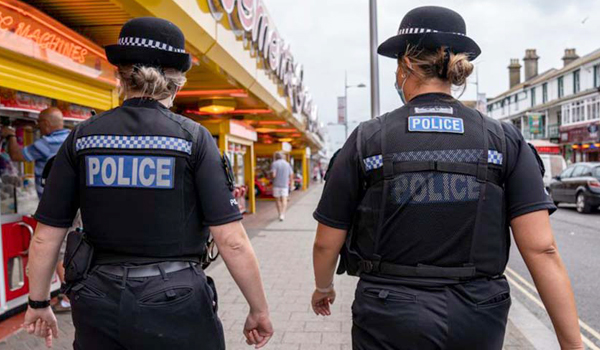 Inspector of Constabulary Roy Wilsher said the force was often failing to answer calls within nationally applied standards.
"In particular, it needs to improve the time it takes to respond to non-emergency public calls for service and reduce the abandonment rate and wait times," he said. "It also needs to do more to ensure that routine calls for service are properly assessed and prioritised and any delays in response are kept to a minimum."
Overall, though, he was "satisfied with most other aspects of the force's performance".
Essex Police was graded 'good' in its treatment of the public, use of resources and developing a positive workplace.
However, inspectors found it was only 'adequate' in investigating crime, preventing crime, protecting vulnerable people and managing offenders.
Mr Wilsher said: "I recognise that Essex Police, in common with other forces, has experienced many difficulties over the past year due to the pandemic.
"I am pleased with some aspects of its performance in keeping people safe and reducing crime.
"I am satisfied with most other aspects of the force's performance, but there are areas where it needs to improve."
In particular, he said the Essex Police needs to improve its service to victims of crime.
"The force needs to make sure that it complies with the requirements of the Code of Practice for Victims of Crime (VCOP)," said Mr Wilshire. "This includes offering victims the opportunity to give a personal statement and completing a victim needs assessment.
"The force also needs to improve how it records why victims withdraw their support for investigations and should make sure it documents whether evidence-led prosecutions have been considered in all such cases."
Management of registered sex offenders also needs to improve, said Mr Wilshire.
"The force needs to do more to ensure it has the ability to undertake nationally recognised risk assessments in a timely manner," he added. "It also needs to ensure that the quality and timeliness of supervisory reviews help it to effectively manage the risk posed by registered sex offenders (RSOs)."
However, inspectors found the force was good at treating people fairly and with respect and works well with communities.
"It has a good understanding of the effect that stop and search powers have on different communities. Officers have a good knowledge of what constitutes reasonable grounds for using these powers, and the force has put in place an effective system of external scrutiny of their us," said the report.
Essex Police was also found to work effectively with other allied organisations to proactively intervene to protect vulnerable people and to reduce crime and disorder using a range of prevention and enforcement measures.
The report says: "Essex Police has an ethos of early intervention to prevent crime. It uses analysis to identify crime hotspots and responds effectively with other organisations to tackle entrenched criminality and anti-social behaviour. It has developed a co-ordinated and forward-thinking approach to reducing crime."
In addition, the Essex Police promotes an ethical and inclusive culture and generally supports its workforce.
Mr Wilshire said: "The force has a strong sense of purpose with clear expectations that staff will always act with professionalism and integrity. The force has a good awareness of the needs and objectives of its workforce. It provides excellent wellbeing support and a supportive culture of learning. However, it needs to improve the support given to some teams dealing with vulnerable victims."
Essex Police says it recognises where it requires improvement and work is already underway to address the points raised in the report.
The force said: "Essex Police has not waited for the publication of the HMICFRS report to make its emergency and non-emergency call handling better.
"Thanks to additional funding which enables us to recruit extra colleagues, there are now 15 new sergeant posts and 40 new police staff posts in the contact management command, meaning that calls for help can be thoroughly assessed and the right action taken as quickly as possible.
"The force is also improving the way in which it supports victims of crime. New work is already in progress to listen more intently to victims of crime so that their voice is heard, and to support every victim for as long (or as short) a time as is required to secure a good outcome for them after a crime has been committed."
Chief Constable BJ Harrington QPM said: "Every Essex Police officer, police staff colleague and volunteer is dedicated to catching criminals and making Essex an even safer place to live and work.
"The report shows we are focused on preventing crimes and anti-social behaviour from taking place and that we value all our communities.
"We also make the most of the resources we have and as the report says, we look after our people so they can do the very best for the villages, towns and cities which we protect and serve.
"For every pound we receive, we put more officers on the street than any other force in England and Wales.
"We have a clear plan to ensure that we deliver a better response to anyone who calls us for help and this is well underway, with new officers joining us all the time to make this possible."
Essex police, fire and crime commissioner Roger Hirst said the Peel report provides "a vital independent assessment of the force's performance, where it is doing well and where it can improve".
He added: "It confirms our own assessment of the force's performance and reflects our areas of focus within the Police and Crime Plan.
"It is reassuring to see the consistency in our understanding of the force's performance and HMICFRS's inspection results. We share their concerns about Essex Police's responsiveness to the public. In particular we look to the force to improve the way it deals with vulnerable victims. There is more we can do to respond to non-emergency incidents and ensure we attend and support victims of crime.
"The force has made significant progress in how it supports victims of crime but more still needs to be done to offer a consistent service that maintains the support of victims and provides the best chance to secure successful prosecutions.
"It is also important that Essex Police continue to show marked improvements particularly with regards to the 101 service.
"We need to be better for victims, we need to be better for the public, we need to bring more offenders to justice and we need to reduce crime in our communities."
Mr Hirst said it was pleasing to see the "positive assessment" of how the force engages with and treats the public.
"This is important for maintaining public confidence so we can work together with communities to prevent crime." he said. "It is gratifying HMICFRS recognise so many of the new initiatives the force has taken and acknowledge their effectiveness Including hotspot policing, the domestic abuse problem solving teams, town centre teams and work through community safety partnerships, all these have a positive impact on police visibility and reduce crime.
"It is also good that the force has been assessed as using its resources well."
Mr Hirst added: "There is much in this report that the force should be very proud of and I would like to recognise the efforts of officers, staff, the chief constable and his senior team. We should also recognise that these achievements have been secured at a time when the force is growing and as a results is training and developing a significant number of new officers.
"The public have invested in policing and as a result we now have more officers than ever before. The public's expectation and mine is that as a result of this investment we will continue to see improvement in the service and importantly a reduction in crime and disorder."