Impartiality 'at risk' from virtue-signalling officers, says GMP chief
The public "are getting fed up" of virtue-signalling police officers who they would rather see simply arresting burglars, the chief constable of Britain's second largest police force has said.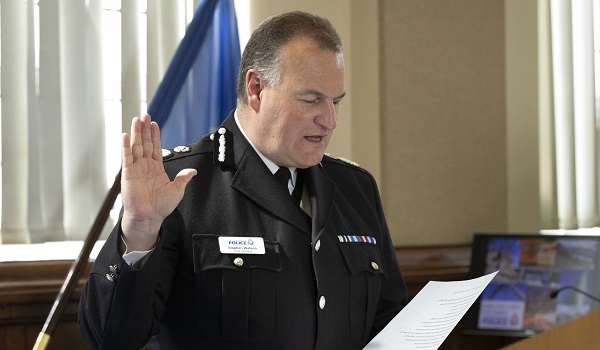 Stephen Watson, the newly appointed chief constable of Greater Manchester Police (GMP), told the Daily Telegraph that police officers' traditional impartiality is being put at risk by "making common cause" with campaign groups through activities such as taking the knee, sharing personal information on social media or wearing rainbow shoelaces to show support for the LGBTQ community.
Asked whether he would ever take the knee in uniform, he said: "No, I absolutely would not. I would probably kneel before the Queen, God and Mrs Watson, that's it."
He told the newspaper: "Impartiality is in danger of being upset in our urge and desire to demonstrate that we would like to make common cause from time to time with people whose agenda is very difficult to disagree with.
"I do not think that things like taking the knee, demonstrating that you have a commonality of view with the protesters that you're policing, is compatible with the standards of service that people require of their police.
"Officers could put themselves in a difficult place because if you demonstrate you're not impartial, and you then have to make an arrest, how on earth do you assist the courts to come to just judgment as to you having executed your powers of arrest in an appropriately impartial professional manner?
"I think we're past the high watermark. The public are getting a little bit fed up of virtue-signalling police officers when they'd really rather we just locked up burglars."
GMP effectively remains in 'special measures' after a damning report by Her Majesty's Inspectorate of Constabulary, Fire and Rescue Services revealed the force had failed to properly record 80,000 crimes.
Mr Watson also pledged to restore confidence among local residents by investigating every crime, however "minor", banning the recent fashion for "screening out" weak cases and restoring neighbourhood policing.
Mr Watson previous stated that a key policy he introduced at South Yorkshire Police – the banning of officers having visible tattoos while on duty – will be implemented at GMP.
He said: "I don't think the public are ready for cops with tattoos on their faces, on their necks, all over their hands. So those things I'm afraid are incompatible with service in the force. If you have got tattoos all over your arms, well you are just going to be issued free of charge with a long-sleeved shirt and you have just got to cover it over."