Immediate action needed to ensure vulnerable migrant victims of crime can confidently report to police
A new report says police should "immediately stop sharing information" with the Home Office about vulnerable migrant victims when there are concerns about their immigration status.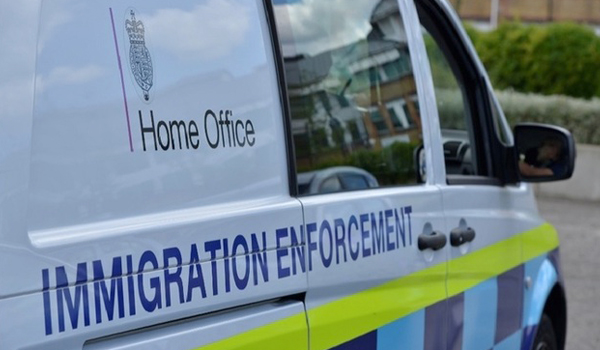 It warns this may dissuade victims of domestic abuse with "insecure or uncertain immigration status" from reporting a crime because they are fearful their situation will be investigated.
The report follows a joint investigation by Her Majesty's Inspectorate of Constabulary and Fire and Rescue Services (HMICFRS), the College of Policing and the Independent Office for Police Conduct (IOPC).
It comes after a policing super-complaint was submitted by Liberty and Southall Black Sisters in December 2018 about the practice of the police sharing of victims' immigration information with the Home Office.
The police super-complaints system allows designated organisations to raise issues on behalf of the public about harmful patterns or trends in policing.
The report, the first police super-complaint investigation to be published, raised concerns about the effect the sharing of immigration information between police and the Home Office has on victims of crime with unsettled immigration status.
The investigation found that the current system was causing "significant harm" to the public interest with "inconsistent approaches" to the sharing of information.
HM Chief Inspector of Constabulary Sir Thomas Winsor said: "Victims should have every confidence in approaching the police for protection. They should expect and receive protection at times when they are vulnerable and so desperately need the assistance of the agents of the state.
"Victims should never be in a position where they fear the actions of the police could unintentionally but severely intensify their vulnerability and thereby strengthen the hands of organised criminals and others whose motives and objectives are to inspire fear and do them harm."
The investigation looked at migrant victims in highly vulnerable circumstances – usually arising from crimes of domestic abuse or modern slavery and human trafficking – and found that there are inconsistent approaches to information sharing between police and the Home Office about victims and witnesses to crime.
It recommends that where officers only have concerns or doubts about a domestic abuse victim's immigration status, they should immediately stop sharing with Immigration Enforcement information on those victims.
Published today (December 17), Safe to share? Report on Liberty and Southall Black Sisters' super-complaint, said unreported crime was a "significant problem for society, and therefore for police".
"We have found multiple factors in this investigation that may contribute to a perception that police prioritise immigration enforcement. These factors may also be enabling offenders and abusers to use police involvement as a threat to their victims, rather than a source of protection," said the report.
Liberty and Southall Black Sisters said that victims and witnesses with an unsettled immigration status are currently deterred from engaging with the police because of fears that this may make their situation worse.
"Consequently, victims are denied justice, while offenders go unpunished and remain a threat to the public. Based on the findings of this investigation, we share this concern," they added.
"The scale of this problem is unknowable. However, people who are living with these 'hidden' crimes, or who are at risk of becoming a victim, must be better served by our police and the offenders must be prosecuted."
The report found no evidence of an intention within the police service to operate a culture that prioritises immigration enforcement over the investigation of crime and safeguarding, however, it said there was "a perception of such a culture" by some victims and the specialist organisations that support them.
Mike Cunningham, College of Policing chief executive officer, said: "The report on the super-complaint submitted by Liberty and Southall Black Sisters is the first of its kind to be published and has been a collaborative effort between the organisations involved. The report found that policing is committed to investigating crimes that affect vulnerable people and seeks to make victims safer.
"Unfortunately, the lack of clarity about the circumstances in which information will be shared with Immigration Enforcement may lead to fear among victims who have insecure or uncertain immigration status, usually because they entered the UK on a spousal visa or work permit, that they will be investigated for immigration offences. This can dissuade victims from reporting to police, stopping them from getting the support and protection they need, but also enabling abusers to continue their behaviour unchallenged.
"The college will work with the Home Office and National Police Chiefs' Council (NPCC) to develop briefings so that the circumstances in which information should be shared with Immigration Enforcement are clear. We hope that the clarity will reassure victims of crime about how allegations will be investigated and encourage them to come forward to report."
The investigation has recommended that:
The Home Office should review the relevant legal framework and policy to establish sound and fair priorities regarding migrant victims of crime and migrant witnesses to crime, with insecure or uncertain immigration status;
The Home Office and the NPCC should develop a safeguarding protocol about the police approach to migrant victims and witnesses of crime; and
The police should establish safe reporting pathways for all migrant victims and witnesses to crime.
IOPC Director General Michael Lockwood said: "First and foremost, victims of crime deserve to be protected. Victims must have confidence that, regardless of their immigration status, their allegations will be robustly investigated and given a high priority.
"Domestic abuse is a horrific crime and it is deeply concerning that we found vulnerable people were afraid to report crimes for fear of information being shared with immigration enforcement.
"Liberty and Southall Black Sisters' ongoing advocacy for those who otherwise felt voiceless has helped identify important learning opportunities for the police and the Home Office. We hope the super-complaints system will help drive change in policing."
Following this investigation, HMICFRS, the College of Policing and the IOPC have made recommendations for the police, NPCC, Association of Police and Crime Commissioners (APCC) and the Home Office to ensure victims of crime are always treated as victims first and foremost, regardless of their immigration status. The report also includes actions for HMICFRS and the College of Policing regarding their own work.
APCC victims leads, London's Deputy Mayor for Policing and Crime Sophie Linden and North Yorkshire police, fire and crime commissioner Julia Mulligan, said: "We welcome this report, which confirms that the practice of police sharing victims' immigration information with the Home Office has deterred victims of crime from reporting to the police. This has to change – no one should suffer in silence while they are subjected to domestic abuse and exploitation.
"Police and crime commissioners (PCCs) welcome the clarity and consistency of policing which will hopefully come as a result of this report, and we thank Liberty and the Southall Black Sisters for shining a light on this incredibly important issue. But we would like to see further action. In particular, consideration should be given to legislating to ensure there is an effective firewall to ensure victims of domestic abuse do not have their details shared with the immigration authorities.
"PCCs play a crucial role by providing support services to victims of crime, including specialist support services for the most vulnerable in our society. We must do more to strengthen and promote the availability of these services to migrants and other hard-to-reach victims so they know where to turn for help when they need it most."