Images of seized knives posted on police social media can make some 'feel fearful', study suggests
New research published by London's Violence Reduction Unit (VRU) suggest the majority of young people may be "desensitised" to seeing images of large knives posted by police on social media.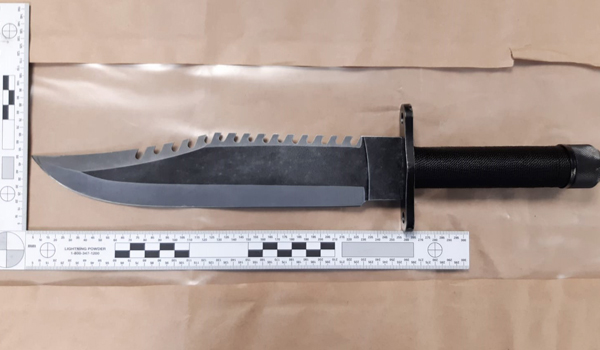 But further analysis reveals knife imagery can make some young Londoners affected by violence feel fearful and scared and make them more likely to carry a knife themselves.
Lib Peck, director of London's VRU, said: "Listening to the voices of young people is an integral part of our approach to tackling violence, which is rooted in prevention and early intervention.
"What is clear is that while, for the large majority of the young people we surveyed, there is little effect of seeing images of knives online, the impact for a smaller group of young people who may be affected by violence, is much more profound."
Metropolitan Police Service (MPS) Assistant Commissioner Louisa Rolfe said: "We value the involvement of young Londoners, on the important and ongoing debate around sharing images of knives on social media.
"We look forward to working with the Young People's Action Group, to understand their recommendations and how it could affect our communications around knife-crime.
"Historically we have shared images to highlight the work of our officers and their successful results. This has helped to reassure communities that the Met is committed to targeting those carrying weapons and fuelling violence our streets.  Other research has suggested this is important to communities.
"We are an evidence-driven organisation, and that extends to the way in which we communicate with Londoners. We look forward to reviewing the results of this research and engaging with our communities,  which will inform our approach moving forward."
London's VRU commissioned the research in January last year on behalf of its Young People's Action Group (YPAG), which was concerned that posting images on social media of large knives and machetes seized by the police could contribute to a sense of fear in communities, particularly among young people.
"It's recognised that there is a strong debate around images of knives and dangerous weapons seized by the police being published online," said the VRU.
"Alongside creating a sense of fear for some, the YPAG also raised concerns that seeing images of big knives seized on London's streets by police can lead to some young people getting hold of more dangerous weapons and knives in order to protect themselves."
The research, led by University College London and published on Wednesday (January 25), found little to suggest that viewing social media posts of knives seized by police had an impact on young people's attitudes towards knives and knife-carrying.
Researchers suggested this may be due to young people having become desensitised to seeing images of knives seized where they live.
However, they recommended further qualitative research to capture the views of young people already affected by knife-carrying or harm.
To support the research, the YPAG carried out peer-led surveys and a series of workshops with a group of young people aged 12 to 25 who benefit from the VRU's programmes aimed at tackling violence and exploitation.
It found that seeing images of knives seized by police and posted on social media can lead to some young people feeling fearful and unsafe about where they live.
The surveys and workshops found that:
The majority of young people (53 per cent) felt unsafe, scared and worried upon seeing images of knives posted on social media by police;
55 per cent felt their family and communities would feel afraid and fearful upon seeing images of knives posted online; and
Eight per cent admitted they would be more likely to carry a knife after seeing images of what had been confiscated where they live.
When asked how seeing an image of a confiscated knife on police social media accounts would make them feel, one young person said: "If I see someone is carrying something horrific in my area and all I'm carrying is a flick knife.. what do you think I'm gonna do?"
"What was clear through the survey of young people and the workshops, was that for some young people seeing knives online does create a sense of fear and can also trigger knife-related trauma," said the YPAG.
"It also demonstrated that young people are supportive of the police tackling violence and removing dangerous weapons, but the overwhelming consensus was that instead of showing images of large knives, the Met should instead focus on the good work it is doing with communities and young people."
One young person said: "The Met constantly telling us there's knives here just further normalises it as our reality."
Ms Peck said: "Both the research and peer-led workshops and surveys demonstrated that our young people have become desensitised to seeing images on social media of large knives confiscated where they live. That really can't be right or acceptable in society.
"We know that's the exact opposite of what's intended by the police who share our determination to tackle violence and make our communities safer for all Londoners. It's important we listen to our young people and take action now to stop posting images."
As a result of the evidence, and having listened to the concerns of young people, the YPAG has recommended that the MPS stops posting images of confiscated knives on social media "because of the impact it has on some young people and communities, and in a very small number of cases, can lead to a young person choosing to pick up a knife to protect themselves".
The VRU and the YPAG said they are keen to work with the MPS to support other ways of "visually demonstrating its work with communities" and young people have set out a series of recommendations, which include interviews with officers and holding events with young people to focus on the work they are doing to make communities safer.
This approach would be similar to Thames Valley, South Yorkshire and the West Midlands, where police forces have already taken a decision to stop posting images of knives seized on social media, said the YPAG.
Jade Barnett, a member of the YPAG, said: "The Young People's Action Group wanted to examine the issue of knife imagery because we had heard from other young people and communities that posting images of knives on social media platforms creates a sense of fear.
"We know this impact is not universal – not all young people will be affected by seeing images of large knives online, but neither are all young people affected by violence.
"Whilst the research showed there was little effect, what it does suggest and was backed up by surveys and workshops directly with young people, is that some young people – including myself – have been desensitised in relation to seeing images of knives.
"It's worrying to know that young people see this as a normality. What the sessions with young people did uncover is that there is a negative impact, based around fear and trauma, for a small group of young people who are already too close to violence. Why would we want to seek to subject these young people to further trauma?
"I hope that this research is an eye-opener and that the posting of knife imagery isn't positively impacting the police's relationships with our communities.
"I have high hopes that with the support of the VRU, including members of the YPAG, we will build a strong relationship with the Met to move away from posting images of knives and find other ways of demonstrating the work they are doing."