Illegal drug seizures rise for first time in seven years
Seizures of illegal drugs made by police and the Border Force in England and Wales have increased for the first time in seven years.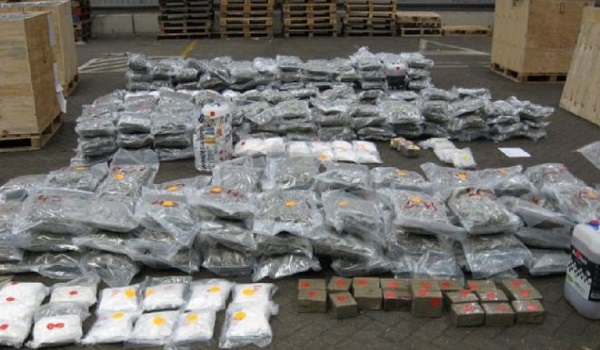 Newly published government figures show there were 153,135 seizures made during 2018/19 – up 12 per cent on the previous year when 136,439 seizures were made. It is the first annual increase in seizures since 2011/12.
The most commonly seized drug was cannabis, which accounted for 71 per cent of all seizures, followed by cocaine (11 per cent of all seizures). The quantity of cocaine seized also increased by 6,307kg, from 3,338kg in 2017/18 to 9,645 kg in 2018/19. This is the largest quantity of cocaine seized since recording began in 1973.
The number of 'crack' seizures by police forces also increased, up by 20 per cent on the previous year to reach its highest level since 2008/9. And the actual amount of crack seized by police forces increased by 73 per cent to the highest level since 2004.
The amount of ecstasy seized also increased significantly to 2.2 million doses, up from 700,000 in 2017/18. This represents the largest quantity of the so-called 'dance' drug to be seized since 2006/07.
The rise coincides with the increasing number of 16 to 24-year-olds reporting taking Class A drugs, such as cocaine and ecstasy.
Official estimates for 2018/19 revealed that 8.7 per cent of young adults in England and Wales had taken a Class A drug in the past year –a 16-year high.
Drug-related deaths in England and Wales have also hit record levels. In August last year, the Office for National Statistics reported a 16 per cent increase in deaths from drug poisoning in 2018, the highest annual rise since records began.
The Home Office declined to comment on the statistics, saying only that the increase in cocaine seizures was largely driven by a rise in the quantity picked up by the Border Force, which seized 92 per cent of all cocaine last year.
Several large-scale cocaine seizures were carried out by officers in 2018/19, including a haul with an estimated street value of £133 million, which was found hidden on a Dutch-registered yacht off the coast of Cornwall.