Hundreds of vulnerable people safeguarded during County Lines crackdown
More than 1,400 people have been arrested and 671 vulnerable people safeguarded in the course of a week as part of a nationwide crackdown on County Lines drug gangs.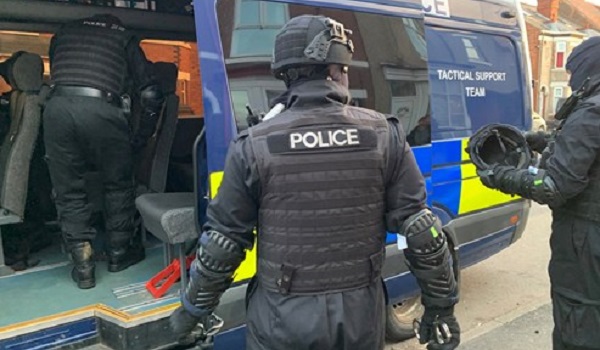 The most recent national county lines intensification week, which targets drug traffickers who often recruit children and vulnerable adults to supply drugs across the country, ran from Monday, March 7, to Sunday, March 13, and invovled all forces across England and Wales.
As a result of this activity:
1,444 people were arrested;
£1.4 million in cash seized;
Approximately £1.75 million worth of Class A drugs seized and £2.5 million worth of Class B drugs seized;
305 weapons seized, including 43 firearms and 213 bladed weapons;
104 drug lines were identified and seized;
36kg of heroin was seized from addresses;
799 'cuckooed' addresses visited;
671 vulnerable people were identified and actively safeguarded by police and partners;
7,919 people were engaged with for safeguarding purposes;
In one force, 12 line holders were arrested simultaneously and were later charged with conspiracy to supply Class A drugs;
Northumbria Police arrested three men in an address, where drugs were hidden inside dog bones. Drugs, cash and multiple mobile phones were also found at the address;
In the Metropolitan Police Service, three people were arrested after a number of missing children were found in an address, the children have been safeguarded and the suspects have been charged with modern slavery offences and conspiracy to supply Class A drugs;
£1 million worth of cannabis was seized from a cannabis factory in Leicestershire;
Partnership working in the North East resulted in 26 arrests, recovery of cash, drugs and the safeguarding of 25 children; and
350 weapons were seized across this week which included the recovery of 43 firearms. This number reflects the violence and danger associated with county lines across the country. Also recovered were five zombie knives, 24 machetes, seven crossbows and eight Rambo knives.
In December 2021, the Home Office launched its en-year drug strategy 'From harm to hope', which is aimed at cutting crime and saving lives by reducing the supply and demand for drugs and delivering a high-quality treatment and recovery system.
As part of this strategy, policing was granted an additional three years of funding to continue bringing perpetrators to justice, safeguarding and supporting victims, and reducing violence and homicide.
National Police Chiefs' Council lead for County Lines, Graham McNulty, said: "We are continuing to be successful in taking down violent county lines and arresting the criminals operating them, whilst also doing everything possible to rescue those being exploited. The figures from our latest intensification week are testament to this and highlight to the public our absolute determination to rid communities of this abhorrent crime.
"We welcome the additional three years funding from the government following the recent launch of their ten-year drug strategy, which will help us carry on our relentless pursuit of those behind the lines.
"However, our work is not only about going after criminals and shutting down active lines. There is also the prevention and safeguarding elements, which are equally as important, and in addition to the arrests and drugs we seize, I'm heartened that 671 vulnerable adults and children have been safeguarded and will now be looking at a brighter future away from crime and violence.
"As we look ahead, noting the recent end to Covid-19 restrictions, criminals may think this type of offending will become easier, but I want to send a message to them, as well as reassure the public: policing will not stop in its relentless fight against violent county lines criminals."
Crime and Policing Minister Kit Malthouse said: "County Lines drug dealing is one of the most destructive forms of criminality in the UK and crushing this monstrous supply model is a government priority.
"We are bolstering our efforts. Initiatives like our County Lines Programme are dismantling gangs in the regions most blighted by this crime, but every single successful police operation makes our streets safer.
"This intensive week of action has once again been a huge success and I thank the dedicated officers across England and Wales for their relentless pursuit of these criminal organisations, and their commitment to saving the victims so ruthlessly exploited by them."
James Simmonds-Read, from The Children's Society's Prevention programme, which is this week continuing to work with forces as part of its #LookCloser Awareness Fortnight, said: "We welcome the arrests of criminals who cynically exploit children, but just as important is the vital work police do to ensure these young people are identified and offered crucial help.
"Spotting the signs of exploitation isn't just a matter for professionals, however, and our #LookCloser campaign encourages everyone from transport and bank staff to commuters, shoppers and people using online platforms or games to report concerns.
"Doing so can be a vital first step in helping children escape terrifying exploitation, which they often do not report themselves because they are too scared to seek help or have been manipulated into thinking they are making a choice."