`Humble` officer`s bravery in tackling terrorist `gives people faith and appreciation in our police`
An officer hailed a "hero" for stopping a truck terrorist in his tracks may have saved the lives of dozens more, it has emerged.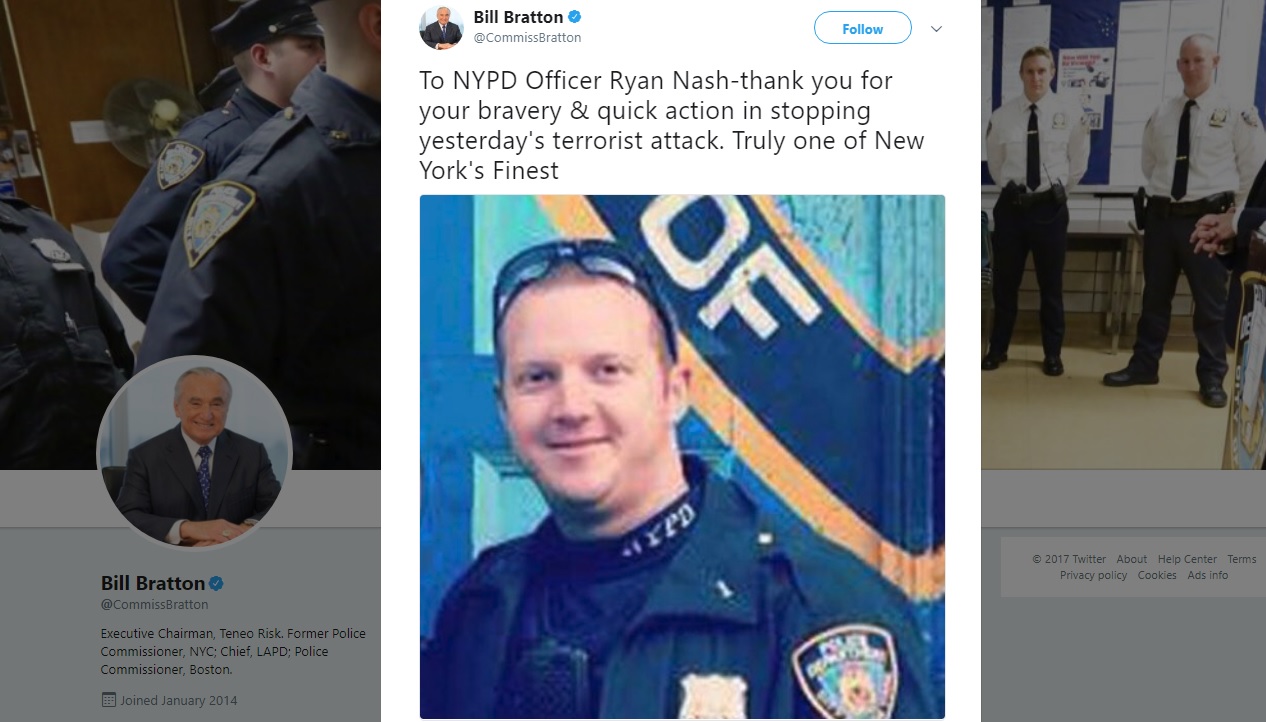 An officer hailed a "hero" for stopping a truck terrorist in his tracks may have saved the lives of dozens more, it has emerged. New York Police officer Ryan Nash has been praised by past and present police commissioners while Mayor Bill de Blasio said he "deserves all the accolades" going from the city for taking down attack suspect Sayfullo Saipov. Officer Nash, 28, was out on routine duties when Mr Saipov was said to have crashed a pick-up truck into a school bus in lower Manhattan after allegedly killing eight people who were on a cycle path near the World Trade Center memorial. The suspect left his rented Home Depot pickup truck and shouted "Allahu Akbar," or "God is great" in Arabic, while brandishing what looked like two guns. The weapons were determined later to be a paintball and pellet gun. Mr Saipov ran, as video footage shows. The officer gave chase and ultimately "confronted the subject and shot him in the abdomen," according to NYPD Commissioner James O'Neill. Mr Nash was taken to nearby Bellevue Hospital and treated for ringing in his ears but had no other injuries. "He`s so humble…thought it was all in a day`s work," said Mr de Blasio at a press conference. The mayor said had the officer not stopped the terror suspect when he did, further fatalities could have occurred. "You don`t know if the shooter had multiple weapons or a bomb. You don`t know. We owe him a debt of gratitude," he said. Mr de Blasio said Officer Nash`s bravery "gave people such faith and such appreciation in our police force." It has since transpired that Mr Saipov told investigators that he had chosen to mount a vehicle assault on Hallowe`en because he knew that there would be a lot of people on the streets, and that his plan was to kill people on the West Side Highway and then "proceed to the Brooklyn Bridge to strike pedestrians". Mr O`Neill said after speaking with Mr Nash at the hospital, the officer does not consider what he did "an act of heroism, but why he joined" the force five years ago. The officer, a resident of Long Island resident, and his police colleague were responding to a call about a vehicle accident near a school when they "showed great courage," Mr O`Neill said. "I`m really proud of him," the commissioner said. Former police commissioner Bill Bratton tweeted that Officer Nash was "truly one of New York`s finest." The First Precinct officer was one of four responding to the call on Tuesday afternoon (October 31). After rushing to the scene Mr Nash, the closest officer, fired nine times from his department-issued service gun. The FBI counter-terrorism force has taken the lead on the investigation and is continuing to search the suspect`s home in Paterson, New Jersey where he lives with his wife and children. Six of the victims were certified dead at the scene, with a further two dying in hospital. Twelve victims remain in hospital, four in critical but stable condition.