Home Secretary defends 'tough choices' over police pay
Home Secretary Priti Patel is expected to respond "head on" to the strength of feeling about police pay when she addresses the Police Superintendents' Association annual conference today (September 14).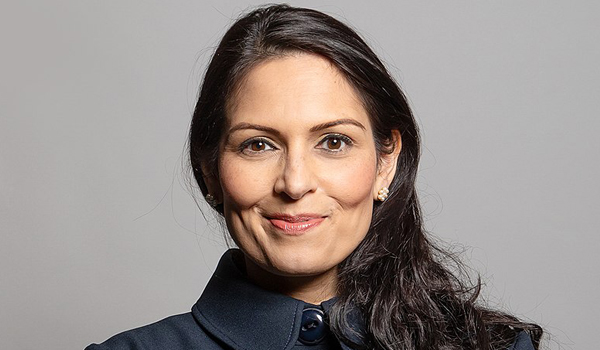 In a recorded speech, she will explain the Government's rationale for making "tougher choices than usual" this year and pausing public sector increases – other than those below the median wage, who did receive a pay rise.
Regarding the decision, the Home Secretary will tell delegates: "The pandemic deepened the disparity between public and private sector wages – many private sector workers lost jobs, or saw their wages seriously reduced.
"This meant the Chancellor could not justify an across-the-board pay increase for public sector workers.
"He asked the advice of the pay review bodies, proposing to raise pay in the NHS but pause pay rises elsewhere in order to protect jobs.
"This pandemic is something we have never experienced before – a truly seismic event which has affected many sectors and employers across the entire economy.
"It has meant even tougher choices than usual. None of us wanted to be in this situation."
However, the Home Secretary will emphasise the range of ways the Government is delivering more practical support and protection for police.
In her speech, Ms Patel will reaffirm her commitment to strengthening police powers, driving up new recruits and improving welfare through the Police, Crime, Sentencing and Courts (PCSC) Bill – which has its second reading in the Lords today.
She will set out how the PCSC Bill works in tandem with the Government's ambitious new Beating Crime Plan, to support the "joint task" of cutting crime.
Ms Patel is expected to tell superintendents: "Our joint task is driving down crime. Operational decisions are for you, but the Prime Minister and I have set out our strategic approach for cutting crime, as a complement to the PCSC Bill.
"We have introduced measures to strengthen the links between communities and policing… these efforts have helped us recruit 9,814 additional officers already.
"A critical element to beating crime is ensuring the police have all the powers they need to do their jobs. We gathered the views of police officers and community scrutiny leaders throughout.
"We found that police officers felt more confident using Section 60 [stop and search] and that these relaxations better reflected the operational reality of policing. Consequently, the Beating Crime Plan made the relaxations permanent."
The Home Secretary will also set out how the flagship Police Covenant – a key measure in the PCSC Bill – will help reduce demand on the front line, protect the mental health and wellbeing of officers, and give them a stronger voice in decision making.
She is expected to say: "Policing is difficult and ferociously demanding and leadership roles like yours bring additional pressures.
"The Police Covenant was long overdue, and I am very grateful to the Police Superintendents' Association for all you have done to champion and support it."
"The Covenant will include a focus on occupational health standards and mental health training. We are also looking at options with the National Police Wellbeing Service for appointing a new Chief Medical Officer for Policing in England and Wales."