Home Office approves use of new, 'more effective' Taser model
A more accurate, faster and compact version of the Taser has been approved for use by the Home Secretary.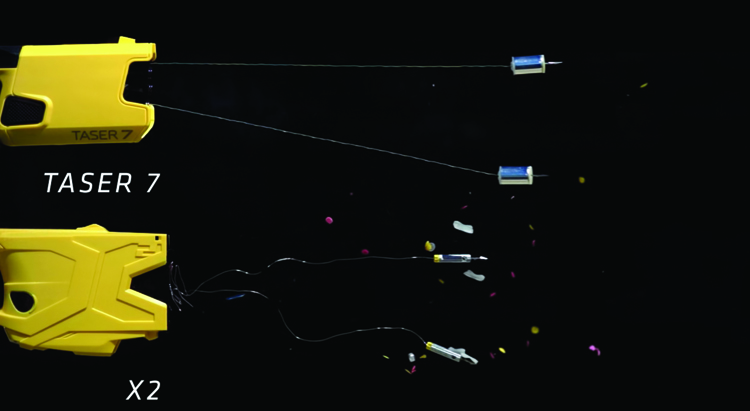 Upon procurement by forces, officers could begin training with the newly-approved Taser 7 within a matter of weeks.
The new model has undergone a full range of safety and technical assessments and has been found to be significantly more effective that previous models. It will also reduce costs for forces and protect the environment by replacing disposable batteries with rechargeable ones.
Home Secretary Priti Patel said: "It is sickening that our brave police officers face assaults and attacks as they work tirelessly to keep us all safe. They are our protectors and I will do everything in my power to give them what they need to keep themselves and the public safe.
"This new Taser model will provide a safe and effective tool for apprehending criminals."
In September 2019, the Government announced a £10 million ring-fenced fund to significantly increase the number of officers carrying Taser. All 43 police forces across England and Wales will be able to purchase the new model.
National Police Chiefs' Council lead for less lethal weapons, Deputy Assistant Commissioner Lucy d'Orsi said: "The authorisation of the new Taser 7 model has passed rigorous independent scientific and technical assessments, and we are pleased it has received authorisation to be considered by forces. This testing ensures all necessary safety standards are met, alongside continued operational reliability when using the device against those who are violent or threaten violence.
"Procuring the Taser 7 is a matter for individual police chiefs, who deploy Taser within their force area in line with their strategic threat and risk assessment. The deployment of Taser will differ from force to force due to many factors.
"The accountability of Taser is important to chief constables, who have undertaken a commitment for every officer who patrols with Taser to be equipped with Body Worn Video. Independent research is also beginning to further assess the use of Taser, and the proportionality of its use."
Only specially trained officers will be able to use the new device. Those who are already trained to use older models will require new training for the Taser 7.
Chief Constable Mike Cunningham, chief executive officer of the College of Policing, said: "Policing is becoming ever more challenging and ensuring officers have the training and support needed to keep themselves safe while protecting the public is rightly a priority for the service.
"The College of Policing has worked with the Government and NPCC on the evaluation and testing of the new Taser model and we will be issuing updated training and guidance to officers and instructors as part of the roll out.
"All officers carrying Taser, regardless of their rank or role, will continue to be trained to the high national standards set by the college."
Chief constables will decide how many officers in their forces can carry the new devices based on strategic assessments of threats and risks in their force areas.
Forces will be required to complete an additional record every time a Taser 7 device is used, to monitor the effects and performance of the device.
Reacting to the news, Police Federation of England and Wales National Vice-Chair Ché Donald said: "We have always said Taser is a vital piece of equipment which keeps both the public and officers on the frontline safe.
"Policing is tough and more of my colleagues are being assaulted so it's essential they are given the best training, the best equipment and the support they need to do their job. Having access to Taser with the option to carry one if they wish to do so and pass the required training is part of that."
"Taser is an extremely effective means of dealing with many dangerous situations that our officers face on the streets and is a less lethal option in comparison to conventional firearms. In 85% of cases, simply drawing the Taser from its holster de-escalates many situations safely, preventing a physical interaction. The T7 is a more modern, effective and safer device so the Home Secretary's announcement is very welcome news."
The Taser 7 was launched in October 2018, the first new model released by Axon for more than five years.
A number of modifications were introduced to address problems experienced with earlier models – including darts that fly straighter and improved laser sights.
The electrical output of the Taser 7 lower than that of the original X26 model but it focuses its energy in shorter, more concentrated and frequent bursts. Axon claims delivering electricity in this condensed manner makes the device more effective. While the power output of the X26 can vary depending on where the probes land, the X2 and Taser 7 deliver a more consistent charge regardless of the strike zone.
A statement by Axon: "The Taser 7 is the result of Axon's commitment to develop new, innovative products and improve its existing products. Some of those developments sought to address common reasons why a [Taser] may not cause [muscle incapacitation]."