Heroism of officers recognised with George Medal
Three officers will be recognised by the Queen for their heroism during last year's London Bridge attack.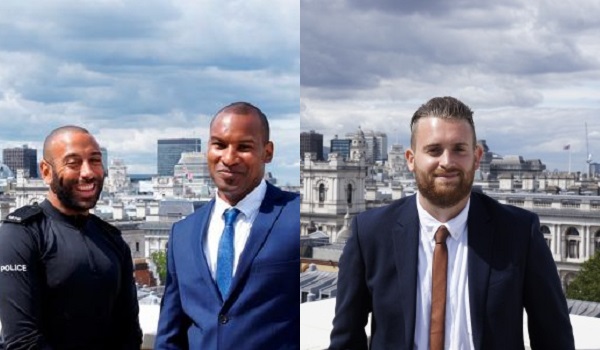 Police Constables Charlie Guenigault and Wayne Marques will both receive the George Medal after confronting armed terrorists on June 3, 2017.
And PC Leon McLeod will receive the Queen's Gallantry Medal for his brave decision to run after the attackers and give vital first aid to injured people.
Both PCs Guenigault and Marques were seriously injured during the incident.
The announcement made on Thursday (July 19) comes just two weeks after PC Guenigault received the overall Police Bravery Award for his actions last year.
He received the top honour in the Police Federation of England and Wales-run event jointly with PC Keith Palmer, who sadly died in the Westminster terrorist attack in March last year. PC Palmer was posthumously recognised in 2017 with the George Medal.
Metropolitan Police Service (MPS) Commissioner Cressida Dick said: "Charlie's bravery undoubtedly helped others, and despite suffering serious injuries he continued without a single thought for himself.
"I know that I speak on behalf of all of my officers and staff, when I say how immensely proud we are of Charlie."
Chief Constable Paul Crowther, of British Transport Police (BTP), said: "I was delighted to hear the news that PC Marques and PC McLeod are to be honoured for their incredible actions during those terrible events in June last year.
"It really signifies the regard in which we all hold them for their actions that night."
Eight people died last June when three terrorists drove into pedestrians on London Bridge before getting out and attacking bystanders with knives.
BTP PC Marques confronted the attackers armed only with his baton, while his colleague PC McLeod carried people to safety despite the danger to himself.
Meanwhile, PC Guenigault was off-duty with his friends but ran towards the terrorists and put himself between them and other officers being attacked.
He was stabbed in the head, back and stomach, while PC Marques – who had been an officer for less than two years – sustained injuries to his head, leg and hands as he defended himself.
PC Marques said: "It is unbelievable to be awarded with the George Medal, I am truly speechless. When I think back to the night of the attack, I was just doing my job and trying to save lives – I never expected to be honoured in this way.
"I remember the events of that night vividly, the evil that was done but also the courage and bravery of the public and my colleagues. I am here today because of my friends who helped me, I'd cannot thank them enough."
PC Guenigault said: "To be awarded the George Medal is such recognition, is an incredible honour, and I am so humbled. Unfortunately some will not get to receive their award in person.
"I hope that I have done my friends, family, colleagues and the nation proud. I would like to thank everyone who has helped me throughout the past year – especially those who helped to save my life."
PC McLeod said: "I am overwhelmed to receive this honour – I was in complete shock when I opened the letter. As police officers, you never know what to expect on your shift.
"When me and Wayne heard the screams at London Bridge, our first instinct was to run and help. We never thought we were being brave, all we wanted to do is help as many people as possible.
"It feels surreal and bittersweet to be honoured following the horror of this attack. So many people acted with courage, I was just one piece in London's response to this atrocity."