Heroes of London terror attacks jointly receive top honours at the Police Bravery Awards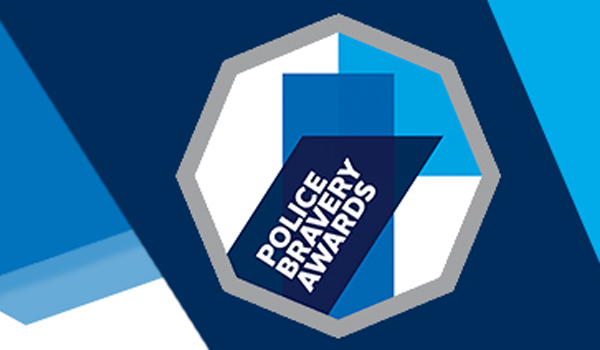 Eighty nominees from 40 incidents across England and Wales were recognised for their remarkable feats of bravery at a glittering ceremony at the Dorchester Hotel in Park Lane, London. 
Eight regional and the national overall winners were all presented with their awards by senior politicians and police leaders, including the Home Secretary and Metropolitan Police Service Commissioner Cressida Dick, on Thursday (July 12).
As expected, the late PC Palmer's sacrifice of his life in March 2017 when he tackled a terrorist who had just brutally run down pedestrians on Westminster Bridge and was trying to enter the Houses of Parliament earned him the London region and national overall award.  
Unarmed at the time, PC Palmer immediately ran towards the commotion and began closing the gates to protect the people inside Parliament. However, he was attacked with a knife and died of his injuries. 
The extreme courage demonstrated by PC Guenigault in taking on the three rampaging attackers of the London Bridge atrocity two months later earned him joint winner status alongside PC Palmer in both categories. 
PC Palmer's award was accepted by PC Shaun Cartwright who said his close friend and colleague deserved the recognition as, "if there was anyone who would have confronted the attacker it would have been Keith". 
He added: "Keith truly deserves all the recognition that he has been given. I am here on behalf of Keith and his family to represent them, and I feel so proud. Keith gave his life for this job, which is the most amazing thing anyone can do, and I am proud he was my best friend." 
PC Guenigault was off duty on June 3 last year when he saw a badly injured victim stumble to the floor and, despite being unarmed and alone, he ran towards and confronted the terrorists. He was struck by all three men who were wearing fake explosive belts and lashing out with 12-inch bladed kitchen knives. He survived but sustained critical injuries to his head, back and stomach. He was placed in a coma to help his recovery, his spleen was removed and he will remain on antibiotics for life. 
PC Guenigault, said: "I'm a bit shocked to be honest. When you experience your own traumatic activity you don't understand the full scale of what you've been through. Keith Palmer made the ultimate sacrifice – I've got an award but I'm alive and that's the biggest award you can get. It's nice to be here and be recognised, but at the end of the day I'm alive, I still get to see my friends and my family get to see me. To me that's the biggest thing."  
Home Secretary Sajid Javid said: "We are deeply indebted and immensely proud of the courageous policemen and women who regularly risk their own safety to protect the people of Britain.  
"The last couple of years have put the bravery of all police forces in England and Wales to the test and I would like to pay special tribute to PC Keith Palmer who paid the ultimate price defending our Parliament.  
"The Police Bravery Awards celebrate the commitment, dedication and resilience of the entire police service – and all officers nominated stand as an example to us all." 
Calum Macleod, Chair of the Police Federation of England and Wales, said: "These awards are a chance to showcase the exceptional bravery that officers protecting our country show day in, day out. The heroic deeds we have heard about today did not happen by accident; they were borne of dedication, selflessness and an overwhelming commitment to keeping the public safe. 
"Today we commemorate true heroes. PC Keith Palmer GM paid the ultimate sacrifice for his bravery, but thanks to him many, many more deaths were prevented that day. For PC Charlie Guenigault, there was no such thing as 'off duty'. He ran towards a situation that most of us can't even imagine, putting himself in grave danger and thinking only of helping others. 
"As Chair of the Police Federation of England and Wales, I am immensely proud to have shared this day with such well deserving nominees and winners.  Congratulations to you all." 
Deputy Commissioner Craig Mackey added:"PC Keith Palmer came to work that day in March and had every right to think that he would return home at the end of his shift. Tragically that did not happen. Keith's loss will be forever felt by his family, friends and his wider police family – the Met. He was a fantastic, committed and passionate police officer. 
"For PC Charlie Guenigault there was no such thing as 'off duty'. That summer night in Borough Market, Charlie ran towards the terrorists, putting himself in danger to protect the public. Without thought for himself, his bravery undoubtedly helped others. 
"Helping, supporting, running to the aid of the public or an injured colleague, putting others before ourselves, showing courage and compassion. These we humbly call our values. Values that the men and women of the Met show every day." 
Stephen Mann, CEO of the awards sponsors Police Mutual, said: "Over the last ten years, Police Mutual has been proud to have sponsored such an inspirational event in the policing calendar and for my colleagues and I to be able to show our respect for the exceptional courage shown by police officers who risk their lives every day to protect the public and keep us safe". 
Extreme acts of bravery across England and Wales was recognised through the presentation of regional awards: 
Region 1 (North West)  
PC Mohammed Nadeem – Greater Manchester Police
PC Nadeem was awarded the Police Bravery Award for the North West after he jumped 8ft into a fast flowing, icy river to save a man.  
Officers were called to a bridge over the River Irwell, following reports of concerns for the welfare of a distressed man. This incident would have had a tragic ending if it wasn't for the actions of PC Nadeem, a student officer, who himself admitted to not being a strong swimmer, entered the water in full uniform and still wearing body armour and carrying all his equipment because there had been no time to take it off. 
The man tried to swim away towards a dangerous weir, but PC Nadeem caught up, grabbed hold of him and dragged him to safety. The man whose life PC Nadeem saved was treated by paramedics before being taken to hospital to receive treatment. 
PC Nadeem was nicknamed 'the Hoff' by colleagues and friends for his heroic actions, prompting the real Hoff himself to tweet about it at the time.  David Hasselhoff also sent a video message to the winning officer which was played at the ceremony. 
PC Nadeem said: "I am very happy to be here and to get this award. Just being a nominee was a great feeling but actually winning is amazing. And David Hasselhoff giving a video message about what I have done – that recognition is just brilliant. 
"It's an amazing feeling being here and knowing what officers have put themselves through. It's something that I will never forget being in a room with such heroes." 
Region 2 (North East)  
Police Constables Gary Sharpe and Victoria Threadgold – Northumbria Police 
PCs Sharpe and Threadgold were awarded the accolade for their courage in confronting an armed and dangerous man, after responding to a domestic violence incident where a woman had been assaulted. The offender was known to have a history of violence, was drunk and described as having a multiple personality disorder.  
On arrival at the scene, both officers were confronted by a furious, heavily built man, who initially tried to get his two dogs to attack the officers, then threatened them from the top of the stairs with a 4ft samurai sword. PC Sharpe persuaded the man to put the sword down, which he did before producing a black metal handgun and pointing it in the officer's face. 
PC Sharpe managed to disarm him with CS incapacitant spray and hand strikes, before successfully restraining the violent man, while PC Threadgold came to his aid. The man continued to struggle with both officers as they grabbed the weapon. 
On the evening PC Sharpe, said: "It's difficult to say what went through my mind without swearing. You've got to deal with the situation in front of you. We did what we needed to do." 
PC Threadgold, added: "It was a typical Friday in Gateshead, a normal domestic that went a bit wrong. In this job you never know what you can face. The bravery awards have been totally amazing – an unbelievable experience." 
Region 3 (Midlands)  
Police Constable Kimberley Morris – West Mercia Police
PC Morris has been presented with the Midlands region Police Bravery Award in recognition of vital first aid she gave to a stab victim while keeping the suspected attacker talking. 
She was in her second week of independent patrol when she and a colleague arrived at a house following reports of an assault. They saw the brickwork and door frame had bloody handprints smeared on them and a blood-covered woman was screaming that 'he' was dying. 
In the house, a blood-covered man was slumped in an armchair, with another blood-covered man kneeling before him, holding something up to a neck wound. The injured man in the chair was awake but kept losing consciousness.  PC Morris deduced that the other man in the room was the offender and that the weapon was a herb cutter that lay on the kitchen floor.  
The victim had an eight-inch gash along his neck and was suffering from an arterial bleed. PC Morris kept the offender talking while she tried to stem the flow of blood from the victim's neck, while waiting for back up to arrive. 
On the evening of the awards PC Morris, said: "I'm overwhelmed and really excited with what I have achieved in such a short amount of time and really excited to be here." 
Region 4 (Eastern)  
Police Constable Frances Peters – Norfolk Police
PC Peters has won the Eastern regional Police Bravery Award after she fended off a samurai sword wielding attacker. 
The police dog handler from Norfolk Police was the first officer on the scene after the force received a late night call from a man claiming he was going to kill his wife.  
She arrived at the remote farmhouse to find a man in the kitchen, playing music and talking to himself while fiddling with a mobile phone. PC Peters tried to talk to him, but he did not acknowledge her presence and turned away. 
She realised he had picked up a sword in each hand and was coming towards her. PC Peters used her Pava spray and personal safety skills to restrain her attacker and safely handcuff him until other officers arrived to take him into custody.  
On the evening of the event, PC Peters said: "What went through my mind? A bit of disbelief, oh no I'm on my own what am I going to do – it was a bit of a heart stopping moment. You don't know what you can do until you are in the situation. You just get on with it. I still go into work and do what I normally do. 
"It's been a fantastic day and to get to go to Downing Street was a once in a lifetime event." 
Region 5 (South East)  
Sergeant Mark Allmond and Police Constable Alex Quigley – Thames Valley Police
Sgt Allmond and PC Quigley were presented with the South East region Police Bravery Award after chasing down a violent killer. 
Off duty Sgt Allmond was shopping with his family, when he heard a man shouting and making threats. Unknown to him, the man had walked into Poundland, taken a large carving knife from the shelves and killed an innocent member of the public.  
Sgt Allmond followed the offender through the town centre while calling the police and updating them with his location. He followed the man getting closer and engaging him as he threatened other members of the public while brandishing knives in each hand. 
PC Quigley arrived and used her Taser to challenge and demand that he drop the knives, which he did. Sgt Allmond then restrained him with the help of PC Quigley. 
On the evening of the awards, PC Quigley, said: "It's overwhelming really, there are so many nominations and so many people acting above and beyond our call of duty as such – it's amazing. I'm very grateful that people voted for us and that we won the award , it's brilliant." 
Sgt Allmond, added: "Overwhelmed to be in a room with such great company and never in my wildest dreams did I think it would happen, we were just doing our job and its fantastic." 
Region 6 (South West)  
Former Inspector Ian Stevenson – Wiltshire Police
Inspector Stevenson was helping with a search for a woman when he was called to a railway track where she was determined to commit suicide.  
Insp Stevenson tried to push the woman out of the way of an oncoming train but the large woman resisted and it took a rugby tackle to force her to safety. The train missed them by a couple of feet in a scene his colleague described as "like something out of a movie".  
The incident took place four months before the Wiltshire Police officer was due to retire.  
Mr Stevenson, said: "I am humbled to be in the company of so many brave people. I honestly don't see what I did as standing out – it's just what I do. It's just part of being a decent human being – you just try to help people. And – after 30 years of service – getting some recognition is quite nice." 
Region 7 (Wales)  
Police Constables David Hall and Rhys Rushby – North Wales Police
The force had been searching for a man wanted for a violent murder. Caution was needed, as there was intelligence that he had a handgun and wanted to kill police officers.
PCs Hall and Rushby approached a vehicle that was suspected of being stolen, when PC Hall spotted a man hiding himself in the back, wearing a hood and covering himself with blankets. PC Hall opened the rear door, taking hold of the man and recognised him as the person wanted for murder. The suspect attacked PC Hall with a claw hammer, striking him on the shoulder and several times on his forearms and hands.
PC Rushby captor sprayed the man as PC Hall tried to take the hammer and wrestled with the offender. The wanted man managed to take hold of the officer's Taser but PC Rushby managed to grab it back.
The offender was biting and punching the officers, so PC Rushby wrapped a blanket around his head to stop him biting more. The man screamed that he had a gun and was going to shoot and kill officers, before thrusting an unknown six inch object underneath PC Rushby's throat.
PC Hall used the Taser on the man, but due to his clothing it was ineffective. The suspect broke the wires and continued to assault both officers, screaming that he would shoot them. Bravely PC Hall re-loaded and successfully used his Taser. PC Rushby quickly placed a cuff onto the offender's right wrist and pulled him out of the car before handcuffing him fully.
The man was arrested on suspicion of assault, murder, robbery and burglary. The object he had been holding underneath PC Rushby's neck was a nine inch kitchen knife.