'Herculean' effort to open new custody centre early in response to coronavirus crisis
Devon and Cornwall Police's award-winning new police station is to open a fortnight early because its state-of-the-art custody cells are better for isolating detainees with coronavirus symptoms than those currently in use.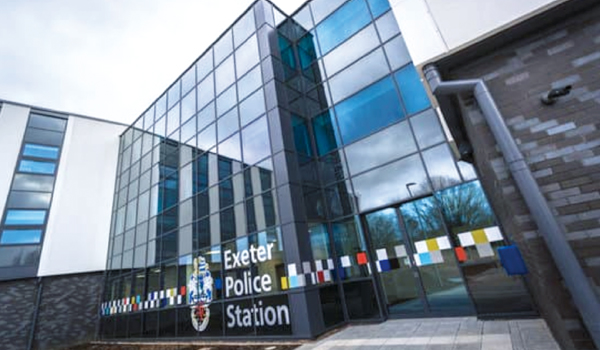 Police officers and staff have been working around the clock to bring forward the opening of the Exeter custody centre and public enquiry office at the £29 million Sidmouth Road building, which had been due on April 22, said Devon and Cornwall's police and crime commissioner (PCC).
From 8am on Tuesday (April 7), the front desk at Exeter's Heavitree Road station will close and the service transferred to the new station, which is next to Devon and Cornwall Police's Middlemoor headquarters.
The custody centre has 40 cells over three wings, so those with Covid-19 symptoms can be isolated from other detainees. It is made of modern materials so is easier to keep clean and is far more spacious than the existing facility. Some cells are equipped with cameras that monitor life signs, and an audio visual system across the entire custody suite helps to ensure the safety of officers and those in their care.
The station also hosts the country's newest virtual court, meaning trials can continue despite the lockdown.
Initially around 45 officers and staff will move. Ultimately, 500 officers and staff from various departments serving Exeter, East and Mid Devon will be based there.
"In a crisis our police force has demonstrated an ability to be extraordinarily agile, and the early opening of the station is an example of that," said PCC Alison Hernandez, who gave the project the green light in 2016.
"There has been a huge amount of work going on behind the scenes to make this happen – mostly around IT systems, and I'd like to thank those who have put in a Herculean effort to make this happen as one part of our response to this serious public health crisis."
The police station is thought to be the most sustainable police building in the UK and is in the top ten per cent of all buildings for sustainability. It uses 22 per cent less energy than a traditional building of the same size, generates 68kwh of electricity a year from solar panels and carbon generated from its construction has been offset.
In February the police station project won a Concrete Society civil engineering award for its use of recycled materials, custody fabrication and finish.