Hampshire and Isle of Wight Constabulary commits to reducing crime in rural areas
Rural communities will receive a "greater level of local policing that meets their expectations" under a new strategy launched by Hampshire and Isle of Wight Constabulary.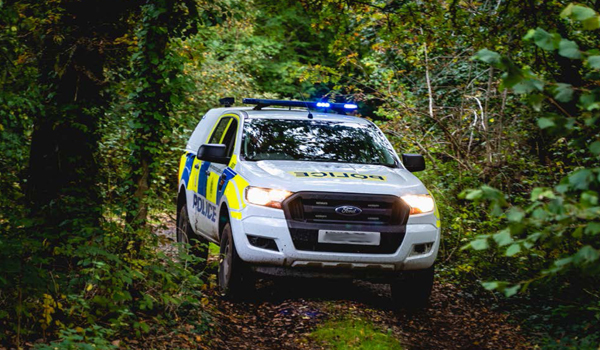 A recent survey found that almost three-quarters of people in rural communities across the region felt they received "less of a service" compared with urban areas.
But Rural and Wildlife Crime Inspector Cath MacDonald stressed that rural communities "are just as important".
Launching the constabulary's recently-published Rural and Wildlife Crime Strategy 2023-2025 she said "everyone in rural areas has the right to feel safe and we will be providing a greater presence in rural areas and discouraging criminality".
The strategy sets out how the force intends to tackle rural crime and anti-social behaviour in local rural communities across Hampshire and the Isle of Wight.
At the heart of this are four key principles, said Insp MacDonald:
Prepare – prepare for when rural and wildlife crime may occur, preventing where possible and mitigating its impact through efficient use of intelligence, data and technology;
Prevent – preventing and deterring people from engaging in rural and wildlife crime through effective partnerships, media and communication and public engagement;
Pursue – relentlessly pursuing criminals causing harm to rural communities with a focus on organised criminals, to prosecute, disrupt and deter offending; and
Protect – protecting rural communities and wildlife from the impact of crime through a coordinated effort, utilising all available resources and stakeholders.
Insp MacDonald said: "We want to reassure rural communities that they are just as important as urban areas when we are providing an effective and efficient policing service in response to the needs and concerns of our local communities.
"The constabulary recognises some of the unique challenges faced by our rural communities and the fact that many feel isolated and vulnerable; whether that be agricultural and rural business crime, environmental and heritage crime, game sports and wildlife crime to offences going under reported due to rural isolation such as domestic abuse.
"We hope that the new Rural and Crime Strategy provides much-needed focus on dealing robustly with rural and wildlife crime across our communities in the coming months and years.
"I would like to emphasise that we will be seeking to provide those within our rural communities a greater level of local policing that meets their expectations. This includes being visible and having a greater presence in rural areas, providing reassurance to our local residents that their concerns are being listened to and discouraging criminality."
A priority focus of the strategy is to build on existing partnership relationships to protect rural communities and wildlife; including the RSPCA, Defra, Environment Agency, National Farmers Union, Country Land and Business Association, Hampshire County Council, Forestry England and New Forest National Park Authority.
Improving support to victims affected by crime in rural areas, especially those who have an increased fear of crime and vulnerability, is also high on the agenda via the newly-published strategy.
"Advances in technology and innovation cannot be understated and as part of the new strategy will play a key role in protecting communities and wildlife throughout the lifecycle of the three-year strategy and beyond," said the constabulary.
Insp MacDonald added: "A recent survey conducted by the constabulary indicated that over 70 per cent of people living in rural communities across Hampshire and the Isle of Wight felt they received less of a service compared to urban areas.
"We know that we need to address the concerns raised by our communities and we hope that the Rural and Wildlife Crime Strategy will go some way to showcasing our commitment to tackling these key concerns raised by our rural residents and business owners.
"Everyone in rural areas has the right to feel safe and by targeting those involved in rural criminality, we  hope this provides some reassurance that we are committed to making your businesses, homes and communities safer.
"However, we cannot do this on our own. A vital part of our strategy is working with other agencies, organisations, volunteers and charities to promote a safe rural environment for all.
"In order to respond to ongoing community issues, our teams require our local communities to report any suspicious incidents or suspected illegal activity in rural areas to us. Every call you make to us is logged and helps us build a bigger picture about what might be happening in your community. This allows us to take robust action and prevent your neighbourhoods from harm."
Police and crime commissioner for Hampshire and the Isle of Wight, Donna Jones, said: "Protecting rural communities is one of the priorities in my Police and Crime Plan as Hampshire and the Isle of Wight have large rural areas and these communities are more frequently becoming victims of serious and organised crime.
"The new Rural and Wildlife Crime Strategy provides a clear way forward to tackle the complexities of rural crime with efficient policing, consistent community engagement, and relentlessly pursuing offenders.
"I was so pleased that more than 1,200 people responded to my recent Rural Crime Survey as they recognised the need to get involved and have their say.
"And, as part of my continuing commitment as commissioner, I provided the funding for a rural crime analyst who is dissecting the survey data, and while the public have contributed enormously to shaping the Rural and Wildlife Crime Strategy, officers are able to use the intelligence and crime trends to directly bolster rural policing on the ground."