Half of all WMP response officers will be armed with Tasers
West Midlands Police (WMP) will more than double its number of Taser-trained officers in response to an emerging threat of violence.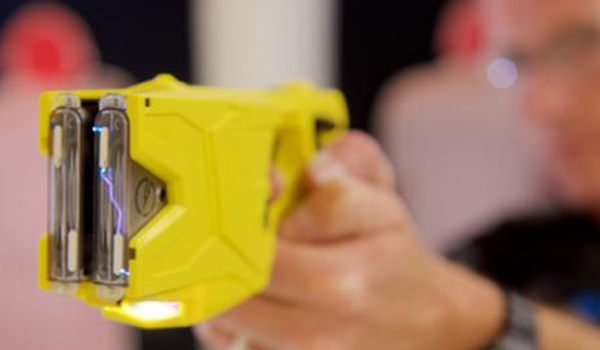 West Midlands Police (WMP) will more than double its number of Taser-trained officers in response to an emerging threat of violence. The force already issues Tasers to 643 officers but will bring numbers up to around 1,440 over the next few months, it announced on Monday (August 7). Half of WMP's response officers will be given the devices, as will staff in other roles such as neighbourhood policing. The rollout comes after national figures showed there were "small but genuine" increases in knife and gun crime in 2016. "Our officers need something more than their baton if they're to protect people effectively," said Chief Constable Dave Thompson. "As part of our round-the-clock efforts to keep people safe, we will be significantly increasing the number of officers trained in the use of Taser. "We're still a long way off routinely arming PCs with Tasers but we have to stay one step ahead of those who would seek to cause harm." Police-recorded knife crime rose 14 per cent while offences involving firearms increased by 13 per cent. In July, Mr Thompson spoke about against "senseless violence" in the West Midlands following a string of stabbings. However, WMP denied that its decision to introduce more Tasers was in response to any specific threat to the West Midlands. Larger proportional deployments are being introduced in Devon and Cornwall and London, with the former expected to see 85 per cent of frontline officers equipped with Tasers. WMP has refused to take part in a new national use of force transparency scheme by asking officers to record each time they restrain a suspect. Mr Thompson believes the ten-page forms used in the project, which is overseen by the National Police Chiefs' Council, are overly bureaucratic. Instead WMP regularly publishes data on its Taser use online. Its latest figures show officers deployed Tasers in 854 incidents in 2016 and fired them 162 times. The introduction coincides with the rollout of the new X2 Taser model across the force area. These weapons, which carry two shots, are intended to provide officers with better protection. The full cost of their deployment in the West Midlands is still being calculated. Last month WMP also announced that £11,000 will be invested in issuing 4,500 officers with spit guards. The force became the 23rd in the country to introduce the restraint devices, which have been criticised by campaigners as being overly brutal. The Taser rollout was welcomed by the police and crime commissioner's office and the local federation branch. Tom Cuddeford, chair of West Midlands Police Federation, said: "Experience shows us that in most cases an officer merely drawing the device from its holster, activating its laser target or sounding the device's electrical charge is enough to resolve the situation. "The alternative is the use of a baton which can cause catastrophic injuries or drafting in firearms officers who use lethal force."