Guns and explosives seized in terrorist crackdown
Police in Northern Ireland have struck a blow to local terrorists by seizing a major weapons cache.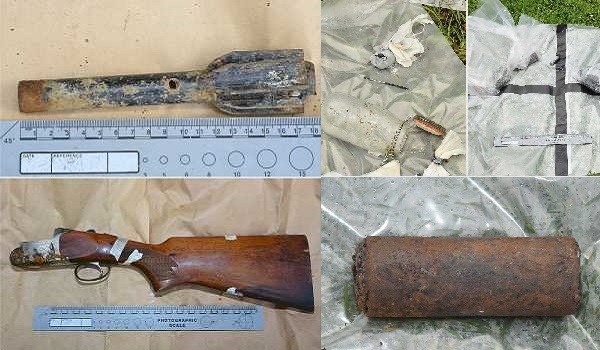 A 12-day search in Lurgan and Benburb has uncovered several hidden stashes containing firearms, explosives and ammunition.
Weapons were recovered at sites including derelict properties, a former school, fields and hedgerows near a Lurgan cemetery – in locations where they could have been found by members of the public.
The Police Service of Northern Ireland believes the Continuity IRA and the Arm Na Poblachta (Army of the Republic) are responsible for the items.
Between April 29 and May 11, the force recovered two shotguns, four handguns, explosives, an improvised detonator, a suspected mortar tube and other component parts used in bomb making.
Other seizures include fertiliser, ammunition, tools, mobile phones and terrorist paraphernalia.
On May 8, officers uncovered a pipe bomb that had been left beside a nursery school and a community centre.
The device was described as "old and rusty, but viable", making the weapon more dangerous as it could have detonated at any time.
Detective Superintendent John McVea said the operation had removed dangerous items from the streets and "eliminated the risk of members of the community stumbling across them and coming to harm".
He added: "The searches also send a clear message to those involved in terrorism that we will continue to disrupt their heinous activities so that our communities can live in peace and without fear.
"They do not want you in their midst putting their lives and those of their children at risk.
"We will carry on working with the local community to take these shameful people off our streets and keep people safe. These recent events have shown how great results can be achieved when police and the community work together."