Gun smuggler with 60 firearms in car jailed for nine years
A man has been jailed for nine years following what is thought to be the largest seizure of lethal weapons at a UK port.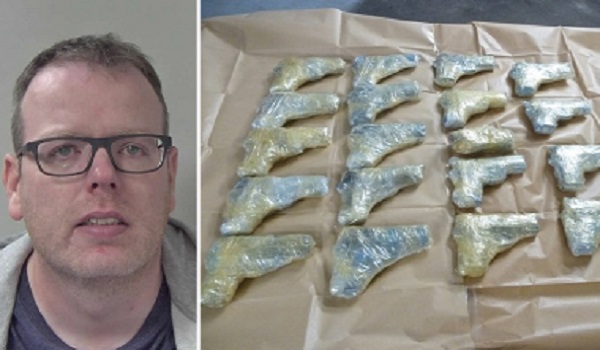 Irish national Robert Keogh, 37, pleaded guilty to attempting to smuggle 60 handguns into the country in his car.
He was stopped at 5am on August 2 this year by Border Force officers at the Port of Dover en route from Calais. He had left the UK through Dover on July 24 and when questioned, told officers he was returning from Europe where he had "just been driving around".
An initial search of his Volkswagen Passat uncovered a Turkish-manufactured Zoraki blank firing handgun, concealed in the rear-left quarter panel. The barrel of the weapon had been replaced, allowing it to fire live ammunition.
A further 59 firearms wrapped in plastic were discovered concealed deep inside the car's bumper and both rear quarter panels. The serial numbers of the weapons had been removed.
Latex gloves, three sim cards and four mobile phones were also recovered.
Keogh told officers from the National Crime Agency (NCA) he had built up a significant gambling debt and claimed he was going to be paid 10,000 euro, believing he might be shot if he refused to cooperate.
He also said the vehicle had been out of his control for three days while he was abroad and thought money might have been hidden in it.
Jailing him for nine years at Canterbury Crown Court yesterday (November 11), Judge Rupert Lowe told Keogh: "If you had not been stopped, it is highly likely that numerous people would have been threatened, and some shot, and perhaps some killed, by criminals using the illegal prohibited weapons that you were knowingly driving into this country."
Andrea Wilson, NCA Head of Regional Investigations, said: "The firearms belonged to an organised crime group whose plans were significantly disrupted by their loss. The case against Keogh was so strong he had to plead guilty very early.
"Without our and the Border Force's intervention, the weapons would have ended up in the criminal marketplace and then on to streets across the UK to be used in extremely violent crimes by extremely dangerous offenders."