Groundbreaking fingerprint technology deployed across two Welsh forces
South Wales Police and Gwent Police have become the first Welsh forces to use mobile fingerprint technology on the streets.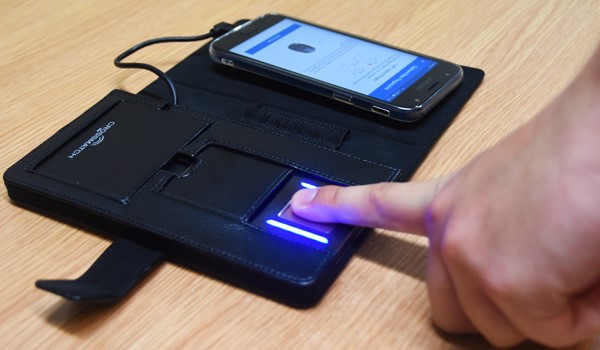 The portable biometric device – INK Biometrics (Identity Not Known) – scans a suspect's fingerprints and can confirm their identity within 60 seconds if they are known to police databases.
Both forces say the introduction of this technology – developed in-house by the Metropolitan Police Service (MPS) – will allow for faster apprehension of wanted offenders and removes the need to take a suspect to a police station, allowing officers to stay in communities for longer.
Gwent Police T/Deputy Chief Constable Jonathan Edwards said initially ten devices would be deployed across both forces and given to core parts of operational policing as part of a three-month pilot.
"These devices will be extremely effective in dealing with suspects linked to modern day slavery, organised crime or the knife crime initiative Operation Sceptre, which is responding to a national increase in reported knife crime," he added.
"Collaboration between our two forces is enabling new technology to be delivered quicker and more effectively, resulting in greater efficiencies being made to help operational policing respond to increased demand."
South Wales Police Deputy Chief Constable Richard Lewis said the role of technology such as this was a large part of how they keep communities safe.
"Investing in new ways of working and providing the latest technology to our officers is a priority for the Digital Services Division, which is a collaborative unit across both South Wales Police and Gwent Police," he said.
"INK devices are part of a range of tools open to officers to confirm a suspects identity. Once all traditional forms of identifying a suspect have been exhausted an officer, under the Police and Criminal Evidence Act, will be able to use the device to cross-check against police databases."
South Wales police and crime commissioner (PCC) Alun Michael said it will not change the basics of working within the law to check a person's identity "but it enables it to happen quickly".
"These devices take a traditional method of policing and speed up the identification process, resulting in less time transporting a suspect to custody, less distress and inconvenience for any suspect and increasing the time police officers are available to the public," he added.
"It is important to make best use of technology, to keep the public safe while working within the law and protecting civil liberties.
"Everything a police officer does, as part of their role, must be proportionate, legitimate and ethical."
Gwent Police PCC Jeff Cuthbert said confirming a person's identity was a "cornerstone of policing" and the technology will build on an officer's training and provide them with an additional tool to help them carry out their role.
"Through working in partnership, we have been able to deliver new technology that helps prevent crime, support victims and improves service delivery for members of the public," he said.
"This technology will enable our officers to intervene earlier and reduce the crimes that cause the most harm in our communities."
Since the MPS introduced its biometric fingerprint reader a year ago, it has resulted in more than 13,000 positive identifications on London's streets.
It says with the average time spent in custody as 15 hours per arrest – if other forms of 'disposal' were used as opposed to arrest – INK potentially saves around 180,000 hours of officers' time not spent in custody but instead remaining on London's streets.
Due to the success of the fingerprint readers, plans are in place to introduce a further 250 devices. In addition, at least one biometric device will be placed within each custody suite across the capital.
Since the initial rollout of 120 devices in August 2018, which was the largest UK police force deployment of a fingerprint biometric scanner, the number of checks made per year went from around 1,500 to more than 31,000.
As of February this year, a further 480 devices were rolled out, bringing the total to 600 in use in the MPS.
More than 9,000 officers have been trained to use the fingerprint readers and this is set to increase with additional funding of £170,000 for the extra devices. These biometric readers will be with frontline officers by early 2020 while the devices issued to custody suites will be delivered by the end of the year.
Superintendent Adrian Hutchinson from the MPS's Transformation Directorate, who is leading the project, said: "It remains our priority to be at the forefront of technology in order to make the best use of it; to fight crime and bring criminals to justice.
"I am very proud of how the Met is making this investment and has developed our own device that is proving to be an essential piece of kit, enabling our officers to identify more offenders, intervene before crimes are committed, locate fugitives or missing persons and save valuable time in transporting suspects to custody.
"The efficiencies are great. We believe that routine deployment of the INK biometric device is decreasing crime and helping to reduce re-offending, and with suspects becoming more aware that police have this technology they are less likely to supply false details, which saves time. While allowing police to remain operationally visible, device usage is increasing public confidence and providing value for money for taxpayers."
He said the speed and accuracy of the readings has proved invaluable to frontline officers and has enabled them to identify offenders who might otherwise have evaded arrest by giving false details.
"The next step in quantifying the device's usage will involve the Met's in-house developers, through the Digital Policing division and the Transformation Directorate, to build into the existing Met systems a method in which custody officers can account for whether the arrest was made as a direct result of INK's positive identification," added Supt Hutchinson.
He said the MPS has loaned devices to several UK forces and agencies, including the two Welsh forces and the National Crime Agency, with further interest from a number of other Home Office departments and international police forces.
In addition, the MPS is pioneering the potential for global applications of this technology through legitimately accessing wider databases for the detection and apprehension of wanted offenders.