Government to support Finn's Law
Police dogs and horses will be given greater legal protection after the Government announced its support for 'Finn's Law'.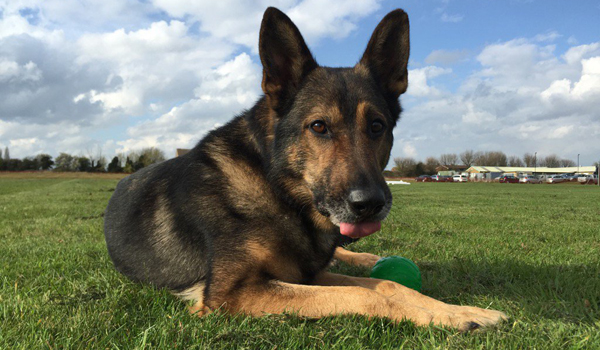 Environment Secretary Michael Gove publicly backed the Animal Welfare (Service Animals) Bill ahead of its debate in the House of Commons on Friday (June 15).
The Bill, nicknamed 'Finn's Law' after a stabbed police dog whose injury sparked the campaign, will remove a section of current self-defence laws often used by people who harm service animals.
The Government also plans to increase the maximum sentence for animal cruelty offences to five years.
Finn's Handler, Hertfordshire Constabulary Police Constable Dave Wardell, said: "When Finn was seriously injured it didn't seem right to me or the public that he was seen as an inanimate object/property, in law.
"This campaign and Bill is my way of saying thank you to Finn for saving my life and to the many others for the truly outstanding and brave work they do every day."
PC Wardell and Finn were both stabbed as they pursued a teenage suspect in Stevenage in October 2016.
Finn required life-saving surgery but later made a full recovery and has since retired from police work. He now lives at home with PC Wardell.
However, while the suspect was charged with causing actual bodily harm for the injuries he caused to PC Wardell's hand, he could only be charged with criminal damage over Finn's injuries.
Current law does not recognise attacks on police animals as a specific offence, with causing criminal damage or unnecessary suffering the only routes available to prosecutors.
The incident prompted the Finn's Law campaign and saw more than 120,000 people sign a petition demanding more protections.
The Bill, brought by MP Sir Oliver Heald, proposes amending animal welfare laws to prevent defendants accused of causing unnecessary suffering to an animal from claiming they were using justifiable force.
David Lloyd, police and crime commissioner for Hertfordshire and chair of the Association of Police and Crime Commissioners, said he was "delighted" by the Government's support.
He added: "The need for legislation was brought to the fore by the experience of police dog Finn and his handler, PC Dave Wardell, in Hertfordshire.
"A change in the law is something that police and crime commissioners have called for in recent months and I want to pay tribute to Sir Oliver Heald MP, Finn's Law campaign and everyone else that has worked so hard to bring this measure forward."
Mr Gove said: "This Bill will offer stronger protection for the many brave service animals that help to protect us. I pay tribute to PC David Wardell, Sir Oliver and all those who have campaigned for Finn's Law.
"This Government is continuing to raise the bar on animal welfare, whether it be for our beloved pets, brave service animals or on farms."