Government 'sleepwalking into a crisis' over post-Brexit security
Critical cooperation between law enforcement agencies post-Brexit is being threatened by Government complacency, the Home Affairs Select Committee (HASC) has warned.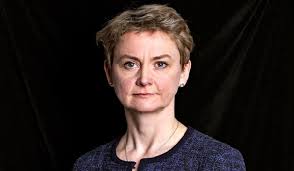 Britain risks "sleepwalking into a crisis" by assuming security cooperation will still be swift and easy after it exits the EU, claims a HASC report.
The Government has set objectives for replicating current arrangements through a security treaty, but the HASC cast doubts on whether these are achievable in agreed timescales.
It called on both the UK Government and the EU to extend the transition period for security agreements well beyond the proposed end-date in December 2020.
Chair Yvette Cooper said there is a "serious risk we will lose some of the vital data and extradition arrangements if there isn't urgent work by both the UK and EU to deal with the trickiest issues".
"We are extremely concerned that neither the Government nor the Commission is focusing enough attention on this area of Brexit, to sort these problems out in time," she added.
"Yet the consequences of running out of transition time before the security treaty is in place are immensely serious – both for the UK and Europe."
The Prime Minister's decision to trigger Article 50 in 2017 means Britain will formally leave the EU in March next year.
The Government has committed to continued access to Europol, the European Arrest Warrant (EAW) and criminal data sharing.
Its intention is to maintain the closest possible cooperation with the EU on tackling serious crime and terrorism through "new, dynamic arrangements".
However, the HASC report, published on Wednesday (March 21), claimed the "unprecedented" challenges facing the UK in Brexit risk losing access to vital law enforcement tools.
The Government has repeatedly claimed the UK will pull out of the Court of Justice of the EU's (CJEU) direct jurisdiction next March, but keeping this 'red line' may affect other negotiations, such as membership of Europol.
The transition period for security arrangements will allow Britain to temporarily maintain Europol membership but not take part in decision-making.
It will also not be allowed to opt into new criminal justice initiatives unless they build on existing measures.
The committee is particularly concerned that any operational agreement between the UK and Europol after Brexit based on existing arrangements would damage security.
Europol frequently cooperates with non-EU countries but full membership has always been limited to Member States.
Third countries typically work with 'strategic agreements' to share intelligence and technical information, or more complex 'operational agreements' that let partners access many Europol services.
These operational partners have no say in Europol's strategic priorities and cannot lead operational projects.
They also face reduced access to the Europol Information System, and can usually only channel information and make inquiries, which can lead to delays.
Although Denmark still has access to EU police databases despite leaving Europol last year, it is still a full Member State and complies with CJEU jurisdiction.
Danish police can also not directly access Europol data in the field, and the country has no seat on Europol's management board.
The UK government has still not specified whether it wants full participation in Europol – which would be unprecedented for a non-EU Member State – or another form of membership.
The HASC also expressed concerns over the future of Britain's access to the EAW.
The UK arrested 1,735 people through the EAW in 2016/17 and has made over 12,000 EAW arrests since April 2009, up from just 60 per year before 2004.
Home Secretary Amber Rudd has previously claimed losing access to the EAW would make the UK "a honeypot for all of Europe's criminals on the run from justice".
Use of the EAW is currently restricted to EU members, and although it is likely that extradition measures would continue, they would not be as fast and simple as under the current model.
The HASC added that a bespoke EAW arrangement would likely lead to reduced functionality compared to current access.
Third-country status could also mean the UK's surveillance regime is exposed to a new level of scrutiny from the EU, which the HASC believes could form a source of conflict and an obstacle to data sharing.
Ms Cooper called for the immediate start to negotiations and "pragmatism on both sides" to ensure the transition post-Brexit is as smooth as possible.
This would require the EU to be open to new models of membership on Europol and the EAW.
The UK would also need to ease up on its own red lines, as outright refusal to accept the CJEU's jurisdiction would be "unwise".
A HASC spokesperson said: "We agree with the Home Secretary that a no deal outcome in security should be unthinkable, but we are not convinced that the Government has a clear strategy to prevent the unthinkable from becoming a reality, and we have serious concerns about its apparent lack of investment and interest in contingency planning.
"It is time for the Government to flesh out the details of the 'bespoke deal' it says it hopes to secure in this area, and to be open with the public and Parliament, by explaining how it proposes to address the potential pitfalls and obstacles identified in this report."
A government spokesperson said: "Both the UK and EU have made clear our shared commitment to keep all our citizens safe and continue the deep level of cooperation we have on security, law enforcement and criminal justice after Brexit.
"The draft agreement reached with the European Commission earlier this week means security cooperation with the EU can continue through the implementation period up to December 2020 – and we will be looking to secure a comprehensive new treaty on internal security cooperation that can begin directly after.
"The precise details of how this will work are of course a matter for negotiations with the EU but we have been preparing extensively including by seeking input from operational partners. We expect formal negotiations with the European Commission to begin shortly."