Government considers expanded role for Civil Nuclear Constabulary
The Department for Business, Energy and Industrial Strategy (BEIS) has launched a consultation on the role and responsibilities of the Civil Nuclear Constabulary (CNC).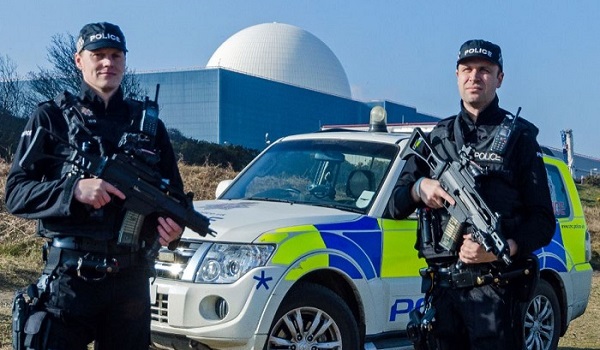 The CNC is the specialist armed police force charged with protecting civil nuclear sites and nuclear materials in England, Scotland and Wales, and the consultation seeks views on whether legislation should be introduced to expand and diversify its remit and powers.
Such a change would make it easier for the CNC to make use of the expertise of its officers to protect other parts of the UK infrastructure or to work alongside other police forces to provided an additional armed response in the event of a terrorist incident.
CNC Chief Constable Simon Chesterman said: "As a part of the wider policing family, our core role at the CNC remains the security and protection of the nation's civil nuclear infrastructure and failure to deliver this is not an option. The CNC and Civil Nuclear Police Authority's core objective in the project is to maintain our core Mission and to remain effective, efficient and relevant through a period of change in the civil nuclear sector.
"Our ambition is to be recognised nationally and internationally as the United Kingdom's leading organisation for the provision of protective policing for the civil nuclear industry and other critical national infrastructure.
"This consultation will investigate whether changing the legislation will allow us to utilise our expertise in deterrence and armed response, either to support other critical infrastructure sites or to assist other police forces in an emergency."
The consultation is also looking to find a solution to increasing staff attrition within the CNC, with demand for its services set to fluctuate as many of the existing nuclear power facilities in the UK are due to be decommissioned. The resulting career uncertainty has had a significant impact on staff retention.
The consultation document further notes: "The frequency and likelihood of live operations that call upon the CNC's extensive training is, reassuringly, relatively low. The critical role for UK nuclear security that the CNC carry out is therefore by its nature repetitive and leads to under-utilisation of officer skills, which has contributed to reducing retention rates across the workforce.
"Increasing attrition of CNC officers presents operational challenges for providing critical policing support. In recent years, it has led to costly overheads, large and time-consuming recruitment efforts, and loss of expertise within the force."
It is also hoped that allowing CNC officers to take up short-term deployments with other forces will provide "a broader more stimulating policing experience", encouraging more officers to remain in post.
The consultation runs until August 5.