Government moves to close 'loophole' after criminal damage acquittals
A clause in the Police, Crime, Sentencing and Courts Bill will close a 'potential loophole' that allows individuals to get away with some acts of criminal damage, a Cabinet minister has said.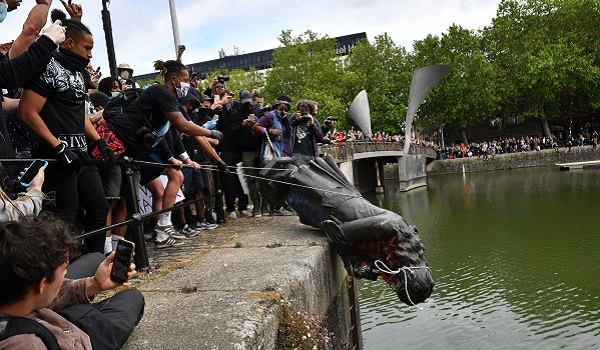 Transport Secretary Grant Shapps was speaking after four people were cleared at Bristol Crown Court on Wednesday (January 5) of causing criminal damage to a statue of Edward Colston in Bristol in June 2020.
Speaking to Times Radio he said: "We're not in a country where destroying public property can ever be acceptable. I'm aware they were tried under a particular piece of legislation, a particular aspect of that legislation, which the new Police, Crime, Sentencing Bill will provide other routes.
"We live in a democratic country. If you want to see things changed you can get them changed, you do that through the ballot box, or petitioning your local council, etc. You don't do it by going out and causing criminal damage.
"We'll always be on the side of the law and when necessary we will fix any loopholes in the law to make sure that's always the case."
Rhian Graham, one of the four cleared of the charges, denied the verdict set a precedent condoning political vandalism: "I completely understand people's concerns and I really don't think this is a green light for everyone to just start pulling down statues.
"This moment is about this statue in this city in this time. I will leave the fate of monuments in other cities to the citizens of those cities."
Avon and Somerset Constabulary initially faced criticism after they chose not to intervene when protesters tore the bronze figure of the 17th century slave trader from its Colston Avenue plinth and tipped it into the River Avon during a Black Lives Matter demonstration.
An investigation launched in the weeks following the incident led to a total of 18 individuals being identified through social media images as being involved with the incident. The majority received cautions.
Following the court verdicts, Chief Superintendent Liz Hughes, head of neighbourhood policing, said: "This was an incident which attracted worldwide attention and which polarised public opinion.
"Ultimately, we had a duty to investigate as the custodians of the statue – Bristol City Council – had not granted anyone permission to damage it.
"Following a thorough investigation we submitted a file of evidence to the Crown Prosecution Service who then made the decision to charge the four defendants with criminal damage. Having been presented with the evidence, a jury has now determined their actions were not criminal and we respect its decision."