Government funds 'safe houses' for modern slavery victims affected by coronavirus
The Government is taking "decisive action" to safeguard modern slavery victims as it steps up measures to protect the vulnerable from coronavirus.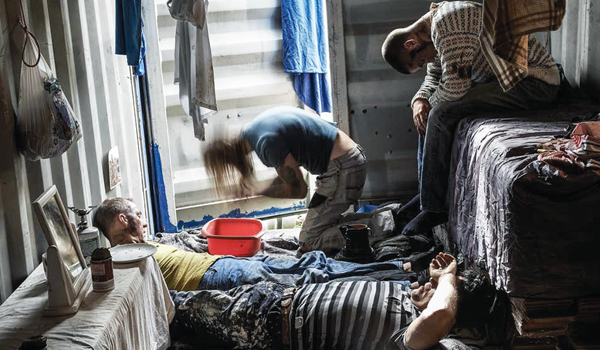 Victims will be allowed to stay in government-funded safe accommodation for the next three months rather than being "assisted to move on".
Safeguarding Minister Victoria Atkins said: "The safety of modern slavery victims and the frontline staff supporting them remains a top priority. "By taking this decisive action we will ensure that vulnerable people continue to have access to safe accommodation."
The National Crime Agency's (NCA) latest National Strategic Assessment said while it is likely the overall threat from modern slavery has not changed in the past year, the true scale in the UK is unknown.
Potential victims identified through the National Referral Mechanism (NRM) increased by 45 per cent between January and September 2019, to 7,273, compared to the same period in 2018.
"It is highly likely that this increase is driven by heightened awareness of modern slavery among law enforcement, other first responders and the public," said the NCA. "There are more potential victims from the UK than anywhere else, with UK nationals comprising 27 per cent of all referrals."
The Home Office says the NRM will continue to take referrals of potential modern slavery victims and those referred will be provided with the support they require, including accommodation. "Through the NRM individuals are able to access support including accommodation for at least 45 days if found to be potential victims," it added.
"Where they would ordinarily be assisted to move on from their accommodation, this temporary change will ensure that these individuals remain safely in accommodation. These changes will take immediate effect."
The Government added that support workers will "continue to provide essential support services remotely where possible, to comply with social distancing measures".
It is also continuing to work with The Salvation Army, the primary provider of support, on reviewing processes and policy to maintain the services it provides to modern slavery victims during the Covid-19 crisis.
Director of anti-trafficking and modern slavery for The Salvation Army, Kathy Betteridge, said it was working to quickly adapt its existing operations so that victims "continue to have the best care possible" to keep them safe, despite the challenges faced in the light of coronavirus.
She added: "We are already making available new safe houses on a regular basis. We have plans to ensure we continue to have the capacity to accommodate new victims needing support, which will contribute to the additional capacity now required following the Government's decision to restrict clients moving on from our network of safe houses."
The Association of Police and Crime Commissioners (APCC) said it welcomed the new government measures to ensure victims of trafficking and slavery were provided with "crucial 'safe' accommodation and support for the next three months during this crisis".
The APCC modern slavery leads, police and crime commissioners (PCCs) Mark Burns-Williamson and Alison Hernandez, said: "Victims of slavery and trafficking are among the most vulnerable and it's right that changes are made now to ensure they are protected and supported to recover from the trauma of their exploitation and abuse.
"We have been working with other PCCs, the National Police Chiefs' Council and key stakeholders to raise awareness of these issues, and while great progress has been made through the National PCC Network and Modern Slavery Police Transformation Programme, with a greater number of victims being identified, we still have some way to go and cannot let the current coronavirus crisis add to the suffering of these victims. Supporting victims will help ensure we catch perpetrators and bring them to justice through the courts."
The NCA says offenders engaged in modern slavery are most likely to operate in organised groups or networks. While the majority of identified offenders are male, the proportion of police investigations featuring female offenders has increased to 34 per cent, mostly linked to sexual exploitation.
Its National Strategic Assessment highlights how offenders are primarily driven by profit.
"In contrast to commodity-based offending, in which profit is only generated once, the exploitation of victims of modern slavery provides continuous profits for offenders, as there is ongoing demand for the victims' services, such as sex or labour," it said.
"Within the UK, social issues such as homelessness, isolation and substance abuse often contribute to victim vulnerability. Outside the UK, a lack of economic or educational opportunity drives the movement of vulnerable people. It is almost certain that non-UK victims of modern slavery are at greatest risk of exploitation immediately following their arrival to the UK."
The NCA says the number of claims of exploitation in coerced criminality – where victims are forced to commit crimes – continued to increase during 2019, overtaking those of both labour and sexual exploitation for the first time.
"This is likely due to improved awareness of the exploitation of adults in coerced criminality," it said. "Exploitation in County Lines drugs supply remains the most frequently identified form of coerced criminality, with children representing the vast majority of victims. Adult victims are often forced to work in cannabis cultivation, or low-level, high-frequency acquisitive crimes, such as shoplifting.
Construction, agriculture and car wash services remain the "most notable" areas for labour exploitation.
"Most of the victims are male. Reports of exploitation through domestic servitude increased by 16 per cent in the first three quarters of 2019. It remains almost certain that such exploitation is significantly underreported," said the NCA.
"Sexual exploitation accounts for the highest number of female victims identified in the UK. Some victims of sexual exploitation are also exploited in other ways, such as being forced into domestic servitude or into drugs supply. It is almost certain that exploitation of this kind is underreported, particularly where the victims are male."