Government 'keen to give' improved settlement in December, claims PCC
Forces could be in line for an improved settlement in December following last week's disappointing budget announcement.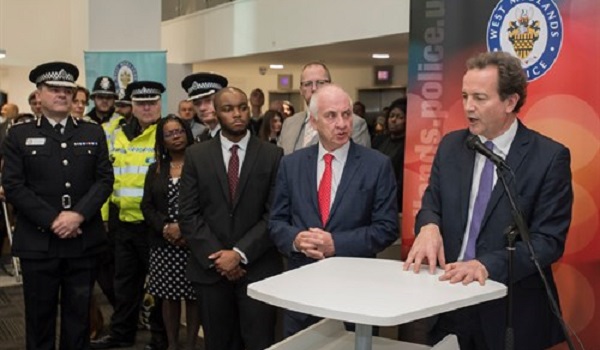 Forces could be in line for an improved settlement in December following last week's disappointing budget announcement. West Midlands police and crime commissioner David Jamieson said he has seen a "welcome change of tone" from the Government on funding after a meeting with Policing and Fire Minister Nick Hurd. The Home Office is reportedly eager to find additional resources for policing when it reveals its grant allocations in December. The reassurance will be a relief to forces across the country after Chancellor Philip Hammond failed to mention any additional investment in his budget last week. Mr Jamieson said he is now "cautiously optimistic that we'll get a better settlement when announced before Christmas". He added: "Nick Hurd made it very clear to me that he wanted to improve the funding police forces like the West Midlands receive. "He recognised the stress police forces are under and confirmed that he and the Home Secretary were keen to give police forces an improved settlement in December. "This is very welcome news. The Government now needs to act on this welcome change of tone from the Home Office." Mr Jamieson was one of many police leaders to criticise the Government after it refused to commit to further funding on Wednesday (November 22) despite growing pressure from crime and terrorism. West Midlands Police has lost £145 million since 2010 and its workforce has shrunk by 2,000 officers, prompting Chief Constable Dave Thompson to warn that it is close to breaking point. Writing in the Metro, London Mayor Sadiq Khan recently criticised Mr Hammond for the lack of action to "fix the black hole facing police finances" despite the unprecedented threat of terror attacks this year. He said: "This is not about party politics. Conservative police and crime commissioners say the same – as do those at the frontline, our chief constables – including the Met commissioner, Cressida Dick. "We can't go on like this. It's time for the Government to listen, end the cuts and commit to a real-terms increase in police funding." The omission in the budget announcement came after Mr Hurd visited every force in the country to learn more about how the level of demand on them has changed. PCCs and chief officers submitted evidence showing £440 million is needed in 2018/19 and £845 million in 2019/20 to cope with the mounting pressure. Mr Hurd has also told Ms Dick that another announcement on funding is imminent. A Home Office spokesperson said: "The police funding settlement in December will reflect work undertaken to better understand changes in police demand but also how they can be more efficient, improve productivity as well as making prudent use of over £1.6 billion in reserves."