Gloucestershire officers receive swan handling lessons
Officers from Gloucestershire Constabulary have been given swan handling lessons in a bid to improve their attempts to control the famously feisty animals.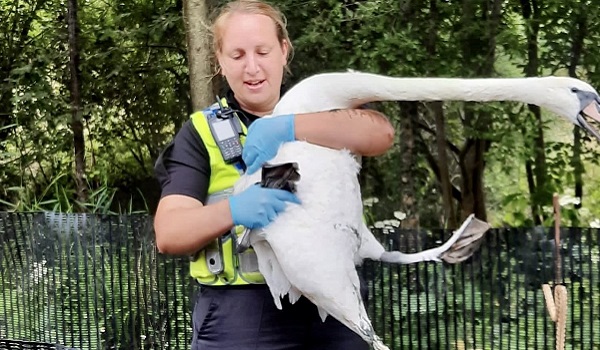 It is hoped the lessons will reduce the number of Hot Fuzz moments – a reference to a scene the comedy film where two police officers played by Simon Pegg and Nick Frost repeatedly fail in their attempts to capture an escaped swan.
Taking to social media, rural crime officers in Stroud revealed they had recently attended a course at a Slimbridge wetland wildlife reserve so that, should they be called to incidents involving swans in the road, they will be able to handle them correctly.
Local politicans questioned the validity of such a course at a time when the force is in special measures, having been rated inadequate in many areas after its most recent inspection by Her Majesty's Inspectorate of Constabularly, Fire and Rescue Services (HMICFRS).
A spokeswoman for the force said: "Hundreds of wildlife and rural crime-related incidents are reported to us each year, including a number of cases where swans and other animals have wandered onto public highways and are causing a danger.
"This short course was attended by a small number of neighbourhood officers who also act as specialists in wildlife and rural-related issues so that they can resolve such incidents quickly.
"This does not affect our response to crimes such as sexual assaults or impact the focus we have on improving our performance in light of our recent HMICFRS PEEL report."