Game asks public if they 'fit the bill'
Essex Police has launched a mobile game that puts members of the public into police roles as part of bid to encourage new recruits.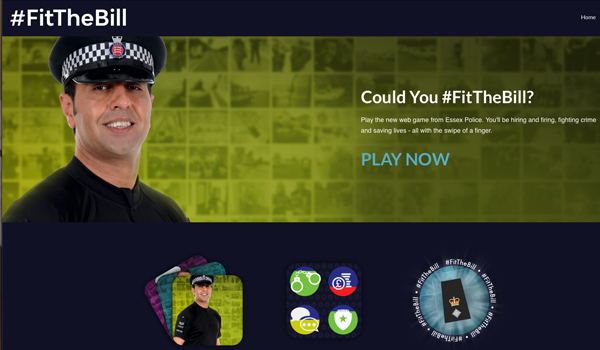 The force appealed to anyone interested in a role as a police constable or special constable to experience some of the things officers encounter in the police world before they apply.
In a first for the force, Essex Police commissioned a local indie game studio that specialises in developing games for good causes. Formed in 2015, Teaboy Games, with the help of an Essex University Computer Science's post-graduate student on placement, created the interactive game that can be played on both mobile and desktop.
Fit The Bill puts members of the public in the shoes of officers and puts their knowledge to the test with a series of scenario-based questions about policing with a main round and a bonus round. Once the game is completed, participants are given a score out of 100 and will be told if they 'fit the bill' to be a police officer.
"Have you got what it takes to be a police officer? Put your knowledge to the test in our new mobile game and if you fit the bill to apply, head over to our website where you can apply for police constable and special constable roles," the force appealed.
The game's main round features a series of questions where the public choose which course of action to take in a variety of incidents. The three bonus rounds are:
Stinger round – using a stinger to stop three reckless drivers;
Higher or Lower round, to test whether participants believe statistics about the number of incidents Essex Police deals with are higher or lower; and
Recruitment Drive, which helps the force sort through CVs to see if potential recruits fit the bill to join.
"Our game is designed to be a fun and interactive way to give you an insight into our world and to educate the public about who to contact in situations we often get called about. Every month, we take hundreds of calls from people reporting issues such as noise nuisance or parking problems which do not necessitate a police response and we refer them to local partners," the force said.
"Many of the scenarios featured in the game focus on incidents asking the player how best to allocate resources, for example, should I report this on 999 or to a different agency.
"While the game is fictional, policing is very real and our officers deal with incidents similar to those featured every day to keep you safe."
The game can be played at www.fitthebillgame.co.uk