Gala concert to raise funds for families of officers who died on duty
The Royal Albert Hall will be lit up with 5,000 flashing blue lights and more than 600 performers from across UK policing for a charity gala with the British Police Symphony Orchestra.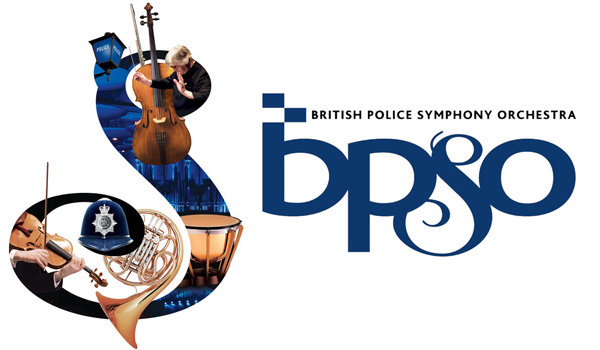 Families of police officers who have lost their lives on duty will benefit when hundreds of officers and police staff perform at a unique concert in aid of Care of Police Survivors (CoPS).
The event includes an appearance from retired Hertfordshire Police Dog, Finn, who stunned audiences with his bravery and intelligence on Britain's Got Talent last month.
In October 2016 Finn saved the life of his handler, Police Constable Dave Wardell, during a vicious knife attack. The pair will be centre stage during a special performance of ˜Hymn to the Fallen" – made famous by the film 'Saving Private Ryan' – by John Williams.
The concert on Saturday, May 11 will be compered by a man who is also no stranger to prime-time TV as the host of BBC1's most watched and longest running prime-time factual series. Nick Knowles, presenter of DIY SOS and a contestant on last year's I'm a Celebrity Get Me Out of Here, will host the evening.
The orchestra is believed to be the only national police orchestra in the world and is made up of frontline officers and staff from across UK policing.
All members are either serving or retired police officers, police staff or other members of the extended police family and have played across the UK, in addition to a tour to India where they performed at the Taj Mahal.
In a typical year each member will play with the orchestra for almost 150 hours, in addition to their own private practice. They travel the length and breadth of the UK in their own time and at their own expense to rehearse.
The orchestra, celebrating its 30th anniversary this year, remains true to its commitment of service and proceeds from the Royal Albert Hall Concert will go to the CoPS charity, which is dedicated to helping families of police officers who have lost their lives on duty. It supports survivors by giving them all the help they need to cope with such a tragedy, and ensure they remain part of the police family.
Tim Buckley, CoPS CEO, said: "The coming together of police to support families of officers who have lost their lives on duty is a true demonstration of the spirit of British policing.
"When a police officer dies on duty their families are bereft and can feel isolated, but the support that COPS gives can help them to rebuild their lives and we are there for families for as long as they need us.
"Without the support of those in policing it would be difficult to see how we could exist and we hope to see as many people as possible join us at the concert.
Police Constable Danny Mizon, who has been an officer for 29 years and works at the Metropolitan Police Service's Marine Policing Unit, will act as one of the comperes on the evening.
He said: "Despite the dangers we face we are all deeply affected when a colleague dies on duty and often our concern turns straight to the family left behind.
"We hope people across the policing family will join us at the concert to enjoy the brass, drums, choirs and other exceptionally talented musicians to raise money and give back to these families.
To date the orchestra has raised more than £150,000 for good causes and funds from the concert will also support the National Foundation for Youth Music and the orchestra itself.
Tickets can be purchased through the British Police Symphony Orchestra website with prices starting at just £19.50.