Frustrated residents install satirical 'crack pick up point' signs
"Drug dealers only" parking spaces have been painted around Tower Hamlets to highlight the drug problem in East London.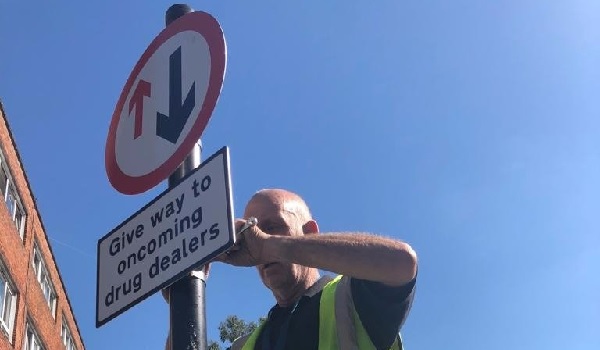 The campaign was launched on Sunday (September 16) when a resident association commissioned anonymous artists – called the "Columbia Road Cartel" – to install the satirical signs.   
On one street, a sign was erected saying "Give way to oncoming drug dealers", while another displayed the words "crack pickup point".  
Locals have complained about the level of drug dealing in the area, as needles and blood are being left in residential buildings by users.  
A post on the Weavers Community Action Group website claims that heroin in Tower Hamlets is the cheapest in Europe.  
And the Columbia Tenants and Residents Association also complained that they are still waiting for street lights to be replaced after they were destroyed by a speeding drug dealer weeks ago, however, the council managed to promptly remove the signs within 24 hours.   
The mayor of Tower Hamlets, John Biggs, said drug dealing is a "massive issue", adding that he understands why residents are frustrated.   
"The truth is we need to see more police officers on our streets," he wrote on Twitter. "Police are not a council responsibility and Government cuts have had a big effect – in Tower Hamlets we have lost over 200 officers, and this has a real impact on the ground. 
"Too often criminal activity including drug dealing is not being stopped, and like residents I think this is unacceptable.  
"Despite cuts to our own budget my council has funded additional police officers but we cannot replace every officer the government scraps. I want the community to know that we share their concerns, this is one of our top priorities and we are pledged to keep working at it."