Frontline policing needs protecting to tackle 'absolutely stratospheric' terror threat
Cuts to neighbourhood policing are putting the nation in danger of a "disastrous" Islamist or neo-Nazi attack, according to a senior counter terrorism officer.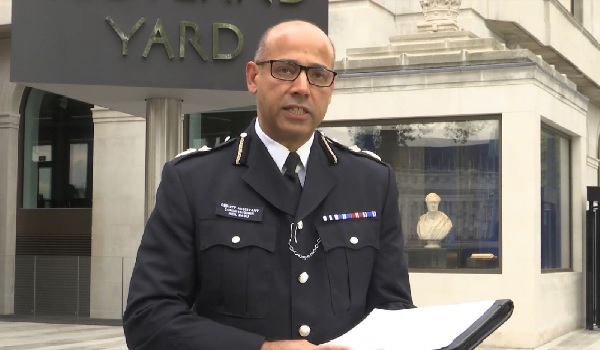 Cuts to neighbourhood policing are putting the nation in danger of a "disastrous" Islamist or neo-Nazi attack, according to a senior counter terrorism officer. Deputy Assistant Commissioner Neil Basu said two decades of work in neighbourhood policing is at risk of disappearing, work that is crucial to build relationships in communities and gather intelligence on the frontline. "When we don't have those people we will become so divorced from the frontline, and the frontline of communities, that [it] will be a disaster for this country," he told The Guardian. The current official threat level in the UK is severe, having been raised to critical following terror attacks in London and Manchester. However, Mr Basu said the actual threat is "absolutely stratospheric", and warned the spate of attacks could happen again. One plot was thwarted earlier this year due to a tip-off from within the Muslim community, and came just hours before the alleged terrorist was planning to attack. Mr Basu criticised a decision taken by the Government to cut the allocation of police counter terror funding by 7.2 per cent based on the terror threat in 2015. Although the overall counter terrorism budget has been increased to £15.1 billion over five years, National Police Chiefs' Council Chair Sara Thornton said just £700 million of this will be spent on policing per annum. In response to Mr Basu's comments, a Home Office spokesperson said the Government will do whatever it takes to keep the country safe from terrorism. "That is why we have ploughed extra funding into counter terrorism and given the police, intelligence and security agencies the powers they need to protect us," the spokesperson added. "We committed in 2015 to increasing the money spent on counter terrorism by 30 per cent from £11.7 billion to £15.1 billion over the five years to 2020. "We have also protected overall police funding in real terms, are providing £144m to increase armed policing capability in order to respond more quickly and effectively to an attack and are recruiting an additional 1,900 officers at our security and intelligence agencies." Mr Basu also criticised technology companies for failing to notify police forces about users who post terrorist material on their websites. Companies such as YouTube, Twitter and Facebook have been targeted by the Government over the availability of terrorist material on their platforms. In May, a report from the Home Affairs Select Committee found social media firms were "shamefully far" from tackling illegal and dangerous content. It also discovered that despite consistently reporting videos on YouTube from the proscribed right-wing organisation National Action, examples could still be found online. Mr Basu said that although the firms had since become much better at removing illegal material such as Islamic State propaganda, there is still a significant number of posts being deleted without the authorities being alerted. Although the Government has proposed fining companies who fail to remove extremist material from their websites, Mr Basu prefers cooperation. "Trying to convince them that they have a moral and ethical responsibility, which is not just to their customers and their shareholders but to wider society, that's where we need to be," he told The Times. "And you can't have that conversation by coercion. It has to be a bit of sensible regulation and a lot of cooperative work. I think we're seeing much more of the cooperation now." Speaking at the opening day of the FBI National Academy in September, National Crime Agency Director General Lynne Owens revealed the number of online child sexual exploitation referrals had increased from 400 a month in 2010, to 4,200 in August this year. "That's a 700 per cent increase," she said. "There is a role for the private sector to have a bigger and broader role in preventing these images from going online, not just telling us they exist."